DVM Years Included Research, Travel
In October 2016, Sarah Wright wrote a blog post* recalling her first impressions upon enrolling at the University of Illinois College of Veterinary Medicine.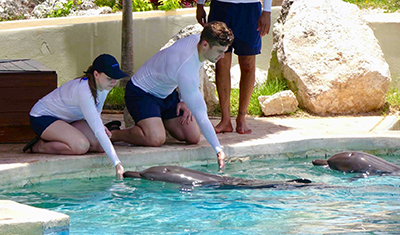 "The first day of class left my head spinning with information and my nose burning from the anatomy lab," she remembered. "How was I supposed to retain all of the material presented in 6+ hours of class?
"I had spoken to several older veterinary students about study strategies… However, instead of feeling prepared and knowledgeable, I felt flustered and overwhelmed. I told myself that transitioning to veterinary school would just take time and practice and it wasn't meant to happen overnight."
Wright was wise beyond her first year. Obviously she took her own advice, because not only did she fulfill her passion to specialize in aquatic animal medicine, but she also went on to maximize her vet school experience.
'Balancing a Lot'
She journeyed from Urbana to Texas, Rhode Island, New York, and Florida to expand her knowledge base regarding her specialty. She created her own research project, establishing baseline blood work for clownfish, and presented her findings last May at an international conference in Durban, South Africa.
On campus, Wright was the 2020 Student Representative for the Veterinary Medical Alumni Association. She volunteered in the Wildlife Medical Clinic and was involved with Omega Tau Sigma International Veterinary Fraternity, the Non-Traditional Species Club, the Aquatics Club, and the Veterinary Business Management Association. Through it all, she still found time to write her student blog on a regular basis.
"I've always enjoyed writing in general," Wright explains. "I took a lot of English courses in high school, so I wanted to continue writing and share my story on social media. I always knew that I was interested in zoological and aquatic animal medicine, and it's such a small segment of veterinary medicine that I wanted to share my story about how I was trying to fit into this niche field."
As you might imagine, time management became an important skill for Wright to master. "It's so crucial, even more so for this stage of my career now that I'm balancing a lot of different things clinically and non-clinically," she says.
Hooked on Aquatics
While in college, "I tried to blog every month if I could. However, sometimes life just got in the way so it was basically whenever I felt inspired. And that was really easy, because I got to participate in so many opportunities during vet school. Research, extracurricular clubs and conferences, going offsite for training programs offered through other universities. I had a lot to share, and it was cool to tell people about it, especially because so many people don't know that you can be a veterinarian at a zoo or an aquarium."
Wright knew. The suburban Chicago native locked into her career path from the age of 13, when her family gave her a "Trainer for a Day" experience at Chicago's world-renowned Shedd Aquarium as a birthday present. "I just fell in love with the animals there," Wright remembers. "I got to prepare food for them, participate in training sessions. It was such a unique experience, I was hooked."
That night she Googled Shedd's programs for high school students. She had to wait four whole years, but at 17 she applied for the aquarium's most prestigious offering, the High School Marine Biology Program, and was accepted. "I got to live aboard a research vessel in the Bahamas for eight days, working with peers my age and creating our own research projects," she says. "Yeah, it was pretty awesome."
Involvement as Undergrad
Wright maintained her relationship with the aquarium, becoming a Shedd ambassador, assisting guests to the facility. She was promoted to senior team mentor, overseeing the aquarium's teen program, even though she was still a teenager herself. "That was a great role, because I began to shadow different departments and explore different career opportunities," she says.
"I shadowed the veterinary team and followed Dr. Lisa Naples (who was then completing her zoo/aquatic animal residency through the College of Veterinary Medicine and is now with the L.A. Zoo) who was there at the time. She would anesthetize fish and draw blood from sharks. I thought to myself, 'This is what I want to do with my life! How do I get there?'"
Dr. Naples advised her to attend conferences and participate in research projects, which she did as an undergrad at the University of Illinois. By the time she got to the College of Veterinary Medicine — after overcoming the initial culture shock and information overload — Wright was ready to hit the water running.
Aurora Internship
She has begun her DVM career as a small animal medicine and surgery intern at VCA Aurora Animal Hospital in Aurora, Ill.: her hometown. "I'm excited to go back home and develop a really strong foundation in my medicine and surgery skills," she says. In her view, it's a logical next step toward her ultimate goal of treating aquatic animals.
"People ask all the time, 'How do you draw blood from a fish?' or 'What do you do with a fish that's sick?'" Wright says. "You approach it the same as you would a dog or cat. As long as you can develop the same skills with small animals, you can apply them to these exotic species.
"I have been able to work with faculty who have diverse experiences and expert mentorship. Illinois has a lot of zoological faculty members, more than people realize. And they've given me a strong foundation in zoological and aquatic animal medicine to be able to move forward. And, I started volunteering at the Wildlife Medical Clinic as an undergraduate. That was an invaluable experience for my future career."
In her perfect world, that future career would come full circle at Shedd. "That's the dream," she admits. "I love Chicago, it's a fantastic institution, I love their collection, I love their mission, so…yes."
Meantime, "I have about six different research projects going on right now, so I'll still be doing lots of writing in my spare time," Wright says. "It's scholarly writing, a little different from blogging, but writing nonetheless."
—Jim McFarlin
*Four Years of Sarah's Blogs
See all the student blogs, including reports on study abroad trips.