Certified Journeyman Farrier
Whether your horse needs advanced, therapeutic shoeing and hoof care delivered in partnership with veterinary experts or needs a simple hoof trim, you can trust the farrier at the College of Veterinary Medicine to be knowledgeable, friendly, and capable. Our farrier is a certified journeyman farrier and member of the American Farrier's Association (AFA), with many years of experience working with horses.
Services
Trimming in house
Trimming ambulatory
Two shoes
Four shoes
Advanced Services
Shoes: Hand-Made Steel, Aluminum, Steel Therapeutic, Aluminum Therapeutic, Glue-On, Glue-On Therapeutic
Trimming
Pads: Therapeutic and Pour-in
Glue Patch
Crack Repair
Treatment Plate
Foal Extension
To make an appointment call 217-300-7222.
Meet Our Farrier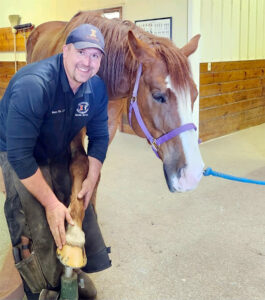 Tobias Ellis grew up in the small town of Blodgett, Ore., where he enjoyed riding horses all over the mountains of the Oregon Coast Range. Since graduating from the farrier science program at the Linn-Benton Community College, in Albany, Ore., Tobias owned and operated a farrier service in Central and Western Oregon. He became a member of the American Farrier's Association in 2015 and became a Certified Journeyman Farrier in 2021. Tobias is married to his high school sweetheart, and they have three children. Tobias joined the University of Illinois Farrier Service in fall 2022.
Tobias' favorite part of farrier practice is his ability to help horses of any breed or that are used for various purposes. He is a believer in lifelong learning and excellent customer service.
"I am excited to bring my skills in customer service—namely, answering phones, scheduling appointments, showing up on time, and professional horsemanship—to this position," he wrote in his introductory letter.
Since joining the Veterinary Teaching Hospital, Tobias has put this philosophy into practice. He has also initiated mentored training of veterinary students, veterinarians, and professional farriers.
He was recently named Vice-President of the Land of Lincoln Horseshoers Association. Tobias is excited to help develop professional farrier services in Central Illinois.