Certified Journeyman Farriers
Whether your horse needs advanced, therapeutic shoeing and hoof care delivered in partnership with veterinary experts or needs a simple hoof trim, you can trust the farriers at the College of Veterinary Medicine to be knowledgeable, friendly, and capable. Our farriers are certified journeyman farriers and members of the American Farrier's Association (AFA), with many years of experience working with horses.
Services
Trimming in house
Trimming ambulatory
Two shoes
Four shoes
Advanced Services
Shoes: Hand-Made Steel, Aluminum, Steel Therapeutic, Aluminum Therapeutic, Glue-On, Glue-On Therapeutic
Trimming
Pads: Therapeutic and Pour-in
Glue Patch
Crack Repair
Treatment Plate
Foal Extension
To make an appointment call 217-300-5621.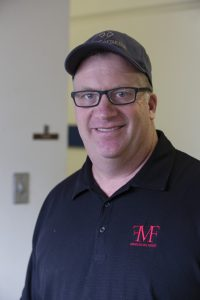 Steve Sermersheim is a Certified Journeyman Farrier with a Therapeutic Endorsement from the AFA as well as an Associate of Great Britain's Worshipful Company of Farriers. He has twice been named AFA's Clinician of the Year, has served eight times as an official farrier at the Rolex Kentucky Three Day Event, and has been a supervisor for the official farriers at the World Equestrian Games. Before joining the Veterinary Teaching Hospital, Sermersheim was owner of Middlefork Forge, a farrier practice located in Collison, Ill., and co-owner of the Midwest Horseshoeing School, located in Divernon, Ill.
Tobias Ellis is a Certified Journeyman Farrier with the AFA. He grew up in the small town of Blodgett, Ore., where he enjoyed riding horses all over the mountains of the Oregon Coast Range. After graduating from the farrier science program at Linn-Benton Community College, in Albany, Ore., Ellis owned and operated several farrier services in Central and Western Oregon. He is skilled in helping horses of any breed and used in a variety of disciplines.