Seeking veterinarians with the highest standards of scholarship and ethics who are committed to the advancement of medicine and welfare of zoological companion animals.
The University of Illinois College of Veterinary Medicine offers a three-year residency in Zoological Companion Animal Medicine and Surgery.
The residency is a American College of Zoological Medicine (ACZM) – compliant training program and is supervised by at least three diplomates of this college (see mentor list below). The residency is supported by a minimum five on-site full-time zoo, aquatic, exotic, and wildlife veterinarians. The residency is designed to provide clinical training that will enable the resident to become competent in exotic, zoo, aquatic, and wildlife medicine with a focus on zoological companion animals and to meet the eligibility requirements for certification in the ACZM. This residency runs simultaneously with the Illinois Zoological and Aquatic Animal Residency and the Illinois Zoological and Wildlife Health Management Residency.
Residents obtain training through…
Residents gain clinical experience in providing preventive medicine and species-specific husbandry, including restraint, anesthesia, clinical pathology, diagnostic imaging, and surgery, under the direction of veterinary and support staff. Consultation of cases with on-site specialists in a variety of specialties (ophthalmology, cardiology, anesthesiology, pathology, etc.) allow for further training and deeper understanding of cases presented.
The program includes training in research and scholarly writing and requires the completion of a non-thesis or thesis master's degree, which includes graduate-level coursework (Clinical Epidemiology and Biostatistics, Zoological Medicine Seminar, and Special Topics in Zoological Medicine) through the University of Illinois.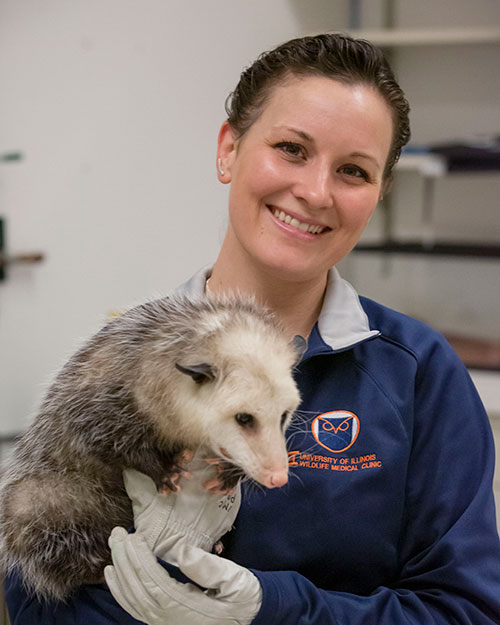 Primarily emphasizing clinical medicine, the residency will provide scientific opportunity and require scholarly activities of publication and teaching. Residents participate in bi-monthly multi-institutional journal review courses, rounds, and teaching veterinary students on clinical rotations. Residents will also participate in teaching didactic elective courses and laboratories that are part of the veterinary curriculum. Residents are required to write and submit three manuscripts produced in conjunction with their residency for publication to fulfill residency requirements and to receive their residency certificate at the completion of their program. At least one manuscript must be an original research project that meets the non-thesis manuscript-based master's degree guidelines and will be selected with input from veterinary mentors.
Funding is provided to attend and present at a continuing education conference annually as well as one-time attendance at the ACZM preparatory course.
The position starts in mid-July every three years with annual re-appointment for a maximum of three years based on annual performance. Residents will be employed by the College of Veterinary Medicine and compensated on a scale of standard residency programs, which includes benefits with vacation and sick leave accruing monthly.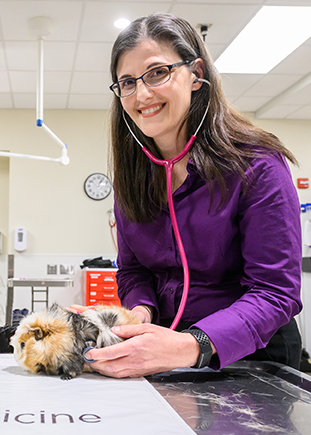 Applicants must hold a DVM from an AVMA-accredited program or have taken a US equivalency examination (ECGVG or PAVE) and have minimally completed a one-year internship or equivalent practice experience. Licensure to practice or eligibility for licensure in Illinois is needed to apply, with full licensure required before beginning the second year of the residency.
Interested candidates are encouraged to contact us with any questions that are not answered by the Veterinary Internship and Residency Matching Program description. Applications should be submitted through the VIRMP and should include a letter of intent, curriculum vitae, original transcripts, and three or more letters of reference.
---
ACZM Mentors
Michelle Borsdorf, DVM, Dipl. ACZM – Residency Director borsdorf@illinois.edu
Copper Aitken-Palmer, DVM, PhD, Dipl. ACZM
Matt Allender, DVM, PhD, Dipl. ACZM mcallend@illinois.edu
Sathya Chinnadurai, DVM, MS, Dipl. ACZM, Dipl. ACVA, Dipl. ACAW
Katie Delk, DVM, Dipl. ACZM
Jennifer Langan, DVM, Dipl. ACZM Jennifer.Langan@CZS.org
Judilee Marrow, DVM, Dipl. ACZM
Lily Parkinson, DVM, Dipl. ACZM, Dipl. ACVECC
Samantha Sander, DVM, Dipl. ACZM sjs@illinois.edu
Karisa Tang, DVM, MS, Dipl. ACZM ktang@sheddaquarium.org
Additional Mentors
Anthony Cerreta, DVM, MS
Stephany Lewis, DVM
Tom Meehan, DVM
Will Sander, DVM, MPH, Dipl. ACVPM
Megan Strobel, DVM