Gifts to the College of Veterinary Medicine have a wide-reaching impact. Your donations benefit the animals we treat, the students we teach, and the research we conduct.
WAYS TO MAKE AN IMPACT
When you choose to make a gift to the College of Veterinary Medicine, it's not only the animals we treat that will benefit from your support. Your gift can help fund research, provide scholarships, improve human health, and so much more. All gifts, no matter their size, can make a big impact. And now, when state funding is dropping and tuition, in response, is increasing, financial support from our donors has never been so critical. Below are some ways you can support the College of Veterinary Medicine. Visit our Giving Opportunities for a complete list of funds. You can also contact us for information about estate gifts, matching gifts, and more. Thank you for your generosity and your support of the College of Veterinary Medicine.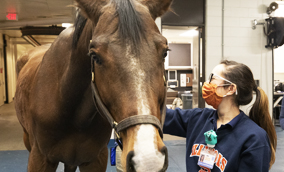 Caring for animals is a big part of what we do. You can help by making a gift to the Wildlife Medical Clinic, Veterinary Teaching Hospital, and more.
Caring for Animals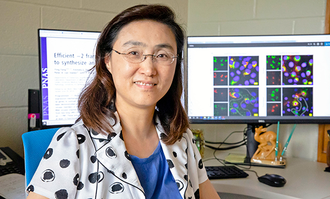 Research being conducted at the College of Veterinary Medicine doesn't only improve the lives of animals. Our research impacts human health, public health policy, and the environment. Read more about how you can impact our research efforts.
Furthering Research
Help the veterinarians and researchers of tomorrow by donating today to an existing class scholarship, starting a new scholarship, or giving to the general scholarship fund.
Supporting Scholarships
OTHER GIVING OPPORTUNITIES
Companion Animal Memorial Fund
If you or a loved one have recently lost a pet, a gift to the Companion Animal Memorial Fund is a meaningful way to remember a beloved companion. When you make your gift online, please list in the Comments section how you wish to be identified, the animal's name and species, and the owner's name and address. When we receive this information, we will send a personalized card informing the owner of the thoughtful gesture made by you in memory of their pet.
Veterinary Medical Alumni Association Fund
There is no fee for alumni to join the Veterinary Medical Alumni Association. Making a charitable donation to VMAA is a great way to show your support for your alumni association!