"The staff and doctor were wonderful and caring. The Veterinarian took as long as I needed to understand what was wrong and the treatment that was needed for my pet."
– South Clinic Client
Our Service
The small animal Primary Care Service provides full-service primary care to dogs and cats in the Champaign-Urbana community and is located at the South Clinic of the Veterinary Teaching Hospital. Our team is passionate about quality, comprehensive wellness and preventive medicine, including physical examinations, life-stage and breed specific care, vaccinations, general surgery and dentistry, as well as behavioral and nutritional counseling.
We focus on safe, low-stress handling and our facility features separate waiting areas for cats and dogs. The Primary Care Service operates on a model similar to most private small animal practices which allows fourth-year veterinary students the opportunity to learn how to become well-rounded and knowledgeable general practice veterinarians. As part of our mission, the senior veterinary students engage in all aspects of care, supervised by our Primary Care faculty and veterinary technicians.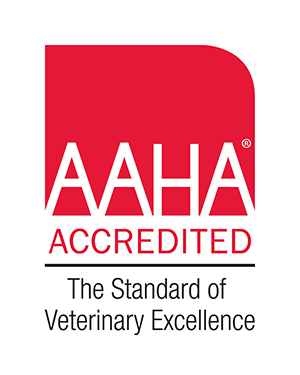 Veterinary Medicine South Clinic is accredited by the American Animal Hospital Association (AAHA). This is a symbol that we not only care for the health of an animal, we care for the overall wellness of each patient that enters our care and we strive to give them high-quality medical care.
Our primary care service has also earned designation as a Cat Friendly Practice – Gold.
Established by the American Association of Feline Practitioners and the International Society for Feline Medicine, the Cat Friendly Practice Program is a global initiative designed to elevate care for cats by enhancing the environment and experience, as well as reducing stress for the cat, caregiver, and the entire veterinary team.
Services Offered at Primary Care
Vaccinations and infectious disease prevention
Parasite screening and control
Nutrition, diet selection and weight management
Routine dentistry and oral care
Behavioral counseling
Surgery, including spays and neuters
Diagnostic testing
Imaging services (x-rays, ultrasound)
Wellness and preventive care guidance
Breed- and age-specific individualized care
Diagnosis and treatment of illnesses and injuries
Palliative care and euthanasia
Referrals to and consultations with board-certified specialists in surgery, emergency/critical care and a variety of medical specialties are available through the Small Animal Clinic of the Veterinary Teaching Hospital.
Wellness Information and Resources
Breed and Age Specific Care
South Clinic Primary Care Doctors
---