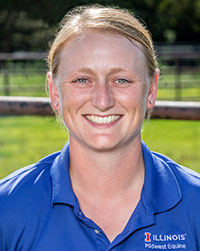 Dr. Catherine "Cat" Foreman-Hesterberg
Director of Midwest Equine and Primary Care Veterinarian
My approach to equine veterinary care is to offer all possible options in order to meet the needs of my clients. In addition to providing primary care, dentistry, internal medicine, reproduction, and emergency care, I have also trained in sports medicine procedures in Aiken, S.C., on some of the country's best athletes—from barrel racers to eventers to racehorses. I am also certified in animal chiropractic and believe this modality of treatment is useful in all shapes and sizes of horses.
My background: I grew up on a hunter/jumper farm in St. Joseph, Ill., and was on the back of a pony before I could walk or talk. Most of my life I have competed in or coached Pony Club teams, including competing around the world. I earned my bachelor of arts degree from Augustana College in Rock Island, Ill., and then attended the University of Illinois College of Veterinary Medicine for my doctorate of veterinary medicine. I continue to ride in my spare time, and I compete in jumper shows with my thoroughbred gelding, Mac.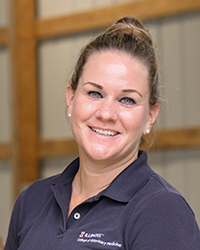 Dr. Lori Madsen
Primary Care
I earned my veterinary degree at the University of Illinois College of Veterinary Medicine in 2014. I am interested in lameness, physical rehabilitation, and diagnostic imaging. My certifications include being an equine rehabilitation practitioner and performing animal chiropractics. I am currently working toward board certification with the American College of Veterinary Sports Medicine and Rehabilitation.
My background: My passion for horses took off when I started taking riding lessons at a barn in Naperville, Ill., as a child. I competed on the local Hunter/Jumper circuit and worked in the barn to offset the costs of lessons and training. After working with sport horses competing at a national and international level, I began to have more of an interest in helping to rehab the injured horses than in riding and competing, so I decided to become a veterinarian.
---