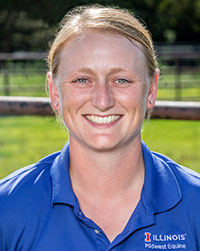 Dr. Catherine "Cat" Foreman-Hesterberg
Primary Care
My approach to equine veterinary care is to offer all possible options in order to meet the needs of my clients. In addition to providing primary care, dentistry, internal medicine, reproduction, and emergency care, I have also trained in sports medicine procedures in Aiken, S.C., on some of the country's best athletes—from barrel racers to eventers to racehorses. I am also certified in animal chiropractic and believe this modality of treatment is useful in all shapes and sizes of horses.
My background: I grew up on a hunter/jumper farm in St. Joseph, Ill., and was on the back of a pony before I could walk or talk. Most of my life I have competed in or coached Pony Club teams, including competing around the world. I earned my bachelor of arts degree from Augustana College in Rock Island, Ill., and then attended the University of Illinois College of Veterinary Medicine for my doctorate of veterinary medicine. I continue to ride in my spare time, and I compete in jumper shows with my thoroughbred gelding, Mac.
Dr. B. Alex Lognion
Primary Care
I started my veterinary career in the thoroughbred and quarter horse racing industry in south Louisiana. My interests include performance-limiting lameness; tendon, ligament, and joint injuries and their rehabilitation; and wound healing and management.
I completed my undergraduate degree in east Texas and my veterinary degree from Ross University School of Veterinary Medicine. My clinical training took place at the University of Missouri College of Veterinary Medicine and through an internship in equine medicine, surgery and sports medicine at Texas Equine Hospital in Bryan, Texas. I've also had some advanced training in equine surgery.
My background: I was raised in southeast Texas, where I was exposed to large animal practice and became fascinated with beef cattle and ranch horses. This eventually turned to overall love of equine medicine, from racehorses to backyard ponies. In my free time I enjoy playing golf, exploring new cities, and thoroughbred racing.
---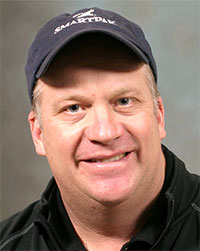 Steve Sermersheim
Therapeutic Farrier Services
I am familiar to most horse owners in central Illinois, having owned Middlefork Forge, a farrier practice in Collison, Ill., for many years and having visited Thomas Monfort's practice in Farmer City every week for a very long time. I am a certified journeyman farrier with a therapeutic endorsement from the American Farrier's Association as well as an associate of Great Britain's Worshipful Company of Farriers.
I was honored to have been twice named AFA's Clinician of the Year, and I've been an official farrier at the Rolex Kentucky Three Day Event and a supervisor for the official farriers at the World Equestrian Games. I joined the University of Illinois Veterinary Teaching Hospital in 2017.