Requesting a Visit
Schedule Now
Host an educational event about wildlife with information by trained student volunteers and appearances by some of our animal ambassadors!
Schedule an Educational Visit
What ambassadors will you bring?
When you schedule a Wildlife Medical Clinic outreach event you have the option to bring your group to our facility or schedule an off-site visit where we would bring select ambassadors to you.
Our ambassadors consist of four birds and three reptiles at the clinic. The birds were initially admitted as patients and were treated with the intent of release into the wild. Unfortunately, medical complications prevented them from a full recovery. Since they cannot fully recover, they would not be able to fend for themselves if placed back into the wild. Although they live in the clinic and are tolerant of people, the resident birds are not pets. They now serve as ambassadors of their species and help us educate the public about wildlife, conservation, and ecosystem health.
The ambassador animals are cared for and taken to educational events by specially-trained student volunteers. Each year, we hold various educational events and visits, including school groups, wildlife events, community gatherings, birthday gatherings, scout troops, and museums. Programs are developed based on the needs or goals of the group. For example, interactive presentations involving owl pellets/casts are possible in classrooms or similar settings.
How much does scheduling an event cost?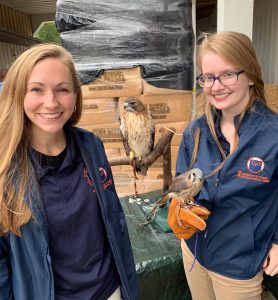 The Wildlife Medical Clinic asks for a donation for educational talks. We are a non-profit organization that relies on fundraising, donations and grants. Donations are used to pay for food, diagnostic tests, equipment, medications, consultations and surgeries for our patients.
Educational Visit Pricing:
School and non-profit organizations – $100 clinic donation
Other – $200 clinic donation
Additional charges can occur if:

Visits are longer than one hour in duration ($50 per additional hour)
Visit FAQ
How do I schedule a visit?
When will I hear back about my request?
We will respond to your request in two to three business days after the form is submitted. We will do our best to accommodate your request.
Can I choose which ambassadors are featured at my event?
Unfortunately there many factors that go into selecting the ambassadors that will make a public appearance and we cannot guarantee certain animals for events.