"Dr. Keller is a wonderful DVM and teacher. Can't say enough about the awesome exotics staff!!"
-Melissa
Our Service
The Zoological Medicine Service provides general, specialist level and emergency care to client-owned zoological species. Whether they are part of a family or in a larger collection at a zoo, our service has the personnel, facilities, expertise and equipment to diagnose and treat a broad range of species.
Many of our patients present to us for care at our hospital, however, our service also provides regular on-site care for accredited zoos in Illinois.
Read more about our team!
Services – General
The Zoological Medicine service provides annual and wellness care for a wide variety of non-traditional pet species. The services offered range from grooming, nutrition and husbandry consultations, vaccinations, prophylactic dental cleanings, external and internal parasite detection, and control and annual examinations. We can help you prioritize annual diagnostics to detect disease processes before your pet has clinical signs, including fecal analysis, blood work, and radiographs (x-rays).
Our Service can perform preventative spay and neuter procedures on a wide variety of mammal species (rabbits, ferrets, guinea pigs, rats, hedgehogs) and some reptiles (turtles, lizards).
Services – Specialist
The Zoological Medicine service has extensive diagnostic and therapeutic capabilities. They can evaluate your pet as a referral from your regular veterinarian or primarily if a veterinarian is not currently managing you. Animals seen by the Zoological Medicine service have access to the full capabilities of the interrelated veterinary specialties, including Ophthalmology, Cardiology, and Oncology.
Advanced Diagnostic Capabilities
Digital radiography
Dental radiography
Ultrasound
Computed tomography
Magnetic resonance imaging
Nuclear medicine
Minimally invasive endoscopic procedures
Molecular diagnostics for infectious disease testing
Advanced Therapeutic Capabilities
Soft tissue surgery including

Dr Selting, works with our patients to help treat cancerous conditions, no matter their size.
Mass removal
Salpingectomy
Ovariectomy
Cloacal surgeries
Amputations
Surgical biopsies
Feeding tube placement
Orthopedic surgeries including fracture repairs.
Hospitalization for intensive care management
Radiation therapy
Medical oncology and chemotherapy
End of life and hospice care
Our team is experienced at working with the human caretakers and human family members of our patients to decide on the best course of action, whether it is pursuing a day of diagnostics, a corrective surgery, consulting with additional specialists or starting a course of treatment.
Species That We See
The Zoological Medicine service is equipped and has the expertise to see a wide variety of species whether furry, feathered or scaled. Some of our patients are part of peoples' families while others may be part of a zoological collection or a working animal like falconry birds and educational animals.
Some of the most common mammal species we see are
Rabbits
Guinea pigs
Rats
Hamsters
Hedgehogs
Sugar gliders
Kinkajous
We enjoy seeing feathered friends such as
Parrots
Falconry birds
Back yard chickens and ducks
Finches and canaries
Doves and pigeons
Emus
Maybe reptiles aren't your thing, but they are certainly ours!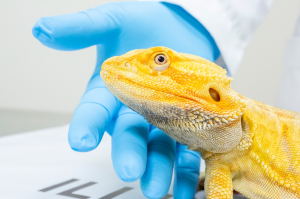 Lizards like bearded dragons, geckos, chameleons, skinks and iguanas
Turtles and tortoises
snakes including boas, corn snakes, pythons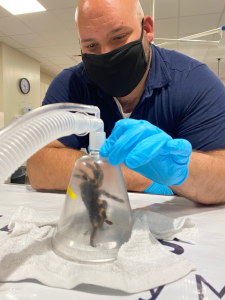 Some of our patients even live in aquatic environments or have more than four legs!
Fish – fresh and saltwater
Frogs
Tarantulas
Some species require special paperwork before seeing them, including native wildlife (ex: raccoons, foxes, squirrels, etc.) and exotic cats (servals, tigers, etc.). Please call, and we can guide you through the process. There are some species that our service does not see, including primates, skunks and venomous species. If you have questions about whether we can see your pet, please call 217-244-2555.
What to Expect
Whether you present during a regularly scheduled appointment or as an emergency, you and your pet will meet a large number of individuals who are all dedicated to your pet's health and well-being. First, you will be greeted by our friendly client services representatives. Given that we are a teaching institution, you will meet one (or more) veterinary students, most of them very close to graduating and being a veterinarian themselves. You will meet one (or more) of our veterinarians, and behind the scenes, we have fantastic technicians that are helping us provide care for all of our patients. In total, there is a large team of dedicated individuals here to help your pet.
The consultation will start with discussing your pet's health, including a detailed overview of their environment and care. Some of our clients find it helpful to bring in specific products and diets they use or to take pictures of those products so that you can provide us with all the information we may need.
A complete examination will be performed by one of our veterinarians to help make a diagnosis. Some patients benefit from mild sedation to reduce their stress, and our team can talk to you about that, if necessary.
Before performing any additional diagnostics or treatments, we will review options with you and help you make the best decision for how to proceed. Some diagnostics and treatments can be performed the same day as an appointment. However, many diagnostics and treatments may require coming back another day or staying the night with us. Don't worry; we have cozy accommodations for patients of all sizes and various food items, but just in case, bring along any specific dietary items that may make your pet more comfortable.
If your animal requires hospitalization because they are sick, we will walk you through the advanced therapies that we will provide and your pet's prognosis and update you frequently while your pet is in hospital with us.
Prior to us discharging our patients, we will instruct you and sometimes teach you how to administer any go-home medications and help you set up recheck appointments to either see us again or your regular veterinarian.
FAQ
What can I do to prepare for my appointment?
There are a few things that you can put together to prepare for your appointment with the Zoological Medicine Service.
Given that the species that we care for typically have varied care requirements, gathering together all of the products used for the care of your pet can be very helpful for us to have a great understanding of your animal's care. These products can include diet, supplements, treats, and over-the-counter medications. It is also beneficial to have information about the specifics of your pet's enclosure, lighting, and temperature. Many of our clients find it helpful to take pictures of the enclosure and products used to reference during the appointment.
We want to be able to answer any questions that you may have! Write down some of your concerns on paper before your visit. That way, we can make sure we address everything before leaving the appointment.
What role do students play in my pet's appointment?
As a teaching institution, you will meet one or more students during your visit. Most of the students you and your pet will encounter are in their fourth and final year of veterinary school and will soon be veterinarians. Each appointment has so much to teach, from communication with our clients and taking an effective history, finding abnormalities on physical examination, taking and interpreting radiographs (x-rays), or scrubbing into surgery, as a few examples. Although our hospital prioritizes teaching, this always comes second to the safety of our patients. Given that many zoological species are delicate, our clinicians evaluate the students' role in your pet's care on a case by case basis. They will never compromise the highest standard of care for your companion.
Will you send records to my regular veterinarian?
When you check in for your appointment, please let our client services representatives know which veterinary practice you would like us to communicate with. Our entire hospital has strong relationships with veterinarians throughout Illinois and in the surrounding states. After discharge, our service will share all medical records, including results of diagnostic tests, with your veterinarian. Additionally, your veterinarian has digital access to finalized components of your pet's medical record through an online portal.
What is a veterinary resident or intern?
The Zoological Medicine Service facilitates the training of veterinarians looking to specialize in treating the most "exotic" of species. Residents and interns are veterinarians who are in a special training program for one to three years. Although they are the primary veterinarian working with you and your pet, they are supervised by a faculty member who has extensive experience and has attained specialization in the field. We know that it can be confusing to meet all the team members, so if it is not clear, ask. We are happy to all introduce ourselves and make you feel part of the team.
You can read more information about our world-renowned residency programs compliant in the American College of Zoological Medicine below.
Illinois Zoological Companion Animal Residency
Illinois Zoological & Aquatic Animal Residency
Meet our Team
Faculty
---