When a cherished animal companion dies, the grieving process is genuine and possibly shared by the owner, veterinarian, family, and friends.
The Companion Animal Memorial Fund at the University of Illinois College of Veterinary Medicine was established in 1984 to help veterinarians actively express compassion by memorializing clients' pets. As animal owners became aware of this program, its use has spread beyond just participating veterinarians.
Making a memorial gift to the Companion Animal Memorial Fund in the name of a recently deceased animal can mean so much to a grieving owner. It is a fitting tribute that lets animal owners know someone cares and understands their loss.
Helping Future Companion Animals
Your commitment to this meaningful program will not go unnoticed. Since its inception, this program has provided over $2 million for noninvasive teaching, research, and service projects at the College. Much of the work results in immediate benefit to our animal patients. Gifts made to the Companion Animal Memorial Fund support noninvasive projects and work by clinicians and scientists on conditions that affect companion animals.
Projects have included studies of feline congestive heart failure, canine renal disease, recruitment protocols to improve the diagnostic quality of computed tomography (CT) images of the lung in the neonatal foal and the use of dental acrylic to repair canine jaw fractures. The Companion Animal Memorial Fund program has also provided:
Assistance in establishing a veterinary cancer research program.
Training veterinarians specializing in dentistry.
Making Your Gift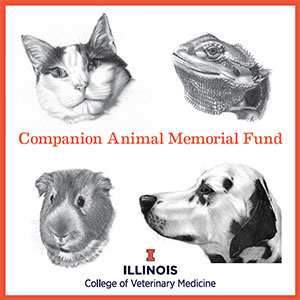 When an animal dies, you can make a gift online or call our Office of Advancement. We suggest a minimum donation of $15 per client or pet that you wish to memorialize. We will send a personalized card (pictured at right) informing the owner of the thoughtful gesture made by you in memory of their pet.
When making your gift via the online gift form, please provide the following information in the Additional Instructions field:
Names of gift donor(s) and how you wish to be identified
The animal's name and species
The owner's name and address or where to send the card
Companion Animal Memorial Fund Forms
If you are a veterinarian participating in this program, below you will find the form for sending information for memorial cards. Please contact our office if you have any questions or would like to participate in this program.