SAVMA Symposium Offers 'Best Four Days' So Far for First-Year Student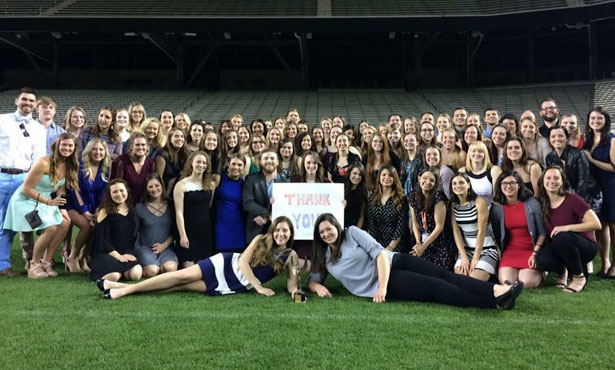 Last month, I attended the Student American Veterinary Medical Association (SAVMA) Symposium at Texas A & M College of Veterinary Medicine and Biomedical Sciences.
I left Urbana on a snowy March day and headed to sunny College Station, Texas, for four days of lectures, day trips, and wet labs with veterinary students from all around the country. When I first arrived at the symposium I was thoroughly impressed by the hospitality that the students at Texas A & M provided and I quickly got used to hearing "howdy" as a greeting.
The first day of the symposium I attended a raptor rehabilitation wet lab, practicing rehabilitation techniques for birds of prey and observing falconry demonstrations. I also attended a Business Finance and Innovation Seminar sponsored by VBMA and Live Oak Bank. This seminar drew me out of my comfort zone because it required each student to perform a one-on-one mock contract negotiation with a professional in front of a small group. I felt that the wet labs were invaluable because they enhanced my veterinary education by giving me skills that cannot be learned in the classroom, and can readily be applied to the real world.
That night was the opening ceremonies, which consisted of an introduction to Texas culture and the college. After the opening ceremonies, we all went on a pub crawl at Northgate. It was great to hang out with my classmates outside of an academic setting, meet new people, and be re-acquainted with friends from my undergraduate years.
I spent the next day at the Houston Zoo. My favorite parts were seeing an elephant get a bath from the zookeepers, feeding the giraffes, and being outside in the 70-degree weather. After the zoo trip, we returned to campus for "Experience Texas," an event that featured a mechanical bull, Texas barbeque, line dancing, and a tour of the Thomas G. Hildebrand Equine Complex.
The last day of the symposium, I attended lectures about wildlife and zoological medicine with my peers, learned from experts in the field, and met students from other schools who share similar interests. To conclude the day, as well as the symposium, we spent the evening at Kyle Field. We took pictures on the field and we heard from keynote speaker Dr. Elliott Garber, who opened our eyes to non-traditional veterinary careers.
The highlight of the night though was winning the "SAVMee" award for having the largest student representation at the symposium, a feat to which we responded with a rowdy "I-L-L! I-N-I!"
Overall, the SAVMA Symposium was the best four days of first-year so far. I gained memories I will cherish and knowledge that will serve me well in the years to come. I encourage every student to attend it during at least one of his or her four years as a veterinary student. The symposium was a great way to gain and share knowledge, as well as different perspectives.
I want to thank Texas A & M College of Veterinary Medicine and Biomedical Sciences and the Student American Veterinary Medical Association for hosting the event. I also want to thank the Illinois Student Chapter of the American Veterinary Medical Association for funding Illinois students to attend the symposium. I look forward to traveling to Philadelphia, Pennsylvania , next year to attend SAVMA Symposium 2018 at the University of Pennsylvania School of Veterinary Medicine.