Leadership Program Bonds New Veterinary Students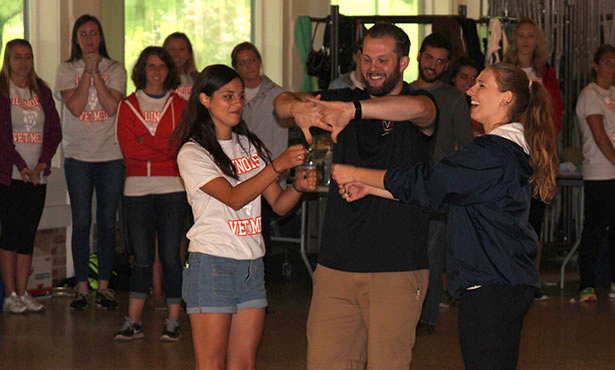 When I first heard of the Illinois Veterinary Leadership Experience (iVLE), I pictured sitting in a crowded room with unfamiliar faces, learning about stress and time management. I visualized participating in dry icebreakers and being nervous and overwhelmed with new information. With this mindset, I hesitantly arrived on a rainy Monday morning at Lake of the Woods Forest Preserve in Mahomet, Ill., for iVLE.
Taking a deep breath, I opened the door to the building where iVLE was taking place. Instead of strangers staring at me amid the pouring rain outside, smiling faces, joyful laughter, and music met me as I walked into the building. This vibrant and welcoming environment was not at all what I had envisioned for a veterinary leadership workshop. The faculty, alumni, current students, and new students greeted me with hellos and enthusiasm as I found my seat for the orientation program. iVLE immediately grabbed the attention of my new first-year peers and me with an engaging and relatable TED talk video, followed by charismatic and genuine speakers. The central messages of the program were clear right away: Illinois was welcoming all members of the Class of 2020 with open arms, and veterinary school is going to be a challenge, however, it is also going to be a period of growth, opportunity, and fun.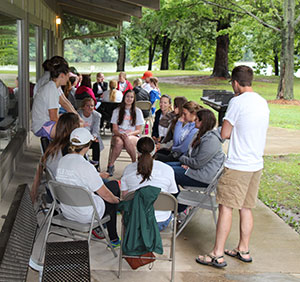 The rest of the day continued to impress me and make me more excited for my first year of veterinary school. We broke into small groups and participated in team-building activities, learning more about what to expect during our first year of veterinary school, and becoming acquainted with our new peers before classes started. My favorite activity was when each small group had to come up with a "machine," complete with sounds and actions, and then demonstrate the "machine" in front of all of the students, staff, and volunteers at iVLE. My group chose to create a pinball machine, each of us having a different role in its creation. During our performance we laughed, made pinball-like sounds, and became more comfortable being ourselves around our future classmates.
Of course, iVLE did encompass sections about time management and stress management. However, instead of lecturing to us about these skills, we were able to hear from alumni and current students at a very personal level about what worked for them, what did not work for them, and what they would have changed if they were in our shoes. Hearing these personal stories was both enlightening and motivating, making me feel more prepared to begin my four-year journey to achieve my DVM degree. After a few more large-group activities and lots of laughter, iVLE came to an end. Each of my classmates and I left that day feeling better about the years ahead with new friends, new challenges, and new memories.