Why You Should Join Extracurricular Activities in Veterinary School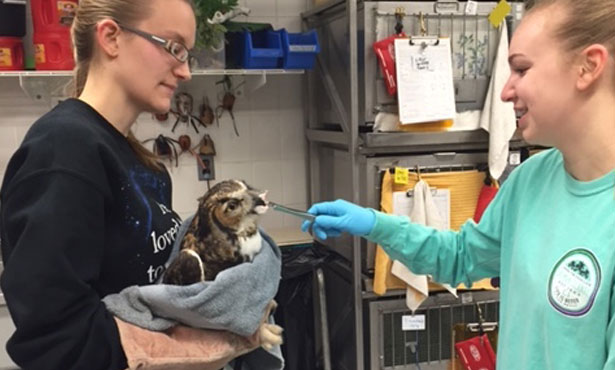 When I first started veterinary school six months ago, I knew that I wanted to get involved in student organizations to meet people and learn about aspects of veterinary medicine that are not taught in the traditional curriculum. Therefore, I was excited when I saw that there was a student organization club fair during orientation week.
I was immediately impressed with the diversity of the student organizations present at the fair. Remembering what I learned after signing up for too many clubs as an undergraduate student during the University of Illinois Quad Day, I tried to only sign up for the student organizations that genuinely captured my interest. My career interest is in aquatic veterinary medicine, so I joined the Aquatics Club, Non-Traditional Species Club, and the Illinois Student Chapter of the Wildlife Disease Association to gain clinical skills and career insight. I also joined the Veterinary Business Management Association to learn about the relationship between business and veterinary medicine. Lastly, I joined Omega Tau Sigma to meet more people in the veterinary program and gain mentorship.
My first few weeks of membership in these organizations gave me the opportunity to meet upperclassmen, learn from guest lecturers, and partake in hands-on wet labs. The following months gave me the opportunity to take my membership to the next level and take on leadership roles in the organizations that I felt most passionate about.
One of these organizations is the Wildlife Medical Clinic at Illinois (WMC). I began volunteering at the WMC three years ago as an undergraduate student. Therefore, I was excited to continue my volunteerism into my years as a veterinary student. My experience volunteering at the WMC as a veterinary student is extremely different from my experiences as an undergraduate student. When my team members and I examine radiographs of our patients, I see structures and pathology instead of just black and white fuzziness. When I triage patients upon intake, I am more comfortable knowing the anatomy of various species and I feel better about performing physical examinations. Now, I am the co-chair of the WMC and I oversee the undergraduate volunteer program to give back to an organization that has given me leadership and clinical skills, friendships, and confidence over the years.
The opportunity to serve in an executive role in student organizations has also allowed me to bridge connections and form new professional working relationships inside and outside of the College of Veterinary Medicine. Last summer, I participated in an introductory aquatic veterinary course called MARVET in Grand Cayman. From this course, I met numerous aquatic veterinarians with diverse backgrounds. None of these veterinarians were from the Midwest, so I wanted to bring their expertise and experience to our campus. When I had the opportunity to invite a guest lecturer for the Illinois Student Chapter of the Wildlife Disease Association, I reached out to Dr. Cindy P. Driscoll, one of the veterinarians from MARVET. Dr. Driscoll is a state veterinarian for the Maryland Department of Natural Resources, and she agreed to give a Skype lecture about student and career opportunities in wildlife medicine. Through this action, I bridged my connection between MARVET and the Illinois Student Chapter of the Wildlife Disease Association, allowing the club members to hear from an expert in the field of wildlife medicine that would otherwise have been inaccessible.
Getting involved in the college outside of the classroom has enhanced my veterinary education. I have had the opportunity to gain insight into important facets of being a veterinarian, such as contract negotiations and ways to participate in continuing education. I have also had the opportunity to practice clinical skills that I would not have gained in the traditional veterinary curriculum, such as learning how to perform small mammal dental extractions with Dr. Kenneth Welle and practicing giving subcutaneous injections in deer (pictured at right) with Dr. Clifford Shipley. I encourage and challenge every current and incoming veterinary student to get involved and join student organizations to find their passion and enhance their veterinary education.
Pictured at top, I'm tong-feeding a WMC great horned owl patient a mouse because the patient would not eat on its own. At right, I'm preparing to give a subcutaneous injection into a deer at Dr. Shipley's deer farm. The deer were anesthetized and we were preparing them to be artificially inseminated.