College Services and Resources During COVID-19 Measures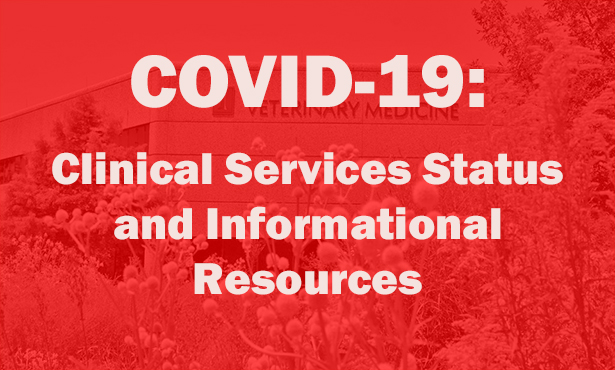 This page provides handy links to information about the status of college services as well as information for animal owners, veterinarians, and the college community regarding the COVID-19 outbreak.
Please check back frequently as the situation is very fluid.
Last updated June 26.
---
College of Veterinary Medicine Services
To our clients: We believe reduced services will be in place for the foreseeable future. As soon as we know of a change in status, we will update this website. We greatly appreciate your patience and understanding.
Veterinary Diagnostic Laboratory: Open for service, but closed to in-person visitors; samples may be left at the drop box
Veterinary Teaching Hospital: Open for emergency services; most specialty services have resumed seeing patients based on priority of need. Read more.
Veterinary Medicine South Clinic:

Dog/Cat Primary Care: Seeing sick/urgent cases only. No appointments will be seen for elective procedures or wellness visits.
Zoological Medicine: Seeing emergent/urgent cases only; postponing appointments that are not of an urgent nature.

Medical District Veterinary Clinic (Chicago): Seeing sick patients only; wellness and routine procedures will be rescheduled.

As of April 13, offering telemedicine appointments (phone or video conference) for established clients whose pets have been seen in the previous 12 months.
Note: Patients due for vaccines, especially Rabies, that go to boarding/daycare may be seen; determined on a case-by-case basis.

Midwest Equine (Farmer City): Open for ambulatory service only
Shelter Medicine: The Shelter Medicine mobile surgical unit is not currently visiting its shelter partners.
Wildlife Medical Clinic: Accepting new patients with some restrictions.
Student instruction: Plans are in place for the Class of 2021 to fulfill the requirements for their clinical year and graduation. Plans are also in place to deliver fall semester courses in person while adhering to public health guidelines such as social distancing.
College/Campus Resources
For animal owners: Coronavirus and Pets: FAQs for Owners; Zoonotic Disease and the Coronavirus (podcast); Coronavirus: Is It Safe to Leave the House? (podcast)
For veterinarians: COVID-19: Recommendations for Veterinary Practices; COVID-19: Surgical Mask Shortages Impact Veterinarians
For members of the University of Illinois community: University of Illinois at Urbana-Champaign COVID-19 website
For members of the college community: College of Veterinary Medicine Internal Communications on COVID-19 (requires password)
---
External Resources
---
College experts speak with news media on coronavirus
Dozens of local and national news outlets have interviewed College of Veterinary Medicine faculty about the new coronavirus and how it impacts animal health and animal agriculture. To see a listing of these stories, please scroll through the posts listed in our "In the News" page.