Veterinary Teaching Hospital
Veterinary Teaching Hospital
Small Animal Emergency
Small Animal Specialty Services
1008 W. Hazelwood Drive, Urbana
(217) 333-5300
Small Animal Primary Care
Zoological Companion Animals
2100 S. Goodwin Avenue, Urbana
(217) 244-2555
Equine/Large Animal Emergency
Primary Care
1102 W. Hazelwood Drive, Urbana
(217) 333-2000
On-Farm Services for Horses
(309) 928-2127 (Midwest Equine)
Farrier Services
On Farm and in Clinic
(217) 300-5508
On-Farm Services for
Farm and Food Animals
(217) 333-7232
Emergency services are provided 24 hours a day, 365 days a year.
For appointments, call Monday to Friday, 8 to 5.
NOTICE: Hospital Service Changes in Response to COVID-19 Outbreak
Emergency services will continue to operate 24/7 for life-threatening emergencies. Advance calls from referring veterinarians to discuss urgent and emergent cases with the emergency and critical care service are appreciated.
Specialty services are seeing patients in order of medical priority.
Upon arrival, clients are asked to text or phone the number provided in the parking lot and to wait in their vehicle for further instructions.
When they receive the invitation to do so, clients will enter the hospital for check-in and check-out, but they may not remain in the hospital during their animal's visit. Client communication occurs primarily by phone.
All clients will be required to wear a mask.
Medical Dispensary will be open Monday to Friday, 8 am to 5 pm.
We greatly appreciate your patience and understanding
A Medical Center for Animals
The University of Illinois Veterinary Teaching Hospital is a full-service hospital that provides outstanding, compassionate treatment for dogs and cats, horses, exotic animals, and farm animals.
The Veterinary Teaching Hospital offers emergency services 24/7/365, specialty services for cases when your veterinarian refers you to us, and primary care for routine veterinary appointments. Learn what to expect at your hospital appointment.
Veterinarians who wish to refer a patient, please read the steps on our Referral Services page.
Directions
From Interstate 74, take the Lincoln Avenue exit south and travel about 3.1 miles until you reach Hazelwood Drive.
From Interstate 57, take the Curtis Road exit east; turn north on Route 45 (Dunlap Avenue), east on Windsor Road, and north on Lincoln Avenue one-half mile to Hazelwood Drive.

Parking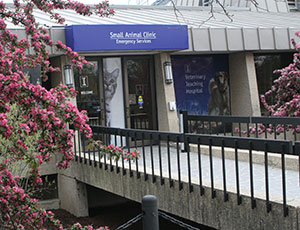 Free parking is available for clients in the spots marked "Client Parking." If a "Client Parking" spot is not available, please park at a meter and ask one of our client services staff members for a hang tag for free short-term parking. Trailer parking is available for large animal clinic clients. View parking map.
Einstein Bros. Bagels
During the academic year, an Einstein Bros. Bagels is open in the Basic Sciences Building just a short walk from the hospital. Hours vary.
Connect with Us
About Us
With more than 80 veterinarians on staff, including more than two dozen specialists as well as interns and residents, the Veterinary Teaching Hospital has experts in fields from anesthesia to zoo medicine.
Each year more than 20,000 animal patients from across Illinois and beyond visit the hospital. Most are referred by their primary care veterinarian for specialty care, but animal owners can also use our services for routine health care, rehabilitation, 24-hour emergency service and intensive care, horse hoof care, or for on-farm animal care provided through an ambulatory service.
As the name indicates, "teaching" is one of the primary missions of the hospital. Veterinary students from all four years of the curriculum learn through active engagement in the care for animal patients.
Simply put, the hospital is dedicated to improving lives: by providing exceptional patient care, by serving animal owners and veterinarians, by advancing veterinary education, and by developing innovative health solutions.
Clinical Trials and Studies
Researchers at the Veterinary Teaching Hospital and the College of Veterinary Medicine try to answer specific clinical questions about new therapies and drugs through trials and studies. Check the clinical trials and studies webpage to see what we're currently researching and whether your animal qualifies for participation.