Shelter Medicine Program at Illinois
The Shelter Medicine Program partners with the community to reduce pet overpopulation, enhance veterinary education, and improve the lives of dogs and cats.
The goal of the Shelter Medicine Program at Illinois is to develop a talented pool of veterinary graduates who are well-versed in the tools available to improve the care of shelter animals and help reduce animal overpopulation. The program is actively engaged in the teaching, outreach, and research missions of the College of Veterinary Medicine and the University of Illinois.
Our Mission
The mission of the Shelter Medicine Program at Illinois is to reduce animal overpopulation and to improve the health and well-being of animals in shelters through the advancement of the discipline of shelter medicine among veterinarians and veterinary students.
About Us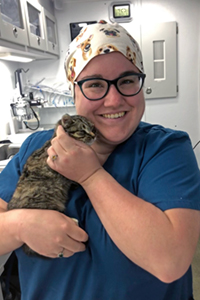 Olivia Swailes, DVM
Instructor

Dr. Swailes developed an interest in shelter medicine while volunteering for the local humane society during her undergraduate years at Michigan State University, where she earned her B.S. in Animal Science in 2013.  She continued to volunteer at the local animal shelter throughout veterinary school and graduated from the Purdue University College of Veterinary Medicine in 2017.
Following graduation, she completed a Maddie's Fund® Shelter Medicine Internship at the University of Wisconsin-Madison and Dane County Humane Society, where she received medical and surgical training as well as experience in shelter consultations and community outreach.  Dr. Swailes worked as a staff veterinarian at a non-profit rescue in South Carolina prior to returning to the Midwest to join the Shelter Medicine Program at the University of Illinois.
Her interests include infectious disease management, behavior, community outreach, and shelter consultation work. She is excited to bring those interests to students via the Shelter Medicine electives and the clinical year rotations. While not practicing veterinary medicine, Dr. Swailes enjoys spending time with family, friends, and her rescue Labrador, Ruby, as well as crafting, reading, and traveling.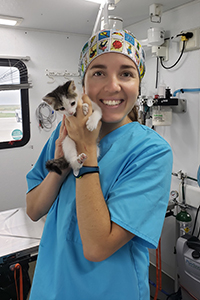 Valeria Picazo Zamarripa, DVM
Intern

Dr. Valeria Picazo is originally from Mexico City, where she graduated with honors from the National Autonomous University of Mexico. She then completed a rotating internship in large animal medicine and surgery at the Ontario Veterinary College, University of Guelph.
Dr. Picazo is particularly interested in promoting animal welfare and developing strategies to enhance animals' quality of life, playing an active role in the triangle formed by animals, their families and society. She hopes to continue her career at an international organization dedicated to the protection of various species, and have a positive impact on communities by alleviating suffering and helping to prevent it.
After finishing this internship, Valeria would like to explore veterinary acupuncture and other types of traditional medicine, and be able to connect with animals from an integrative approach.
Thank You to Supporters of the Shelter Medicine Program!