Shelter Medicine Program at Illinois
The Shelter Medicine Program partners with the community to reduce pet overpopulation, enhance veterinary education, and improve the lives of dogs and cats.
The goal of the Shelter Medicine Program at Illinois is to develop a talented pool of veterinary graduates who are well-versed in the tools available to improve the care of shelter animals and help reduce animal overpopulation. The program is actively engaged in the teaching, outreach, and research missions of the College of Veterinary Medicine and the University of Illinois.
Our Mission
The mission of the Shelter Medicine Program at Illinois is to reduce animal overpopulation and to improve the health and well-being of animals in shelters through the advancement of the discipline of shelter medicine among veterinarians and veterinary students.
About Us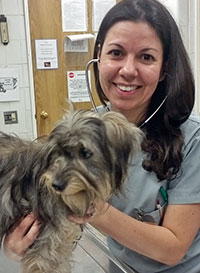 Loukia Agapis, DVM, MS
Director and Instructor
Dr. Agapis studied veterinary medicine at the University of Thessaly, Greece. As a student she volunteered at various animal shelters, and later on in private practice she continued her efforts to help homeless animals. Shortly afterwards, she realized she wanted to dedicate her life to helping those animals most in need. Dr. Agapis has completed the Maddie's Shelter Medicine Program and earned a Master's in Veterinary Medical Science with a focus in Shelter Medicine and a Graduate Certificate in Veterinary Public Health through the University of Florida. She has also trained with IVAS in veterinary acupuncture and is a certified FEMA first responder. Since joining the College of Veterinary Medicine, Dr. Agapis has held various positions, including Junior Surgery Instructor and Shelter Medicine Consultant, and has received several recognitions and awards. Her research interests include stress reduction in relinquished cats and the effects of accessible veterinary care.
When Dr. Agapis is not with the shelter medicine team, she heads the International Programs. Thus far, she has organized group study abroad trips to Australia, Brazil, and Greece, as well as numerous individual student experiences. In her free time, Dr. Agapis loves spending time with her family and traveling.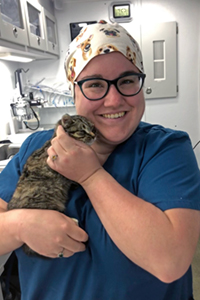 Olivia Swailes, DVM
Instructor

Dr. Swailes developed an interest in shelter medicine while volunteering for the local humane society during her undergraduate years at Michigan State University, where she earned her B.S. in Animal Science in 2013.  She continued to volunteer at the local animal shelter throughout veterinary school and graduated from the Purdue University College of Veterinary Medicine in 2017.
Following graduation, she completed a Maddie's Fund® Shelter Medicine Internship at the University of Wisconsin-Madison and Dane County Humane Society, where she received medical and surgical training as well as experience in shelter consultations and community outreach.  Dr. Swailes worked as a staff veterinarian at a non-profit rescue in South Carolina prior to returning to the Midwest to join the Shelter Medicine Program at the University of Illinois.
Her interests include infectious disease management, behavior, community outreach, and shelter consultation work. She is excited to bring those interests to students via the Shelter Medicine electives and the clinical year rotations. While not practicing veterinary medicine, Dr. Swailes enjoys spending time with family, friends, and her rescue Labrador, Ruby, as well as crafting, reading, and traveling.
Thank You to Supporters of the Shelter Medicine Program!