Shelter Medicine Program at Illinois
The Shelter Medicine Program partners with the community to reduce pet overpopulation, enhance veterinary education, and improve the lives of dogs and cats.
The goal of the Shelter Medicine Program at Illinois is to develop a talented pool of veterinary graduates who are well-versed in the tools available to improve the care of shelter animals and help reduce animal overpopulation. The program is actively engaged in the teaching, outreach, and research missions of the College of Veterinary Medicine and the University of Illinois.
Our Mission
The mission of the Shelter Medicine Program at Illinois is to reduce animal overpopulation and to improve the health and well-being of animals in shelters through the advancement of the discipline of shelter medicine among veterinarians and veterinary students.
About Us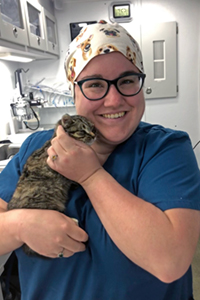 Olivia Swailes, DVM
Instructor

Dr. Swailes developed an interest in shelter medicine while volunteering for the local humane society during her undergraduate years at Michigan State University, where she earned her B.S. in Animal Science in 2013.  She continued to volunteer at the local animal shelter throughout veterinary school and graduated from the Purdue University College of Veterinary Medicine in 2017.
Following graduation, she completed a Maddie's Fund® Shelter Medicine Internship at the University of Wisconsin-Madison and Dane County Humane Society, where she received medical and surgical training as well as experience in shelter consultations and community outreach.  Dr. Swailes worked as a staff veterinarian at a non-profit rescue in South Carolina prior to returning to the Midwest to join the Shelter Medicine Program at the University of Illinois.
Her interests include infectious disease management, behavior, community outreach, and shelter consultation work. She is excited to bring those interests to students via the Shelter Medicine electives and the clinical year rotations. While not practicing veterinary medicine, Dr. Swailes enjoys spending time with family, friends, and her rescue Labrador, Ruby, as well as crafting, reading, and traveling.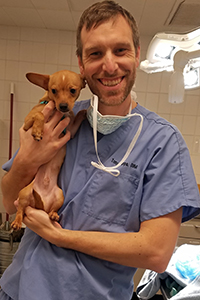 Anthony Cappa, DVM
Instructor
Dr. Cappa earned his DVM from the University of Illinois in 2006 before completing a 1-year small animal rotating internship at Texas A&M University. He then returned to the Champaign area and served the local community for 10 years as a small animal practitioner in Tolono before joining the shelter medicine program. His interests include surgery and ultrasonography, along with teaching.
When not at work, he and his wonderful wife stay busy shuffling their two children to various activities. He also enjoys working in his yard and staying active through running and basketball.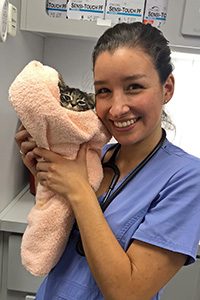 Mónica Ramírez Hernández, MVZ
Shelter Medicine Intern
Dr. Ramírez was born and raised in Mexico City, where she studied veterinary medicine and zootechnics at the National Autonomous University of Mexico (UNAM). As a student, she enjoyed rescuing and rehabilitating stray dogs and cats, leading her toward a career in shelter medicine. During her time at UNAM she worked at the university's satellite clinic for reproductive control of dogs and cats and volunteered at a dog rescue sanctuary.
Dr. Ramírez is hoping to return to UNAM as a board certified shelter medicine specialist and to make a difference in Mexico City's stray animal population.
In her free time, she enjoys volunteering at wildlife sanctuaries, traveling, and spending time with her family and friends. Back in Mexico, her amazing mom is looking after her cats Mayuyo, Mursi, and her dog Prudencia.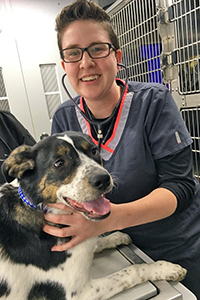 Kristen Ragusa, CVT
Shelter Medicine Veterinary Technician

Kristen has always had a special place in her heart for all animals, large and small. She obtained her veterinary technician license from Parkland College in 2009. Her career has led her down many paths, including several years of experience in general practice, critical care, and internal medicine. Throughout her adventure she has picked up many diverse skills such as emergency medicine, clinical pathology, special knowledge in endocrine diseases, as well as animal-handling techniques. She is now happy to have found a spot in the community medicine program offered by the shelter medicine service. She aspires to help other pet owners care for their beloved pets and assist shelter animals along the way, in hopes they will remain healthy as they find their forever homes.
In her spare time, Kristen is a lifelong learner. She is currently studying environmental sciences and hopes to one day help in the conservation of plants and animals alike. When she isn't at work or being a bookworm, you can find her in the garden, out on a hike with her pups, or looking for another adventure with her family and friends.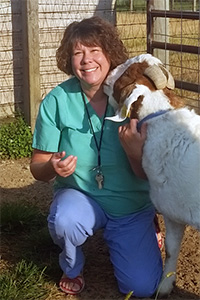 Heather Soder, CVT
Shelter Medicine Veterinary Technician
Heather has had a lifelong passion for animals. As a young child, she dreamed of living on a farm with all kinds of pets. In the early 1990s, she attended the Midwest School of Dog Grooming and became an accomplished pet groomer in the Champaign-Urbana area. From there she attended Parkland College for her degree in Veterinary Technology.
Heather joined the University of Illinois team in September 1996 as an imaging/nuclear medicine technician. As her career progressed, she developed an interest in Small Animal Surgery, and trained as a surgery technician.
These days Heather teaches third-year veterinary students aspects of surgical asepsis in the Junior Surgery labs. She also divides her time with the shelter medicine service to provide low-cost spay and neuter services to communities.
In her spare time, Heather enjoys her farm, two horses, and goats. She has an interest in gardening and beekeeping and hopes to add hives to her farm soon.
Thank You to Supporters of the Shelter Medicine Program!