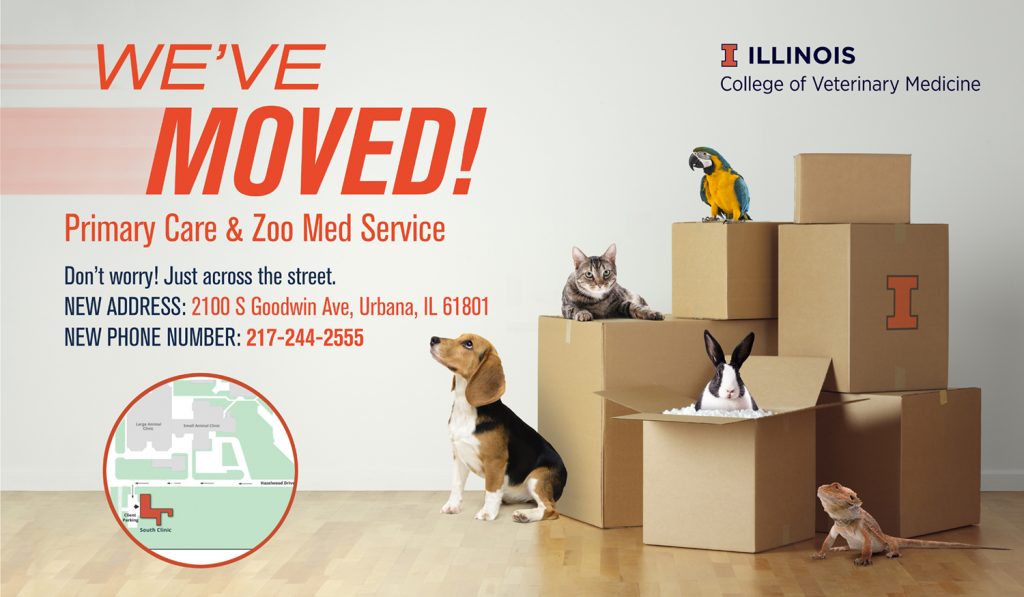 Do you want the Veterinary Teaching Hospital to be your home for the routine care of your animal? We offer primary care for small animals, horses, and exotic pets, and we also make ambulatory farm calls.
We are looking forward to serving you in our new location at Veterinary Medicine South Clinic.
New address: 2100 S Goodwin Ave, Urbana, IL 61801
We moved just across Hazelwood Avenue to the south of the Veterinary Teaching Hospital.
For information about equine primary care, visit the Midwest Equine website.
Small Animal Primary Care

I take my two dogs, Stubby and Joe, to primary care. The Doctor is always very thorough and clear. He takes the time to answer my questions. The vet students and techs are also great. Also, I appreciate the full write-ups that are sent to my email after our visits.

Lilly B.

Just as your human primary care doctor cares for you, our small animal primary care service provides year-round veterinary care for your dog or cat. Our doctors will get to know you and your pet to help maintain their lifelong health. No referral is necessary for primary care.

If the need arises for spaying or neutering, imaging services, specialty care, or emergency/critical care, your animal will have easy access to the full range of services in our hospital.

Services

New puppy and kitten care
Annual wellness examinations and vaccinations
Treatment for minor injuries
Preventive medicine
Nutrition consulting
Continuing care of chronic conditions
Geriatric care

Our Veterinarians


Justin Fehr, DVM
Gene Pavlovsky, DVM


Additional Primary Care Clinical Staff
Mikayla Wrasse, CVT

Call (217) 244-2555 to schedule an appointment at the Veterinary Medicine South Clinic.

Zoological Medicine Primary Care and Advanced Services

Can't say enough good about Dr. Ken Welle in the exotics department. He is by far the best and most skilled avian vet in the Midwest! Recently he identified an infection that my lovebird Elliott had and successfully treated it…. His ability to do blood draws on small birds with almost no stress is amazing.

Betsy C.

Our Zoological Medicine service provides care for all non-traditional species including reptiles, birds, amphibians, fish and zoological companion mammals (rabbits, ferrets, guinea pigs, rats, hedgehogs and more!).

The service provides general or wellness care, as well as referral services for all species and, is available for consultation when these species are presented to the Emergency Service outside of regular hours. Our service practices out of the Veterinary Medicine South Clinic and has capabilities in a variety of diagnostics including digital radiography, ultrasonography, computed tomography, clinical pathology, and endoscopy amongst others. Therapeutic services are vast and include outpatient and inpatient care, routine and advanced surgeries and more. Our team will get to know you and your non-human family member and work with you to maintain health.

Services

24-hour emergency care
Wellness examinations and vaccinations
Nutrition consulting
Complete diagnostics and comprehensive medicine
Reproductive procedures (sexing, spay/neuter, egg-binding) and other soft tissue and orthopedic surgeries
Husbandry consultations

Our Veterinarians


Spencer Kehoe, DVM
Krista Keller, DVM, DACZM
Samantha Sander, DVM, DACZM
William Sander, DVM, MPH, DACVPM
Kenneth Welle, DVM, ABVP (Avian)

Anthony Cerreta, DVM, Resident
Joanna Webb, DVM, Resident
Kelsey Trumpp, DVM, Intern

Additional Zoo Med Staff


Kim Byrne, CVT
Veronica Millsap, CVT
Jenny Trail, CVT

Call (217) 244-2555 to schedule an appointment with the exotic animal care service.