In November 2020, Khan, a Belgian Malinois that owned the hearts of Jack Beckwith and Sue Oberholtzer, was diagnosed with osteosarcoma in his right hind leg.
The most common type of bone cancer seen in dogs, osteosarcoma is aggressive, painful, and deadly. But Khan, his family, and his doctors formed a formidable team that fought the cancer and won a remarkable 21 additional months of joyful life for Khan.
This is Khan's story, one that inspired Jack and Sue to establish the Oberholtzer and Beckwith Amazing Khan Memorial Fund at the University of Illinois. They hope Khan's story will give hope to other families struggling with their dog's cancer diagnosis and inspire contributions to Khan's fund to find cures for canine cancer.
---
A Dog That Loved Life
The dog that made such a big impact on Jack and Sue came into their lives on August 13, 2016. A foster dog from the American Belgian Malinois Rescue, he arrived burdened with mange, ear mites, hip dysplasia, and the name Lootah.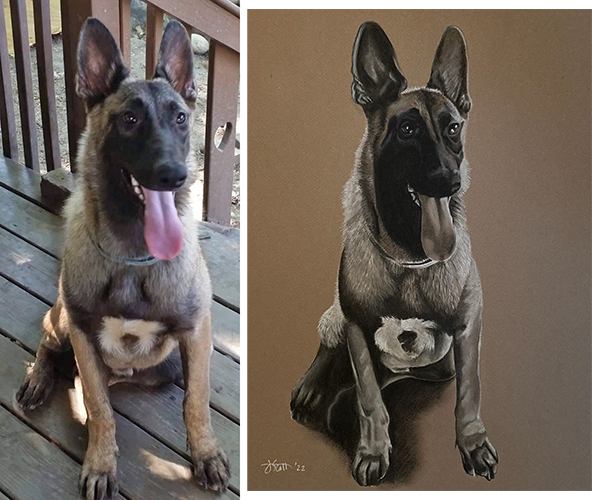 By November, his health issues had been cleared up and he had become a "foster fail": Jack and Sue had decided to adopt this dog, newly christened "Khan."
Jack explains: "He was always getting into mischief. For some reason, I responded by yelling "Khan!" at him, just the way Captain Kirk yelled at the character played by Ricardo Montalban in 'The Wrath of Khan.' And the name stuck."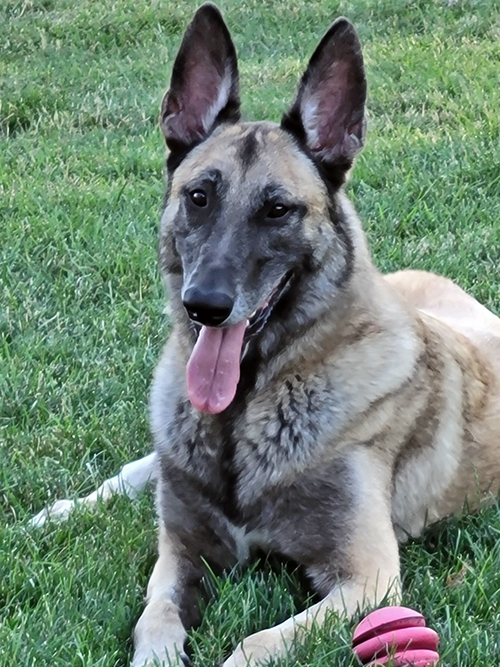 Despite his namesake, Khan got along with everyone. "He was a golden retriever in a Malinois body," Jack jokes.
Sue did obedience training with Khan, and he did well. The two forged an incredible bond. To the end, Khan was extremely protective of Sue, though in general he was a very playful pup.
"He loved to play and have fun," says Jack. "He loved basketballs—popped every one of them! He would throw a plastic half-gallon bottle around in the backyard. Every night at 7 pm he came to get his favorite treat: a cow's femur bone that we filled with peanut butter and kept in the freezer."
Another fave? Hershey's Peppermint Kisses. Jack and Sue kept a bowl of them near the coffee pot, and Khan was a "counter surfer extraordinaire."
"He was sneaky and fast," says Jack, who is a professional dog trainer. "I never could break him of the counter-surfing habit. Khan won that contest for good when he left this world."
All the Treatment Options
Khan's strong will and zest for life did not waver during his battle with cancer.
The first sign of a problem arose when Khan came around the corner of the house and made a yelp. That's when they noticed his swollen hock just below the knee.
A local veterinarian made the diagnosis of osteosarcoma, and soon Khan was making regular trips from East Peoria, Ill., to the University of Illinois Veterinary Teaching Hospital in Urbana for cancer treatment. His care was overseen by Dr. Tim Fan, a veterinary oncologist whose focus is developing new treatments that could help both pets and people with cancer.
"Dr. Fan explained what treatments were available, and we chose all the options," says Jack. But there was one exception: "Khan weighed 92 pounds. We didn't want to amputate his leg. We felt that he'd really have trouble getting around without it."
Fortunately, the other available treatments—radiation and chemotherapy—kept Khan alive and happy for a surprisingly long time.
"We never had any issues with Khan during his cancer treatments," says Jack. "He was a real trooper. He never refused to eat. Even when the cancer spread, he was his happy self. He just refused to die. I called him 'The Immortal One.'"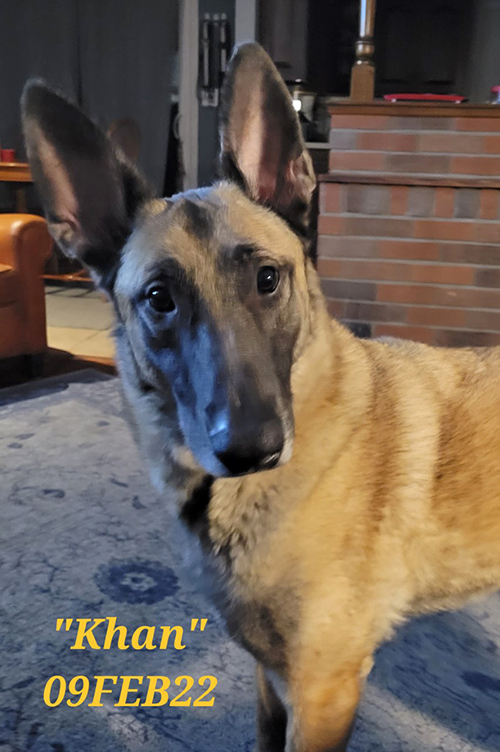 The Amazing Khan
Even Dr. Fan was astonished at Khan's remarkable survival with a cancer that is usually unsparing. Dr. Fan dubbed his patient "The Amazing Khan," and that's the name used for the fund Jack and Sue created in his memory.
Khan's treatments began during the first year of the pandemic, which meant that while Khan was having his monthly visit with the oncologists in Urbana, Jack and Sue couldn't hang out in stores or restaurants. In fact, they and other clients weren't even allowed inside the Veterinary Teaching Hospital at that time.
At some point during Khan's treatment, Dr. Fan began seeing patients at Peoria Area Veterinary Group one day a month, so that reduced the drive time—and gas cost—for Jack and Sue.
Time to Say Good-bye
And then the day came when they knew it was time to say good-bye. The leg with the initial tumor was filling with fluid faster than it could be drained. They suspected the bone had refractured. At the very end, Khan suffered two brief seizures where he uncharacteristically did not want people near him.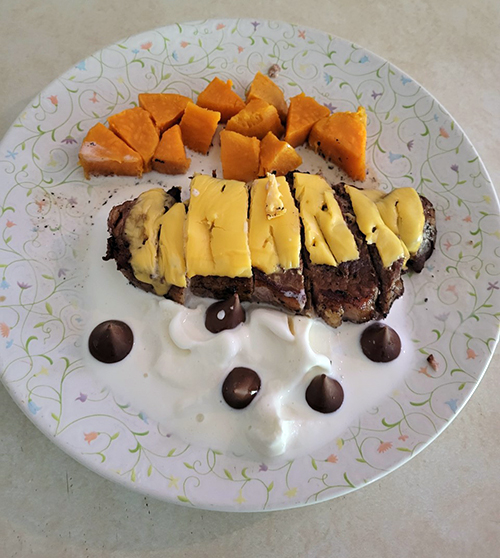 Jack and Sue arranged for Khan's primary care veterinarian and technicians to come to their home on a Saturday.
Khan got a very special meal that morning.
"We made him all his favorites. A two-inch steak, sweet potatoes, blueberries, and a big scoop of vanilla Häagen-Dazs ice cream with Hershey chocolate kisses on top. He ate it all."
(The kisses were from the veterinary staff. "All dogs need chocolate before they go to heaven," says Jack.)
It was August 13, 2022, exactly six years from the day Khan had entered their lives.
Khan's Legacy
Khan's death was a tremendous loss to Jack and Sue, even though they have several other canine children. Jazzee, a female Belgian Malinois, grieved along with them for five months.
Jack and Sue decided to create the Oberholtzer and Beckwith Amazing Khan Memorial Fund to keep Khan's legacy alive. They want to help in any way they can to fight "dreaded cancer." The fund supports oncology research at the University of Illinois College of Veterinary Medicine, under the direction of Dr. Fan.
"Khan was strong and resilient," says Jack. "He beat the odds to the extreme. A dog has to be a dog, and he never stopped running and playing. Some days he used his leg and some days he carried it, but he wasn't going to stop. Khan was truly amazing. He loved life, and he especially loved Sue."
The commitment of Khan's loving family is just as strong. They hope that others will join them in supporting the fund they established so more pets with cancer will benefit from advances in treatment.
To make a gift to support treatment discoveries for pets with cancer, go to our giving page and select "Oberholtzer and Beckwith Amazing Khan Memorial Fund" in the drop-down menu under "Featured Funds."

You can also contact our Advancement Office for more information about supporting the oncology service at the Veterinary Teaching Hospital.