Last summer, two members of the Class of 2024, Tess Cummings and Benjamin Rado, had the opportunity to volunteer at the Pine Ridge Reservation at Wounded Knee, South Dakota, home of the Oglala Sioux. Their exciting adventure came about through an invitation from Dr. Ray Heinrichs, a 1984 graduate of the college.
Do you have a story about "Student Opportunities with Alumni in Practice"?
Share it here with us!
Dr. Heinrichs, who operates the Southern Illinois Mobile Veterinary Clinic out of Anna, Ill., has been volunteering at the reservation for many years. Outreach to the reservation is one of several projects of the Equitarian Initiative, a non-profit organization that provides education and free veterinary care to communities around the globe that rely heavily on equids.
Each year a team of trained volunteer veterinarians, farriers, technicians, and veterinary students work with the Horse Spirit Society, an organization run by tribal elders, to provide veterinary care to hundreds of horses, donkeys, mules, and ponies.
'I Learned A LOT'
Needless to say, Rado and Cummings encountered a wide range of experiences during their week in South Dakota. They proudly wore Illinois apparel while assisting with vaccinations, castrations, and deworming plans for the reservation horses. Many of the horses also received dental examinations, wound care, lameness consults, and hoof trimming.
"I learned A LOT," says Rado. "We regularly administered vaccines and wormed the horses, but I was also able to participate in many castrations under the direction of wonderful veterinarians who donated their time, equipment, and expertise."
Each student was supplied with their own small house, consisting of one bathroom, one bedroom, and (thankfully) air conditioning. Dinner was provided during their stay, with lunch and snacks occasionally thrown into the mix. While neither student was paid for their time in South Dakota, they both agreed that they gained valuable experiences from the trip.
In addition to providing veterinary care, Rado, Cummings, and the other volunteers also took the time to educate the local tribal members in equine health care and first aid. It is often difficult for families to arrange and afford veterinary care for their horses, which makes it beneficial to know the basics of everyday care and maintenance of their animals.
Reconnecting with a 'Sense of Purpose'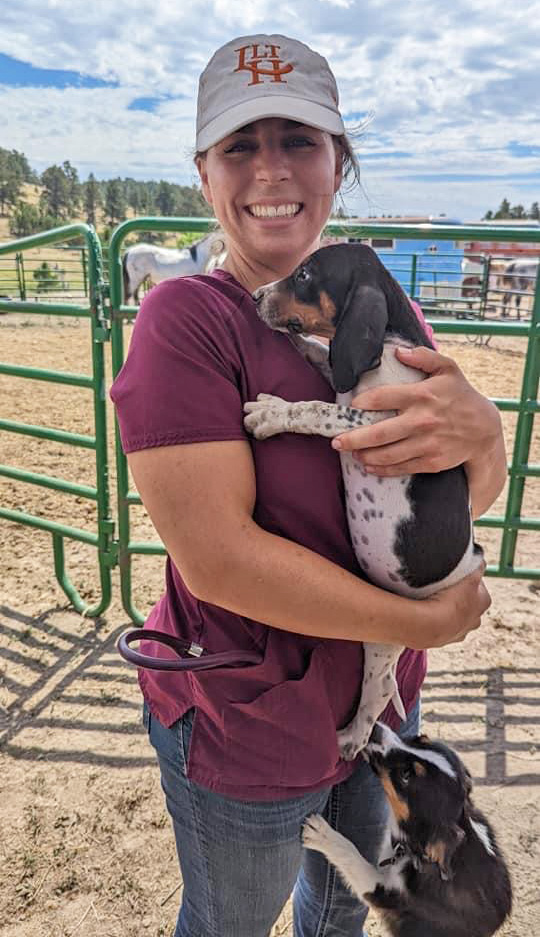 A majority of the tribal families make their living by breeding, raising, training, and selling horses and using them to manage herds of cattle. The combined efforts of the Equitarian Initiative volunteers and the members of Pine Ridge Reservation allow the horses to remain healthy and support the natives' community, culture, and way of life.
Rado and Cummings not only gained hands-on skills and learned about a way of life different from their own, but they and the rest of the team gained a deep appreciation for the incredible horsemanship of the Oglala Sioux people.
"Volunteering with the Equitarian Initiative reminded me of my sense of purpose in veterinary medicine," says Cummings.
By Kali Walker