Clinic Relies on Donations to Pay for Patient Care
[row]
[column size="8″]
Two unusual patients arrived at the college's Wildlife Medical Clinic this week:
[/column][column size="4″]
[/column][/row]
Both birds have the remnants of gunshot in their necks visible on radiographs, according to Dr. Sarah Reich, an instructor who is overseeing their care at the wildlife clinic. The pelican has an entrance wound on his right side and the osprey has a wound on the left elbow.
The pelican appears to be the only survivor of a group of six pelicans shot at the Newton Lake State Fish and Wildlife Area in Jasper County on April 3. Area media have reported that the Illinois Department of Natural Resources (IDNR) Conservation Police have asked for the public's help in an investigation into the shootings. Conservation police brought the surviving pelican to the College of Veterinary Medicine for treatment.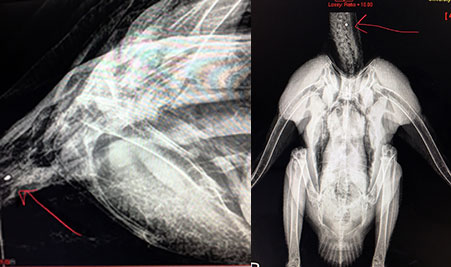 "Both patients are going to take a large amount of supportive care if they are to make it," said Dr. Reich. "We are hoping the public can help with monetary contributions toward the cost of care for these magnificent birds."
Pelican Facts
American White Pelicans regularly migrate through Illinois, coming from coastal US (where they spend the winter) and heading to the Great Lakes and Canada to nest.
The last time the Wildlife Medical Clinic saw a pelican as a patient was in 2012.
Adult breeding pelicans eat 3 to 6 pounds of fish every day. We are going to need all the support we can get!
How to Help
The Wildlife Medical Clinic, a program within the College of Veterinary Medicine, sees about 2,000 ill or injured animals each year. All expenditures for food, diagnostic tests, equipment, medications, consultations, and surgeries for the clinic's patients are covered through donations from the public.
Anyone who would like to make a tax-deductible donation toward the cost of caring for wildlife patients may give online or mail a check made payable to the University of Illinois Foundation to: College of Veterinary Medicine, Office of Advancement, 2001 S. Lincoln Ave., Urbana, IL 61802.