Serving Dogs, Cats, Zoological Species
Veterinary Medicine South Clinic, part of the University of Illinois College of Veterinary Medicine, achieved a significant milestone in veterinary care with its accreditation by the American Animal Hospital Association (AAHA).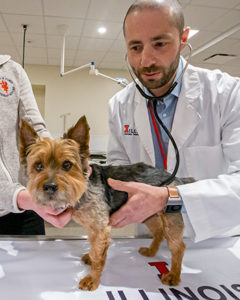 AAHA is the only accrediting body for small animal hospitals in the United States. Hospitals accredited by AAHA meet or exceed over 900 standards that surpass state regulations and ensure the highest level of veterinary care.
Veterinary Medicine South Clinic opened in January 2020. This newly renovated state-of-the-art clinic houses expanding services for dog/cat primary care and all levels of care for zoological species. Its mission is to deliver the highest quality veterinary medicine for animal owners while empowering senior veterinary students at the college to take a more active role in both patient care and clinic management.
Dog and Cat Patients
Dr. Gene Pavlovsky is the medical director of the primary care service, which provides year-round veterinary care for dog and cat patients. Services include new puppy and kitten care, spay and neuter surgeries, annual wellness exams and vaccinations, nutrition consultations, routine dental care, and geriatric care.
"Achieving AAHA accreditation elevates our patient care, client service, and administrative standards," said Dr. Pavlovsky. "This new designation aligns the South Clinic with the rest of the Veterinary Teaching Hospital and provides us with an accountability process for the quality of care we provide to our patients and clients."
Ferrets, Parrots, and More
The zoological medicine service is led by Dr. Krista Keller, who is board certified in that specialty. The service provides wellness care, referral, and emergency care including advanced medicine and surgery for all non-traditional species, including reptiles, birds, amphibians, fish, and zoological companion mammals (rabbits, ferrets, guinea pigs, rats, hedgehogs, and more). The zoological medicine team also provides veterinary care to local zoo animals.
"Our team is proud to practice medicine for all species—whether furred, feathered, scaled or finned—to the highest standards set forth by AAHA," said Dr. Keller.
New Location Enhances Care, Learning
The dog/cat primary care and zoological medicine services moved from the main Veterinary Teaching Hospital building to the South Clinic facility and have onsite access to digital radiography, ultrasonography, and endoscopy.
By operating as a separate clinic, these services create a practice environment more similar to a general veterinary clinic than could be achieved when they were located within the Veterinary Teaching Hospital. In this setting, veterinary students gain a strong grounding in speed and accuracy of diagnosis; client relation skills to build rapport with pets and owners; low-stress handling of patients; and best practices in marketing and business processes.
Dr. Pavlosky believes that AAHA accreditation also benefits the veterinary students who participate in clinical rotations at Veterinary Medicine South Clinic.
"Students who rotate through the primary care and zoological medicine services will see that adhering to a high standard of care in general practice is not only possible, but beneficial for patients, clients, and practitioners."
"Achieving and maintaining AAHA certification involves a great deal of work," concluded Dr. Pavlovsky. "We take pride in this accomplishment and will use it as a starting point for continued growth and constant improvement as a practice and a teaching institution."
Veterinary Medicine South Clinic is located at 2100 South Goodwin Avenue in Urbana, directly south of the college's Veterinary Teaching Hospital. The college's Wildlife Medical Clinic also occupies a portion of the building.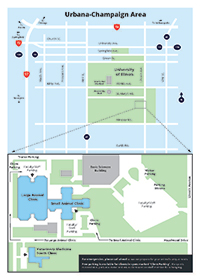 Hospital-wide Expansion and Renovation
The Veterinary Teaching Hospital's Small Animal Clinic, at 1008 West Hazelwood Drive, now exclusively houses specialty services , including internal medicine, neurology, ophthalmology, cardiology, dermatology, advanced dentistry, advanced surgery, and more. Its Large Animal Clinic, with an entrance at the northwest corner of the hospital building, offers all levels of care for horses and farm animals.
The hospital is undergoing a $9 million expansion and renovation effort that will impact every service area, with the ultimate goal of advancing the care of animal patients and enhancing the education of future veterinarians.
Recent and upcoming improvements include:
The installation in 2019 of a state-of-the-art linear accelerator to advance cancer care in animal patients;
Construction of a small animal surgery wing featuring eight operating rooms (the hospital's first new wing in its 50-year history);
A new exercise facility for equine lameness evaluations to be completed this summer, as well as plans for a new to house sports rehabilitation for equine and canine patients:
Expansion of small animal emergency and critical care services as well as of pre- and post-surgical care units.
The expansion and renovation projects will be completed in several phases over the next two years.