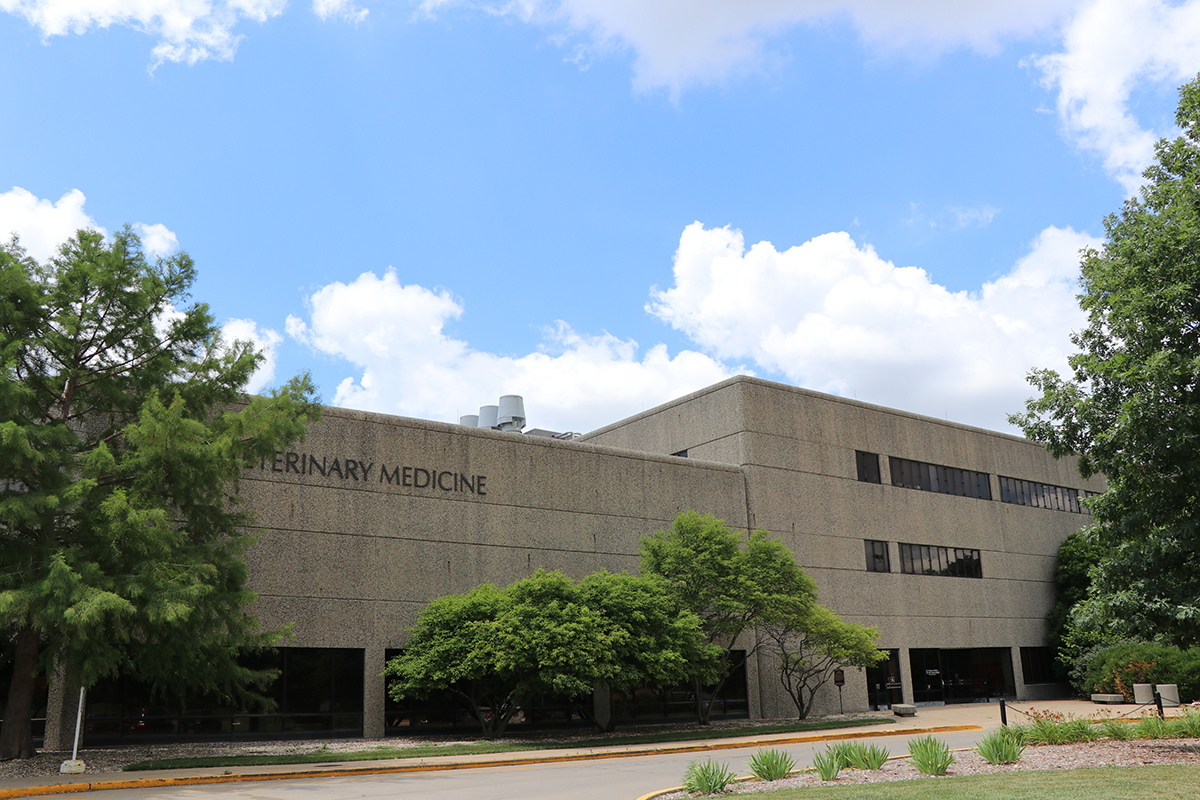 Learn more and apply
Join Our Leadership Team
Seeking an outstanding individual to serve as chief administrator and financial officer of the Veterinary Diagnostic Laboratory at the University of Illinois College of Veterinary Medicine.
The mission of the Veterinary Diagnostic Laboratory is to advance animal, human, and ecosystem health through excellence in diagnostic service, training, and innovation.
Providing high-quality diagnostic services that assist clients with identifying, controlling, and treating animal diseases
Investigating new and emerging disease threats
Developing new tools and technologies that advance laboratory capabilities
Ensuring food safety, food security, and animal agriculture business continuity
Protecting and improving public health
Training the next generation of veterinarians and diagnosticians
Promoting animal conservation and environmental stewardship
Collaborating with key stakeholders to inform the public on animal health matters
Download a position description that details the major duties and responsibilities of the Director of the Veterinary Diagnostic Laboratory.
Staffed by nearly 20 faculty specialists and more than 40 technical staff members, the Veterinary Diagnostic Laboratory processes more than 300,000 tests per year.
In addition to its service mission, the laboratory plays a vital role in the teaching and discovery missions of the college and university:
Educating veterinary students and master's/PhD students about diagnostic methods
Offering residencies in veterinary anatomic and clinical pathology and veterinary microbiology
Researching new and better ways to detect disease
Supporting the biomedical research community with sample analysis and interpretation of data across species
Collaborating with the campus IGB Center for Genomic Diagnostics
Accredited by:
American Association of Veterinary Laboratory Diagnosticians
National Animal Health Laboratory Network
National Poultry Improvement Plan
Food Safety and Inspection Service
Veterinary Laboratory Investigation and Response Network
Illinois's only public veterinary diagnostic lab
The Veterinary Diagnostic Laboratory serves veterinarians, animal owners, food producers, public officials, and state/federal agencies by:
Diagnostic testing for infectious agents and other causes of disease in a wide variety of species
Monitoring for state and federal surveillance programs, including brucellosis, pseudorabies, equine infectious anemia, transmissible spongiform encephalopathy, African swine fever, classical swine fever, foot-and-mouth disease, chronic wasting disease, avian influenza, and rabies.
Working with the Illinois Department of Public Health on food safety and potential outbreaks of zoonotic disease
Key Role in University of Illinois COVID Response
The Veterinary Diagnostic Laboratory stepped up to fill a need when COVID-19 closed the Urbana campus. Between April and August 2020, a novel saliva-based testing program came into being.
Between August 2020 and February 2022, the Veterinary Diagnostic Laboratory and its COVID-Testing Annex processed more than 2.85 million tests—which is more than the total number of tests performed by that date in 10 U.S. states and 60 countries worldwide.
Virologist Dr. Leyi Wang and chief of the Zoological Pathology Program Dr. Karen Terio also assisted the wildlife and zoological communities testing over 1,500 samples from more than 50 species, many of which are endangered, for SARS-CoV-2 infection.
"In parallel to the work on test development, we created a dedicated CLIA-registered laboratory in our on-campus Veterinary Diagnostic Laboratory that includes semi-robotic capacity to efficiently process up to 20,000 saliva samples per day."
Mitigation of SARS-CoV-2 transmission at a large public university | Nature Briefing*
Unique Expertise in Wildlife Health Diagnostics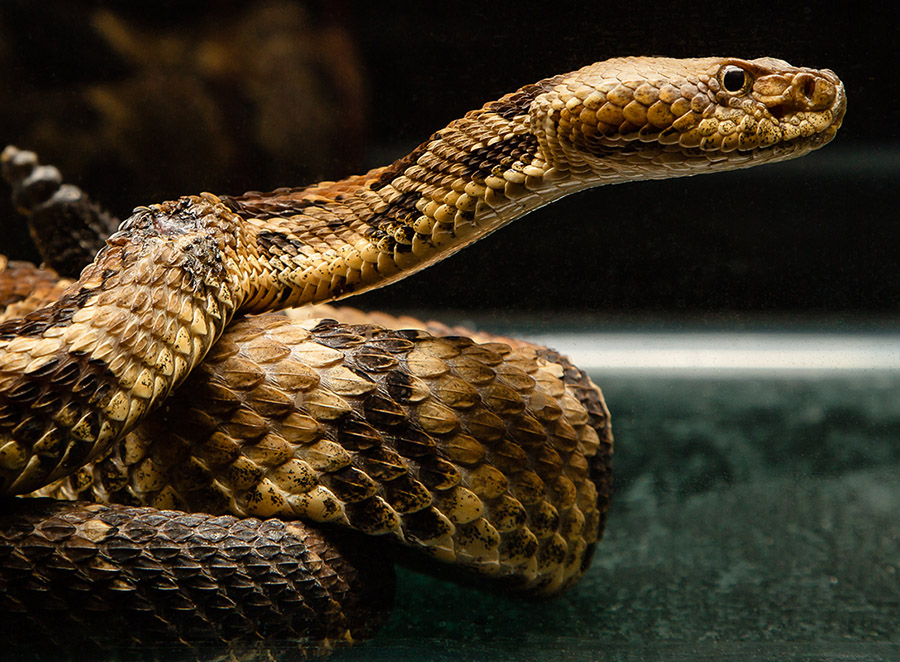 The Wildlife Epidemiology Laboratory is a collaborative research diagnostic lab for new or ongoing studies in free-ranging and captive amphibians, reptiles, birds, and mammals. Led by Dr. Matt Allender, it also conducts field work and offers formal and informal training opportunities for veterinarians and veterinary students.
The Zoological Pathology Program, located in metropolitan Chicago, provides pathology and diagnostic services to the John G. Shedd Aquarium, Chicago Zoological Society's Brookfield Zoo, Lincoln Park Zoo and the Forest Preserve District of Cook County as well as numerous national and international wildlife and conservation organizations. ZPP trains residents in veterinary pathology and conducts research into wildlife diseases around the globe.
JOIN OUR SUPPORTIVE AND INCLUSIVE COMMUNITY
Together we create a workplace culture that fosters respect, inclusion, trust, and support for personal and professional growth. The more diverse our community, the stronger we are. We practice compassion and selfcare. We celebrate successes, knowing that our most valuable assest is our people.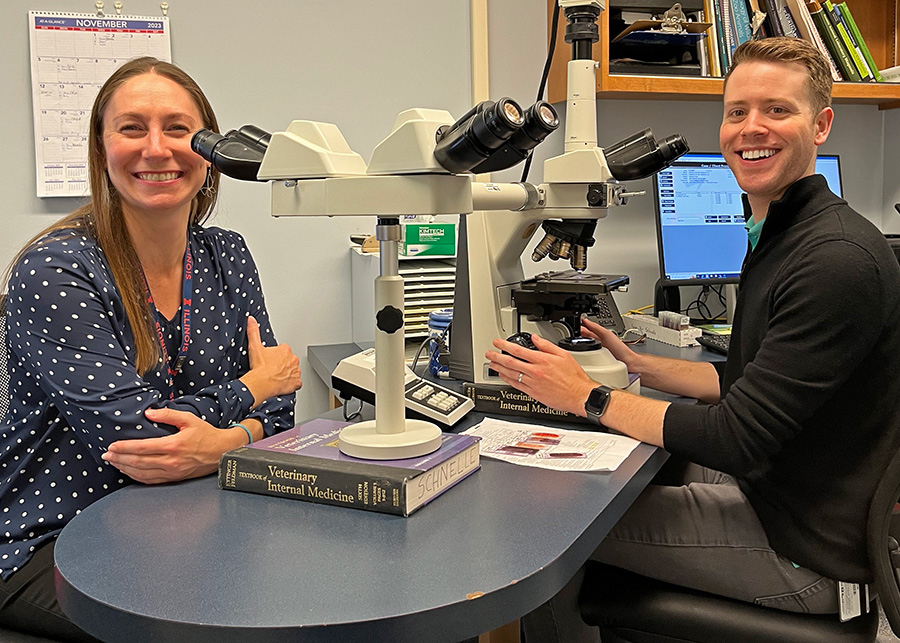 More about the College of Veterinary Medicine
Part of a top-ranked public, land-grant university
Collegewide research strengths in comparative and diagnostic medicine, conservation medicine and ecosystem health, environmental health and toxicology, infectious diseases, and reproductive biology
Innovative approaches to integrated veterinary education, post-graduate veterinary education, and online learning
> 500 veterinary students and > 100 master's and PhD students

Located in a vibrant, diverse and international community that still offers Midwestern friendliness and affordability
The University of Illinois is an Equal Opportunity, Affirmative Action employer that recruits and hires qualified candidates without regard to race, color, religion, sex, sexual orientation, gender identity, age, national origin, disability or veteran status. For more information, visit http://go.illinois.edu/EEO. The University of Illinois conducts criminal background checks on all job candidates upon acceptance of a contingent offer. Convictions are not a bar to employment. The University of Illinois System requires candidates selected for hire to disclose any documented finding of sexual misconduct or sexual harassment and to authorize inquiries to current and former employers regarding findings of sexual misconduct or sexual harassment. For more information, visit Policy on Consideration of Sexual Misconduct in Prior Employment. As a qualifying federal contractor, the University of Illinois System uses E-Verify to verify employment eligibility.