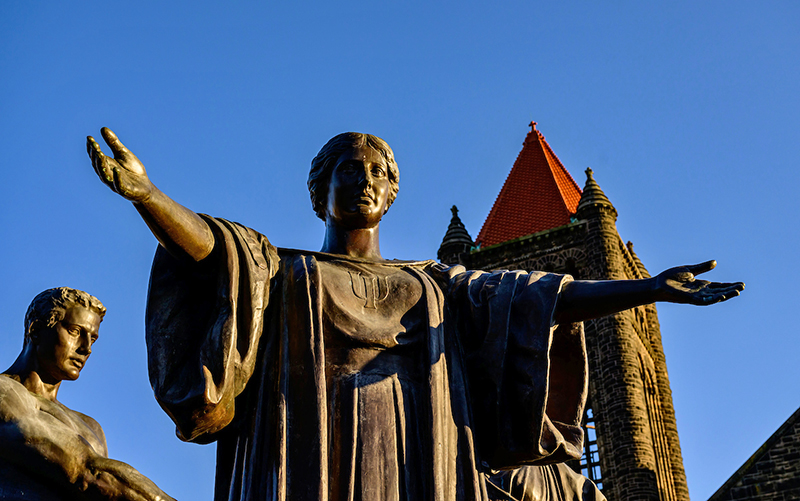 Learn more and apply
Join Our Leadership Team
Seeking an outstanding individual to serve as chief administrator and financial officer for our growing and vibrant Veterinary Teaching Hospital and to provide strategic and budgetary support for the college's clinical services beyond the hospital.
The clinical enterprise at the College of Veterinary Medicine contributes to all facets of the college's mission:
Scholarship and Innovation:
Many of the college's veterinary clinicians, residents, and technicians participate in discovery through clinical trials, master's projects, and collaborations with researchers across the University of Illinois campus.
Transformative Learning:
The hospital serves as the primary clinical teaching laboratory for veterinary students in all years of the veterinary curriculum. Residency programs to train the next generation of specialists are offered in a dozen specialties.
Societal Impact:
A full complement of specialty services makes the Veterinary Teaching Hospital the premier referral center for veterinary care in central Illinois. Referrals frequently come from hundreds of miles away. Primary care services are provided in Urbana and Chicago for dogs and cats and in Farmer City for horses.
Strategic Investment:
The hospital's annual revenue of around $22 million is largely reinvested in clinical salaries and has driven extensive growth and renovation over the past five years. The hospital invests in the well-being of its team members, actively sponsoring initiatives to build a culture of inclusivity, respect, and appreciation.
The Assistant/Associate Dean for Clinical Services and Director is supported by a full administrative team that includes:
Two associate hospital directors
Patient services coordinator
Referral coordinator
Customer service coordinator
Administrative assistant
Download a position description that details the major duties and responsibilities of the Assistant/Associate Dean for Clinical Services and Director of the Veterinary Teaching Hospital.
Additionally, the Veterinary Teaching Hospital is staffed by:
More than 60 veterinarians who are members of the faculty; of these 45 hold specialty certifications
~100 certified veterinary technicians and 11 veterinary assistants
53 veterinarians in residency programs and 24 veterinary interns
22 customer service representatives, 11 animal caretakers, 6 credentialed medication dispensary staff members, and 3 storeroom employees
---
About the Veterinary Teaching Hospital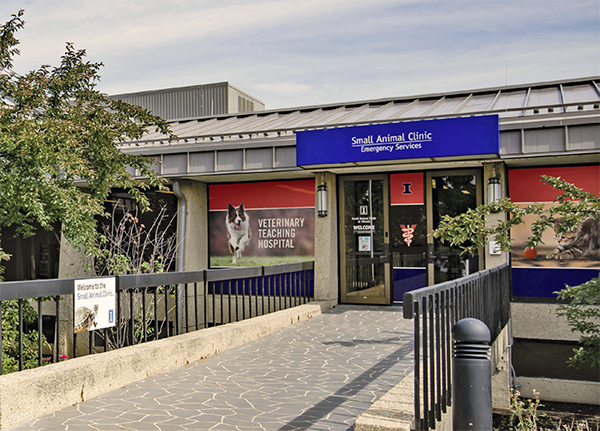 The Veterinary Teaching Hospital reported 36,000 unique patient visits in the past fiscal year, with caseload approximately 30% large animal and 70% small animal. Zoological species represent about 10% of the reported small animal caseload.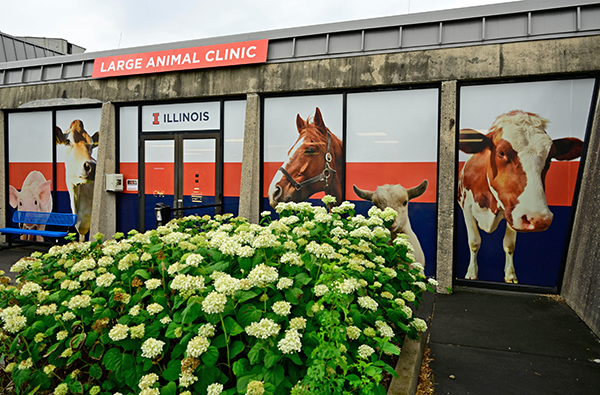 The newly renovated Large Animal Clinic and Small Animal Clinic house 16 specialty service areas, encompassing everything from anesthesia/pain management to theriogenology.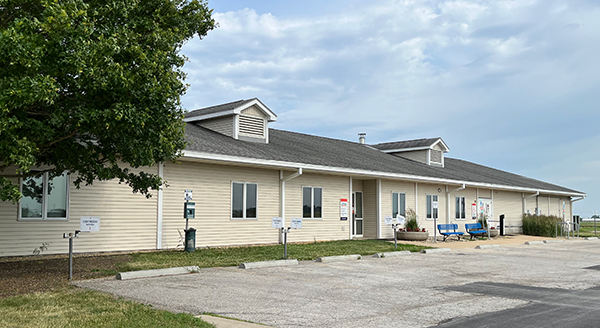 The Veterinary Medicine South Clinic just across the street was added in 2020. It serves as headquarters for dog/cat primary care, urgent/convenient care, zoological medicine primary and specialty care, and the student-run Wildlife Medical Clinic.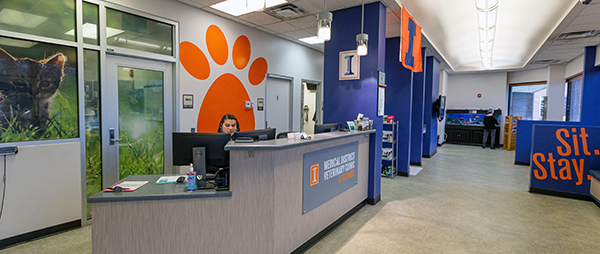 About Medical District Veterinary Clinic
Opened in 2009, this five-doctor dog-cat primary care practice located just west of downtown Chicago sees around 11,500 dog and cat patients annually. Veterinary students in each class year have the opportunity to rotate through the practice.
---
About Midwest Equine
Since 2018, we have offered equine primary care and farrier service operating out of a practice outside Farmer City, Illinois. Equine-focused veterinary students participate in the care. This clinic sees nearly 3,000 horses a year.
---
About the Spay-Neuter and Community Outreach Program
Based in Urbana, this program seeks to reduce animal overpopulation, improve the health and well-being of animals in shelters, and advance the discipline of shelter medicine among veterinarians and veterinary students. It operates in partnership with regional animal shelters with a focus on serving low-income pet owners and providing surgical experience for students.
We're Investing in Our Programs
A $12 million hospital-wide renovation and expansion project wraps up this year. Over the past six years we've added:
A 9,000 sq ft small animal surgery wing with 8 ORs, including an interventional radiology suite
A state-of-the-art linear accelerator and a new 128-slice CT to support its use
A 3T MRI
A new facility for small animal primary care, zoological medicine specialty service, and our Wildlife Medical Clinic
We Want You!
The University of Illinois College of Veterinary Medicine values work-life balance and collegiality. The guiding principles of the Veterinary Teaching Hospital are to provide service we are proud of, to find meaning in our work, to embrace and celebrate differences, to practice life-long learning, and to be positive change agents. Together, we are better.
JOIN OUR SUPPORTIVE AND INCLUSIVE COMMUNITY
Together we create a workplace culture that fosters respect, inclusion, trust, and support for personal and professional growth. The more diverse our community, the stronger we are. We practice compassion and selfcare. We celebrate successes, knowing that our most valuable assest is our people.
More about the College of Veterinary Medicine
Part of a top-ranked public, land-grant university
Collegewide research strengths in comparative and diagnostic medicine, conservation medicine and ecosystem health, environmental health and toxicology, infectious diseases, and reproductive biology
Innovative approaches to integrated veterinary education, post-graduate veterinary education, and online learning
> 500 veterinary students and > 100 master's and PhD students

Located in a vibrant, diverse and international community that still offers Midwestern friendliness and affordability
The University of Illinois is an Equal Opportunity, Affirmative Action employer that recruits and hires qualified candidates without regard to race, color, religion, sex, sexual orientation, gender identity, age, national origin, disability or veteran status. For more information, visit http://go.illinois.edu/EEO. The University of Illinois conducts criminal background checks on all job candidates upon acceptance of a contingent offer. Convictions are not a bar to employment. The University of Illinois System requires candidates selected for hire to disclose any documented finding of sexual misconduct or sexual harassment and to authorize inquiries to current and former employers regarding findings of sexual misconduct or sexual harassment. For more information, visit Policy on Consideration of Sexual Misconduct in Prior Employment. As a qualifying federal contractor, the University of Illinois System uses E-Verify to verify employment eligibility.