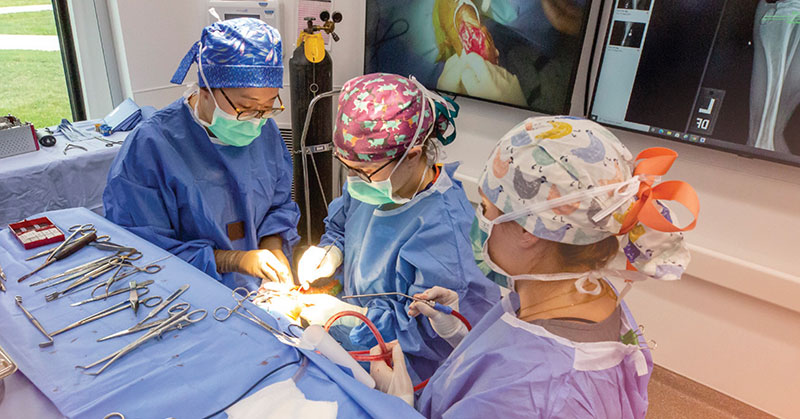 Learn more and apply
Join our collegial team focused on delivering outstanding care, educating future veterinarians, and advancing orthopedic surgery. 
WE ARE SEEKING:
A dynamic, team-oriented orthopedic surgeon with a hands-on approach to teaching and learning to join our progressive group of collaborative surgeons.
ARE YOU SEEKING:
A workplace culture that fosters respect, inclusion, trust, and support for personal and professional growth and happiness?
Outstanding clinical resources and a community of veterinary professionals devoted to thorough and holistic patient care in a teaching and research setting?
Vibrant, culturally diverse living paired with easygoing affordability?
You'll find all the clinical resources you need to make the best decisions for your patients:
We have a plentiful and diverse orthopedic and neurologic caseload, including polytrauma cases, a variety of fractures, routine and complex joint problems, and cervical and lumbar spinal myelopathies.
You'll love working in our 9,000 sq. ft. small animal surgical wing, built in 2021, with eight operating rooms, 2 C-arm fluoroscopic units, and an interventional suite.
You'll have autonomy in clinical decision-making and scheduling, supported by an on-site ACVR board-certified radiologist, collaborative specialists in 16 fields, and dedicated technical staff.
Choose from a complete cadre of state-of-the-art diagnostic and orthopedic equipment, including:
128-slice CT and 3T MRI for diagnostic imaging
3D printing for surgical planning
Arthrex Vet Systems arthroscopy suite
BioMedrix I-Loc® IM fixator and Total Hip Replacement systems
LCP and LCDCP internal fixation plating systems
IMEX external skeletal fixation system
Synthes battery-operated surgical drills, Aesculap Acculan TPLO saws, sagittal and sternal saws, and all required types of hand equipment/tools
Additional equipment is available upon request!
More Reasons to Choose Illinois
Generous benefits, including:
New faculty members receive generous start-up funding for clinical and other research and recurring funds to support continuing education.
State of Illinois employee benefits offer unparalleled access to excellent healthcare—including support for fertility, mental health, and wellness programs—and generous retirement benefits such as an 8% match of funds toward your 401K.
24 vacation days PLUS 13 paid holidays per year; surgery faculty receive at least 2 major holiday weeks off of clinics each year.
AND:
Through the federal Public Student Loan Forgiveness program, 10 years of service at the University of Illinois qualifies you for student loan forgiveness.
You'll also have the potential to enhance your personal income by earning consultation time at a rate of 1 day/week as an outside consultant, serving as a locum tenens surgeon or performing other professional consultation.
We Want You!
The University of Illinois College of Veterinary Medicine values work-life balance and collegiality. We are a friendly and interactive hospital, and we seek new colleagues who excel clinically and academically while having fun at work and building strong relationships with coworkers.
JOIN OUR SUPPORTIVE AND INCLUSIVE COMMUNITY
Together we create a workplace culture that fosters respect, inclusion, trust, and support for personal and professional growth. The more diverse our community, the stronger we are. We practice compassion and selfcare. We celebrate successes, knowing that our most valuable assest is our people.
Join Us!
The University of Illinois is an internationally ranked public, land-grant university.
The College of Veterinary Medicine has growing and innovative educational, research, and clinical service programs.
The Department of Veterinary Clinical Medicine has 100 faculty members and 50 residents and interns.
The University of Illinois is an Equal Opportunity, Affirmative Action employer that recruits and hires qualified candidates without regard to race, color, religion, sex, sexual orientation, gender identity, age, national origin, disability or veteran status. For more information, visit http://go.illinois.edu/EEO. The University of Illinois conducts criminal background checks on all job candidates upon acceptance of a contingent offer. Convictions are not a bar to employment. The University of Illinois System requires candidates selected for hire to disclose any documented finding of sexual misconduct or sexual harassment and to authorize inquiries to current and former employers regarding findings of sexual misconduct or sexual harassment. For more information, visit Policy on Consideration of Sexual Misconduct in Prior Employment. As a qualifying federal contractor, the University of Illinois System uses E-Verify to verify employment eligibility.