Nearly fifty years after earning his veterinary degree from the University of Illinois, Dr. John Coyne still sees animal patients almost every day.
"And I still love what I do," he says. "Because it's not work to me. It's my passion. And it's where I want to be."
Throughout his long and successful career—he eventually acquired ownership in 11 veterinary hospitals that stretched from Moline, Ill., to Westfield, Ind.—Dr. Coyne has always made a point to give back: to his community, his chosen profession, and his alma mater.
Most recently, Dr. Coyne and his family invested in two of their long-time passions with a $3 million gift that supports the College of Veterinary Medicine and the Division of Intercollegiate Athletics.
Giving to the College of Veterinary Medicine
A $2 million investment will go to name the lobby of the veterinary college's Veterinary Medicine South Clinic. Part of the Veterinary Teaching Hospital, this free-standing clinic is home to a number of busy services that provide hands-on experiences for veterinary students, including the dog/cat primary care and urgent and convenient care services, the zoological companion animal service, the shelter medicine service, and the Wildlife Medical Clinic.
In 2022 the Coyne family gave $2 million to endow two veterinary professorships and name the lobby of the hospital's Small Animal Clinic (see photo above), which houses ten veterinary specialty services, from anesthesia to surgery. Dr. Coyne has also established scholarships for veterinary students at the college.
"The generosity of Dr. Coyne and his family has truly made a difference for our students, faculty, and hospital clients," said Dr. Peter Constable, dean of the veterinary college. "Their many gifts demonstrate a commitment not only to veterinary education and future practitioners but also to animal owners and the vital bond they have with their pets."
'Elevating the Client Experience'
Dr. Julia Whittington, assistant dean for clinical service and director of the Veterinary Teaching Hospital, notes, "Dr. Coyne has a deep understanding of the needs of pet owners, whether they are visiting a clinic for routine care for their pet or for something more serious.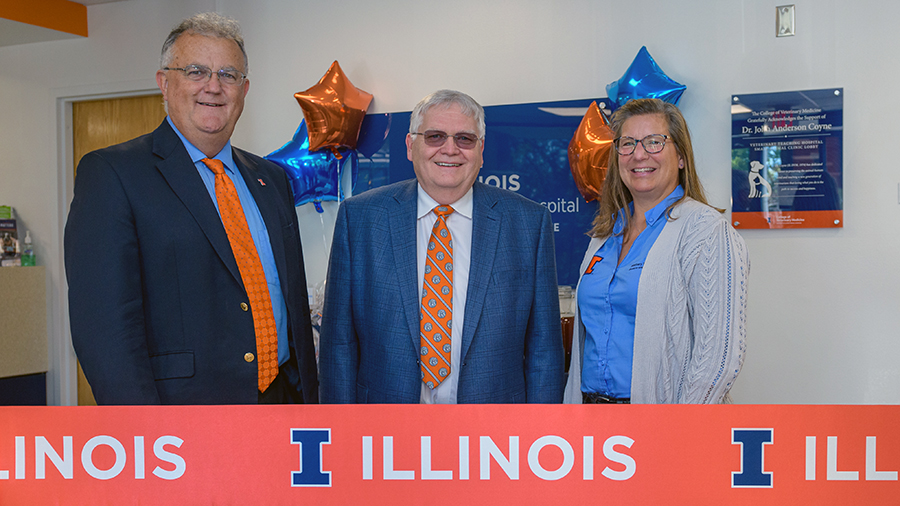 "We share Dr. Coyne's commitment to elevating the client experience and providing a welcoming and reassuring environment for clients and their pets. It's an honor to display the Coyne family name, which stands for excellence in veterinary care, in our facilities."
Dr. Whittington recently concluded a three-year, $12 million hospital-wide renovation and expansion project that included extensive renovations to the Small Animal Clinic lobby to ensure client comfort. The lobby of the Veterinary Medicine South Clinic, constructed when that facility was renovated in 2019, has distinct waiting areas for clients bringing canine, feline, and companion zoological animal patients.
An Exemplary Career
When Dr. Coyne was 10 years old, he was put in charge of administering injections to sick piglets on his family's livestock farm in central Illinois. From that time on, he had his sights set on becoming a veterinarian. He completed three years of undergraduate studies at the University of Illinois before entering the veterinary college, which awarded him a bachelor's and later a doctorate of veterinary medicine.
"I owe this university so much," said Dr. Coyne. "It has given me the ability to thoroughly enjoy what I do and take care of my family in ways I never thought possible."
"Dr. Coyne's exemplary career embraces entrepreneurship and philanthropy in equal measure," said Christine Dietrich, associate dean of advancement at the College of Veterinary Medicine. "We are so grateful for his longtime partnership with our college, our hospital, and our students."
Giving to Illinois Athletics
The recent Coyne family gift designates $1 million to Fighting Illini Athletics to establish the Dr. John Coyne Strength and Conditioning Center. It is the focal point of athlete training inside the Smith Center, spanning an impressive 15,000 square feet, and is utilized every day by the Illinois football program.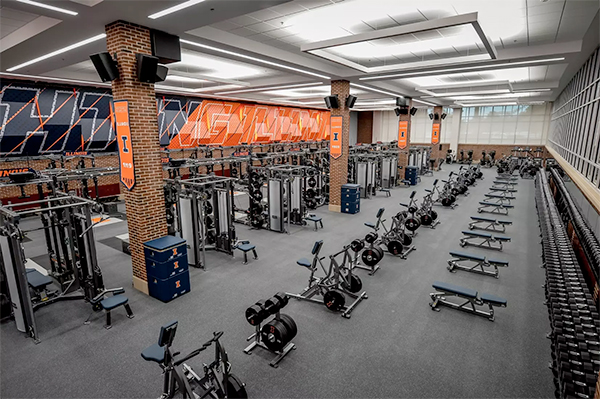 "We wish to thank Dr. Coyne and his family for their incredible commitment in support of Fighting Illini Athletics," said Josh Whitman, director of athletics. "Through his generosity, and the generosity of so many others like him, our donors are directly impacting the experience of our student-athletes and contributing to their personal growth and overall success. We are forever indebted to Dr. Coyne and are excited to honor him by placing his name on the state-of-the-art strength and conditioning center in the Henry Dale and Betty Smith Football Center."
A tour of the Dr. John Coyne Strength and Conditioning Center reveals cutting-edge technology and every possible piece of equipment necessary for strength training, as well as focusing on mobility and flexibility. The sprawling layout contains 18 fully equipped racks; numerous machines; dumbbell benches accompanied by dumbbells up to 175 pounds; a cardio deck with treadmills, ellipticals and bikes; a sports nutrition recovery area; and much more.
'Players Improve in Every Facet'
"We take great pride in being a development program," said Bret Bielema, head football coach. "Our players improve in every facet over the course of their time here, and there is no area more important in impacting their development than strength and conditioning. We are grateful to Dr. John Coyne for his tremendous support of Fighting Illini Football and providing the best-in-class strength training facility that our players benefit from here at Smith Center."
Previously, the Coynes have supported Illinois Football with gifts to the I FUND Student-Athlete Scholarships and the John Coyne Athletics Fund. The family also belong to the Colonnades Club, allowing them to cheer the Fighting Illini at home football games in comfort.
"I want to thank Christine Dietrich, my advancement colleague for creating this partnership," said Howard Milton, executive senior associate director of athletics. "This philanthropic gift reflects the passion that many of our donors have in supporting Illini Athletics as well as multiple other university units. The Coyne family continues to impact this world-class university."