By Crystal Munguia
Nearly 1,000 people—including 750 veterinary students plus speakers, exhibitors from 73 organizations, and AVMA representatives—came to Urbana for the 2023 symposium of the Student American Veterinary Medical Association in March.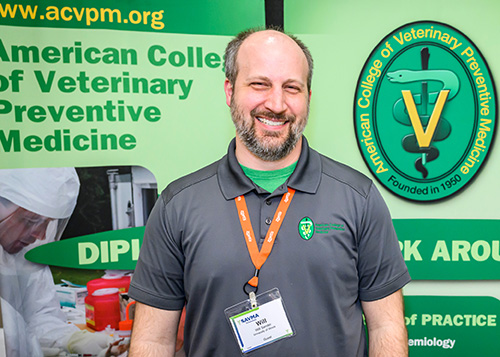 The event drew participants from around the world. Veterinary students chose from more than 130 lectures, seven panels, nearly 30 wet labs, six field trips (including ones to Chicago's Brookfield Zoo and Shedd Aquarium), and 17 social events. The symposium also hosted the formal meetings of delegates from SAVMA chapters at 40 veterinary programs worldwide.
The entire undertaking was organized by a handful of students, with a little help from college and AVMA staff members and lots of volunteer hours from other Illinois veterinary students.
The Instigators
The Illinois chapter presented its bid to host the 2023 symposium two years ago, at the symposium hosted by Kansas State and held virtually, due to the pandemic. Leah Nehila, Class of 2023, and Max Paulson, Class of 2024, the Illinois student delegates at the time, were inspired by SAVMA advisor Dr. Will Sander to bring the symposium to the University of Illinois.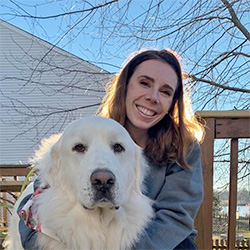 "[In 2021] most of our time as students was spent online, making our already small worlds even smaller," recalls Nehila. "There was a lot we were missing out on, and there was a lot of unknown."
She adds: "The last symposium to be held at Illinois was in 1995, before many of us were born."
Paulson additionally had his sights on running for SAVMA president. In 2022 he became president-elect, and at the symposium in Illinois he was inducted into the role president. He was motivated by his passion for mental health, well-being, and Diversity/Equity/Inclusion.
"As a leader, I want to represent the voice of veterinary students across all SAVMA chapters to build a tomorrow that is better than today. It is our responsibility to advocate for our colleagues so that we can continue to help animals, and their people, as veterinarians," says Paulson.
The general manager, treasurer, and fundraising chair form the core of the symposium planning team. For Illinois, those roles were filled by Grace Wischmeyer, Class of 2024; Myranda Richied, Class of 2025; and Taylor Miller, Class of 2025, respectively. They were selected through an application and interview process.
Top Spot: General Manager
Before applying for the general manager position, Wischmeyer had taken the management elective taught by Dr. Larry Firkins. Already heavily engaged in extracurriculars as the 2024 class president and member of many clubs, she decided to put her management skills to the test.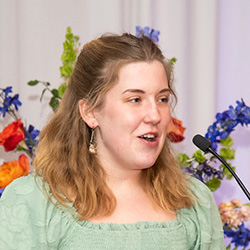 As the head coordinator for the event, Wischmeyer was the go-to person for everything and anything regarding SAVMA symposium while keeping up with her veterinary curriculum and other commitments.
"I learned a LOT during this process—mainly, how to interact with people who have vastly different communication styles, stress behaviors, and work strategies," she says.
"I have really enjoyed growing professionally with my team. Another great part of this process has been getting to know all the administration, faculty, and staff at the college. Everyone was so patient and helpful to our team."
Money Manager: Treasurer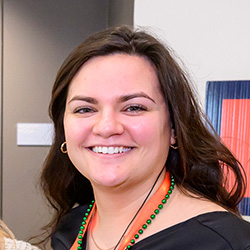 As treasurer, Richied was responsible for payments, tracking down funds, and maintaining the symposium budget. She's also the treasurer for the Illinois SAVMA chapter.
"My nerdy passion for budgeting urged me to reach out and ask about the position. I decided to interview, and the rest is history."
She valued building a relationship with the planning team. "I only knew them as classmates before this and now I can call them friends," says Richied. "These are people I would have never thought I would work with or imagine we would blend so well to work on something so great."
She also appreciated the support symposium planners got from the students, faculty, and staff at the college. "It makes me proud to say I go to the University of Illinois for veterinary school," says Richied.
Large Scale: Fundraising Chair
Miller had the challenge of raising funds to support this large-scale event. She was able to secure nearly half a million dollars.
"I was seeking a way to represent the university, the college, and our profession on a larger scale. I chose the fundraising chair position because it would allow me to represent these interests on the largest scale possible, as I was able to collaborate with companies from all over the US and abroad," says Miller.
During symposium weekend, Miller was excited to see the exhibitor hall and personally meet all the sponsors she had been working with for the past year. "It was also an incredible experience seeing veterinary students from all over smile, laugh, and learn new things during the symposium and knowing that the work of this team was paying off and allowing that to happen," she says.
Home Team Support: The Presidents
Given the immensity of the event, Illinois SAVMA chapter leaders stepped up to join the planning team.
Crystal Munguia took charge of transportation and competitions, along with balancing her duties as local chapter president.
"I found my role relatively simple," she says, "since I had coordinated getting the Illinois students to the 2022 Symposium in Minnesota, where we won the attendance trophy for the sixth year in a row. During the symposium it was like having an on-call job to make sure the drivers were taken care of and students were getting to where they needed to be on time."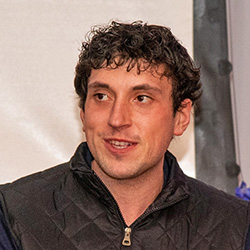 Hassan Hanna, president-elect of the Illinois SAVMA chapter, became the student engagement chair. He planned some of the most luxurious and exciting social events SAVMA symposium has ever seen, including balloon arches and ice sculptures.
"I had the amazing opportunity to collaborate with passionate students. Looking back at it now, I can't believe how many of our ideas came to reality. I felt like we spoke about these social events on a weekly basis. It was rewarding to see so many visiting students laugh, smile, and create memories at these events," says Hanna.
"I think my top two favorite events to plan were the opening gala and closing ceremony. I thrive on making a theme and selecting decorations that revolve around it."
Home Team Support: The Delegates
Emily Verwers is the senior delegate from the Illinois SAVMA chapter. She served as the hospitality chair, coordinating all the catering and food needs. Her efforts were much praised by attendees, with exhibitors and students noting that this was the first symposium at which they had enjoyed a provided meal.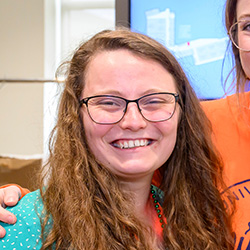 "Running for SAVMA delegate was one of the best decisions I have made in my veterinary school career," says Verwers. "Sitting in the House of Delegates, representing veterinary medicine at the Legislative Fly-In, helping plan iVLE [the Illinois Veterinary Leadership Experience for incoming first-year students] and symposium, and all of my other involvements have challenged me in ways I never could have imagined.
"Through it all, I have met an incredible group of student leaders who push me to get out of my comfort zone, develop skills, and be my best every day. I can't imagine vet school without them!"
Tess Santoro joined the symposium planning team in fall 2022 after her election as the Illinois junior delegate. Instantly she was hands-on and willing to help wherever needed. She did a great job presenting issues at the House of Delegates meeting and advocating for the symposium team and the Illinois student body.
As a whole, the symposium team says they could not have completed this task without the help of the entire College of Veterinary Medicine. They send a huge "thank you!" to the many students volunteers, speakers, exhibitors, and all.
Scenes from SAVMA Symposium 2023
Images by Madison Brown, Bradley Leeb, Craig Pessman, and Fred Zwicky.
For more images, see our Flickr album.