Business leader Shahid Khan, his wife Ann Margaret Khan, and their children Tony and Shanna Khan – all graduates of the University of Illinois Urbana-Champaign – have made a gift of $15 million that will transform the integrated oncology program at the University of Illinois Veterinary Teaching Hospital.
The Khan family made the gift in recognition of the extraordinary level of care provided to pets with cancer and their families through the oncology service. The Khans' dogs, Louie and Shanelle, both received cancer treatment at the hospital.
Inspired by Love
The gift was inspired by Shanna Khan, whose love for animals – and Louie and Shanelle in particular – is unconditional. Shanna's personal care and attention for her family pets during their medical challenges brought her closer to the oncology department at U of I, where she and her family learned of opportunities to enhance and extend the care for pets with cancer.
"We are beyond touched by the heroic team of oncology," Shanna Khan said, "and to this very day give endless thanks to every angel who is a part of the College of Veterinary Medicine and who not only added to the length and quality of Louie and Shanelle's lives, but also forever changed ours.
"Families travel from near and far to receive this team's unparalleled care," she added, "and we are honored to be a part of a mission to elevate the breadth of research and treatment offerings within the College."
Making Care Accessible to All
"We've treasured every moment with our family pets over the years and, in the case of Louie and Shanelle, they've given us more joy than we could ever possibly give them in return," said Ann Khan. "This gift is in their honor and in tribute to everyone at the College of Veterinary Medicine. Their commitment to the well-being of all animals is impressive and quite humbling, and for that we are grateful."
"We want to do all we can to ensure that the remarkable service and care we enjoyed at the Veterinary Teaching Hospital is accessible to everyone and their pets."
Shahid Khan, business leader and philanthropist
"We want to do all we can to ensure that the remarkable service and care we enjoyed at the Veterinary Teaching Hospital is accessible to everyone and their pets," Shahid Khan added. "As important, whether it's to teach or study veterinary medicine, we want to attract the best and brightest to the University of Illinois. The opportunity to support the mission of the oncology program at our vet med school is a privilege for our entire family, Louie and Shanelle included."
$15 Million Match from University
The Khans' generosity will be matched with an internal investment from the University of Illinois Urbana-Champaign to expand the hospital's facilities for cancer care. A new wing, featuring a dedicated entrance for oncology clients, new oncology exam and treatment rooms, and space devoted to clinical trials for cancer patients, is slated to open in 2025.
"Shahid and Ann Khan have always had a deep understanding of the direct connection between our university's missions and the lives and wellbeing of those we serve," said Chancellor Robert Jones. "Cancer may be the most terrifying word in our language. And when it comes to a member of our family – and our companion animals are certainly family – we all just want to find the most skilled people with the very best facilities who can treat those we love."
The Khans' tremendous generosity, combined with the university's dollar-for-dollar capital match, represents the largest philanthropic investment received to date by the College of Veterinary Medicine.
Gift More Than Doubles Oncology Faculty Numbers
The impact of the Khan family gift dramatically increases the number of veterinary experts and caregivers within the oncology service. Three endowed faculty chairs are being established: for an oncologic surgeon, a medical oncologist focused on patient care, and a medical oncologist focused on translational medicine to advance cancer treatment. Critical support is also being allocated towards additional nursing staff for the oncology service.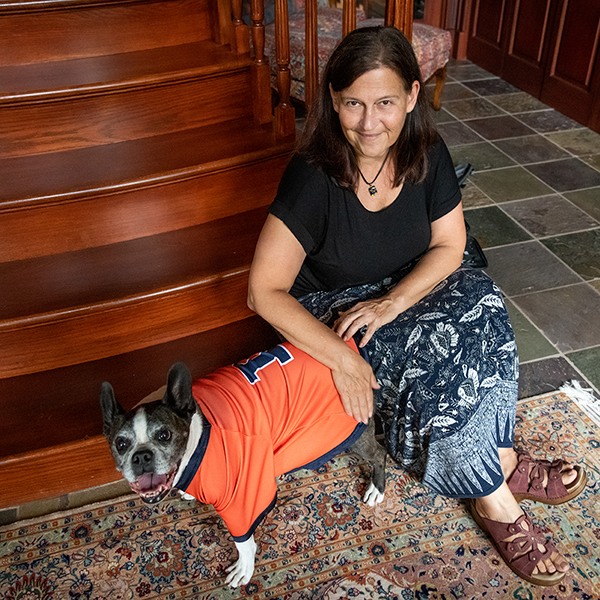 "We are grateful to the Khan family for their compassionate vision of helping pets with cancer and the people who love them," said Dr. Laura Garrett, a boarded veterinary oncologist who has been at the University of Illinois College of Veterinary Medicine since 2006. Dr. Garrett, who heads the oncology service at the hospital, oversees the care of the Khans' dogs.
"With this gift, in addition to two current open positions, the oncology faculty can grow from four to nine," she said. "Ultimately, our service will have two oncologic surgeons, two radiation oncologists, and five medical oncologists."
Since 1994, the oncology service at the Veterinary Teaching Hospital has been known for outstanding care for pets. Despite its small size, the service also excels in training future oncology specialists, providing leadership nationally and internationally in professional organizations, and pioneering cancer therapies.
In 2021, the hospital's oncology service cared for more than 1,300 animal patients, primarily dogs and cats, seeing them for a cumulative 4,114 visits. Faculty oncologists also consult with veterinary practitioners across the country to advise on hundreds of cancer cases that are treated remotely. The service also supports the training of new veterinary cancer specialists through four residency positions.
Outstanding Oncology Program
"This gift and the addition of faculty chairs will catalyze our already impactful oncology program," said veterinary college Dean Peter Constable. "As animal companions are increasingly recognized as valued members of the family, we offer a wide range of treatment options for pets with cancer so that families can extend the quality time they have together."
In 2019 the Veterinary Teaching Hospital installed a state-of-the-art linear accelerator to provide radiation therapy to animals with cancer. In 2021 the hospital wrapped up a $12 million expansion and renovation project that enhanced service areas, including new spaces for small animal surgery, internal medicine, and emergency/critical care.
Through faculty with expertise in cancer biology who treat a population of pets with naturally occurring cancers, the oncology program also contributes to the university's Cancer Center at Illinois.
Photography by Bradley Leeb.