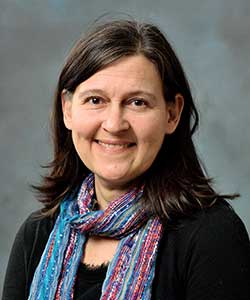 Garrett, Laura Diane
Clinical Professor, Veterinary Clinical Medicine
Section Head, Specialty Medicine
Service Head, Oncology

1008 W. Hazelwood Drive
36A Small Animal Clinic
M/C 004
Urbana
,
IL
61802
Education
DVM, University of Illinois
BS, University of Illinois
Professional Certifications
Diplomate, American College of Veterinary Internal Medicine (Oncology)
Academic Interests
Integration of communication skills education into the veterinary curriculum.
Research Interests
Clinical trials for new anti-cancer agents
Links
Dr. Laura Garrett received her undergraduate and DVM degrees from the University of Illinois. She did a 1-year rotating internship at the University of Minnesota and then worked in a private referral practice in the twin cities for 2 years. She next completed a 2-year residency in comparative oncology at the University of Wisconsin-Madison, after which she spent 1-1/2 years at a referral practice in New Zealand. She then helped to begin and build an oncology program at Kansas State University from 1998-2006. In June 2006 she joined the faculty here at her alma mater. Dr. Garrett's main interests include teaching and clinical service, with research interests that focus on clinical trials of new anticancer agents.
As a clinical track faculty member in the Department of Veterinary Clinical Medicine, I do the majority of my teaching in the clinics in small group or one-on-one settings. This setting for instruction is extremely gratifying, as one can see "Aha" moments for students on an almost daily basis. Interactive instruction is key to providing students such moments; one must process new information in the context of what one already knows and be given the opportunity to apply that information to best "learn" new ideas. Simply talking at students and telling them facts will not provide a good learning environment. On clinics, I ask questions and help the students reason through the answers. Students have substantial responsibility for their clinical patients and present details about their patients to the rest of the service daily. Having to explain and discuss such details helps the student, as well as the instructor, to know what they do and do not understand, and creates opportunities for targeted instruction.
In addition to teaching oncology, I have a strong interest in teaching communication skills that can be applied and are so critical in veterinary practice. I have helped to teach in ongoing communication courses and am going into the third year of offering an elective in communication in practice for 3rd year students. I have been heavily involved in integrating communication skill education into the new curriculum.
Clinical Practice I and II, Colloquium (communication skills lectures)
Client Relations - elective
Communication in Practice - elective
Companion Animal Medicine III (oncology lectures)
Clinical Procedures and Problem Solving II (oncology cases)
Clinical Oncology Rotation
Evaluating a procaspase-activating compound for the treatment of canine lymphoma.
Clinical trials for lymphoma and osteosarcoma.
Hillman LA, Garrett LD*, de Lorimier LP, Charney SC, Borst LB, and Fan TM. Investigation of the biologic behavior and CCR7 immunohistochemical staining of canine oral and perioral mast cell tumors: 44 cases (1996-2006). JAVMA 237:936-942, 2010.
Lucas PW, Schmit JM, Peterson QP, West DC, Hsu DC, Novotny CJ, Dirikolu L, Churchwell MI, Deorge DR, Garrett LD, Hergenrother PJ, Fan TM. Pharmacokinetics and derivation of an anticancer dosing regimen for PAC-1, a preferential small molecule activator of procaspase-3, in healthy dogs. Accepted Investigational New Drugs 4-2010
Flory AB, Rassnick KM, Erb HN, Garrett LD, Northrup NC, Selting KA, Phillips BS, Winter JE, Chretin JD. Evaluation of factors associated with second remission in dogs with lymphoma undergoing CHOP re-treatment: 95 cases (2000-2007). Accepted JAVMA 1-10
Coyle V, Garrett LD*. Oral Tumors in Dogs. Vet Med June 2009.
Fan TM, Charney SC, de Lorimier LP, Garrett LD, Griffon DJ, Gordon-Evans WJ, Wypij JM. Double-Blind Placebo Controlled Trial of Adjuvant Pamidronate with Palliative Radiotherapy and Intravenous Doxorubicin for Canine Appendicular Osteosarcoma Bone Pain. JVIM 23:152-160, 2009.
Investigating a Procaspase-3 Activator for the Treatment of Canine Lymphoma. Morris Animal Foundation.
Bone-seeking nanoparticles for treating osteosarcoma bone pain. Morris Animal Foundation.
Evaluation of the mTOR inhibitor Rapamycin in dogs with Osteosarcoma. Morris Animal Foundation.
Evaluating PAC-1 for the treatment of cancer in dogs. Funding Agency: Avijit Ghosh-Vice President for Technology and Economic Development, University of Illinois (Chicago and Urbana-Champaign campus).
Chicago Veterinary Medical Association Outstanding Instructor Award 2009
List of Teachers Ranked as Excellent by their Students - Fall 2008, Spring 2009, Fall 2009, Spring 2010
American College of Veterinary Internal Medicine - member
Veterinary Cancer Society - president-elect
Journal of American Animal Hospital Association - section editor oncology