The University of Illinois College of Veterinary Medicine and its alumni association have announced the winners of the annual awards to be presented on Thursday, September 29, as part of the Annual Fall Conference for Veterinarians.
Dr. Erwin Small Distinguished Alumni Award
Dr. Douglas Hutchens, Class of 1996, is the winner of the Dr. Erwin Small Distinguished Alumni Award, which recognizes graduates who have excelled in their field and made significant contributions to the profession and/or the college.
Dr. Hutchens, who also earned his bachelor's, master's, and PhD degrees from the University of Illinois, was named chief scientific officer at Animol Discovery, Inc., a drug discovery company focused on innovative pharmaceuticals for veterinary patients, in July 2022.
Previously he spent 12 years working for Bayer, most recently as the executive vice-president in drug discovery. There he oversaw global integration of all product development and had strategic responsibility for discovering and developing multiple new animal health products.
Before completing his PhD and entering a career in the pharmaceutical industry in 2002, Dr. Hutchens was a clinical assistant professor at the College of Veterinary Medicine, where he taught parasitology and conducted research. He then joined Elanco, leading efforts in regulatory affairs, innovation, and clinical research.
Outstanding Young Alumni Award
Dr. Catherine Foreman-Hesterberg, Class of 2016, has been named Outstanding Young Alumni for creativity and entrepreneurship.
After graduation, Dr. Foreman-Hesterberg completed her internship year at a large equine hospital in Aiken, S.C., then took a position as an associate veterinarian at an equine ambulatory practice in central Indiana. In 2019, she joined the faculty as an instructor of equine ambulatory services based at the college's Midwest Equine practice near Farmer City, Ill.
Dr. Foreman-Hesterberg has played a key role in building the caseload at the practice, which saw over 1,500 horses in 2021, while also providing excellent teaching opportunities for fourth-year veterinary students and intern veterinarians. She holds certification in animal chiropractic and offers that service to equine and canine patients.
Special Service Award
The Special Service Award will be given to Terrence Stuber. The Special Service Award honors an individual or organization that has made significant contributions to the advancement of the veterinary profession or to the college.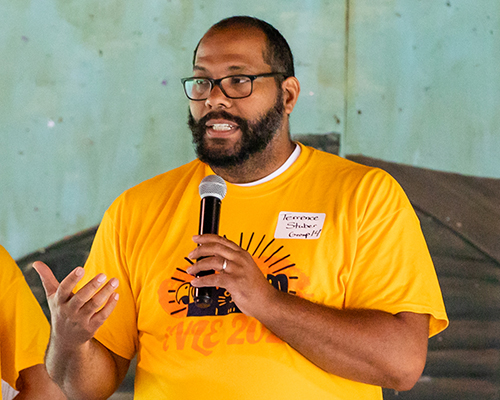 Stuber is the coordinator of audiovisual services at the College of Veterinary Medicine. In that role he makes tremendous contributions to ensuring the efficient delivery of course lectures and speaker presentations to in-person and online participants as well as innumerable other avenues of delivery of digital information.
Additionally, Stuber plays an important role in creating a culture of inclusivity, professionalism, and friendliness throughout the college, with students, staff, and faculty.