In January 2021, Rocky presented to the U of I Veterinary Teaching Hospital for evaluation of chronic diarrhea. Rocky was barely more than a year old, but his dedicated family had been dealing with bloody diarrhea for most of his life. He had undergone an extensive diagnostic evaluation with his primary care veterinarian and had failed to improve after deworming, a therapeutic diet trial, and antibiotics.
Unfortunately, Rocky's experience is common among patients receiving treatment for chronic enteropathies (CE). Many patients undergo weeks or months of ineffective attempts at treatment before an effective approach is identified. Fortunately for dogs like Rocky, investigators at the U of I are exploring novel therapies that target the gastrointestinal microbiome, including novel probiotics.
Hydrolyzed diet therapy is effective in most (approximately 60%) dogs with CE and should be the first therapeutic option for most dogs with uncomplicated CE. However, if a patient fails to respond to dietary therapy, there are few evidence-based alternatives.
Antibiotics are commonly prescribed for CE, despite there being very little evidence supporting their use; only ~15% of dogs with chronic diarrhea are antibiotic-responsive. Furthermore, mounting evidence suggests that some antibiotics can cause long-term disruption in commensal microbes that are critical for healthy gastrointestinal function.
Immunomodulatory/anti-inflammatory drugs (e.g., prednisone) are also commonly prescribed for dogs with CE. For dogs that require long-term therapy, however, long-term side effects of these drugs can seriously impact quality of life.
Probiotics offer a promising alternative to these traditional therapies for CE.
All Probiotics Not Created Equal
Probiotics are living microorganisms that, when administered in adequate quantities, confer a benefit to the health of the host animal. Probiotics exert their benefits through multiple mechanisms, some of which are shared among most probiotic species and others are specific to a particular species or strain.
Core mechanisms of probiotics include competitive exclusion of pathogens, acidification of the intestinal lumen, normalization of enteric microbiota dysbiosis, and increased enterocyte turnover. While these core benefits of probiotics are sufficient to promote gastrointestinal health, a new generation of probiotics with more targeted mechanisms of action is under development. These novel probiotics reduce mucosal inflammatory responses and increase mucosal barrier function by strengthening enterocyte tight junctions.
This newer generation of probiotics holds great promise for treating CE in dogs and other species. It is this type of probiotic, with targeted mechanisms of action, that investigators at the U of I are currently evaluating in a placebo-controlled clinical trial. As more is learned about the pathogenesis and pathophysiology of CE, targeted approaches to probiotic therapy that avoid the unwanted side effects of pharmacologic approaches such as prednisone will be possible.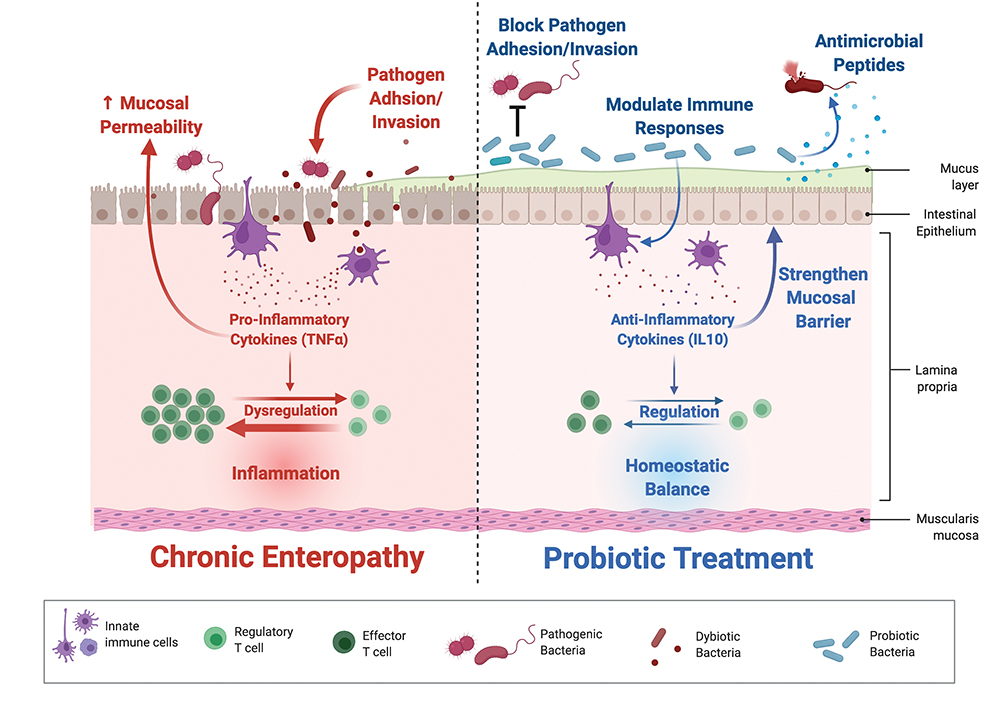 Send Your Patients Like Rocky
As for Rocky, he is feeling great! While the clinical trial is still ongoing and the results have yet to be released, Rocky's family is grateful for their experience at the U of I.
"Rocky's experience on the clinical trial and the devoted care from Dr. Barko has been great," stated Rocky's owner.
If you think one of your patients can benefit from early access to a novel probiotic therapy for CE, please contact the clinical trial investigators (probiotic-trial@vetmed.illinois.edu). Dogs with any active clinical signs of chronic enteropathy (diarrhea, vomiting, weight loss, and reduced appetite) are eligible to enroll. Participating dogs will receive an abdominal ultrasound, endoscopy, and histopathology at no cost to the client.
Additional Reading
Hill, C., Guarner, F., Reid, G. et al. The International Scientific Association for Probiotics and Prebiotics consensus statement on the scope and appropriate use of the term probiotic. Nat Rev Gastroenterol Hepatol 11, 506–514 (2014). doi: 10.1038/ nrgastro.2014.66.
Schmitz SS. Value of Probiotics in Canine and Feline Gastroenterology. Vet Clin North Am Small Anim Pract. 2021 Jan;51(1):171217. doi: 10.1016/j.cvsm.2020.09.011.
Barko PC, McMichael MA, Swanson KS, Williams DA. The Gastrointestinal Microbiome: A Review. J Vet Intern Med. 2018 Jan;32(1):9-25. doi: 10.1111/jvim.14875.