Program Structure
You will be a part of a volunteer team. Teams are responsible for the intake, care, and release of all animals admitted to the clinic while under the supervision of the Medical Director, the Illinois zoological medicine residents, and two student managers. Volunteers in their second and third year of veterinary school with one or more years of experience in the WMC act as team leaders.
Teams consist mostly of veterinary and pre-veterinary student volunteers
Team sizes are about twelve to fifteen members per team
Teams operate under a point system to total the 5-10 total hours in the clinic a week

Each member will accrue a minimum number of points, and will receive rewards based on earned points.
This system is designed to reward the extra efforts put in by volunteers and provide you with additional labs, lectures, WMC gear and more.
Volunteers treat patients, take care of orphans, and take turns with the on-call pager to triage patients.
The Ambassador Animal Volunteer Program
The Wildlife Medical Clinic cares for or several native and non-native ambassador animals. These animals serve as representatives of their species and provide the public a chance to learn about our amazing native wildlife in an up-close setting. You can learn more about our current ambassador animals here! If you are part of a group that is interested in an educational event with us, click here!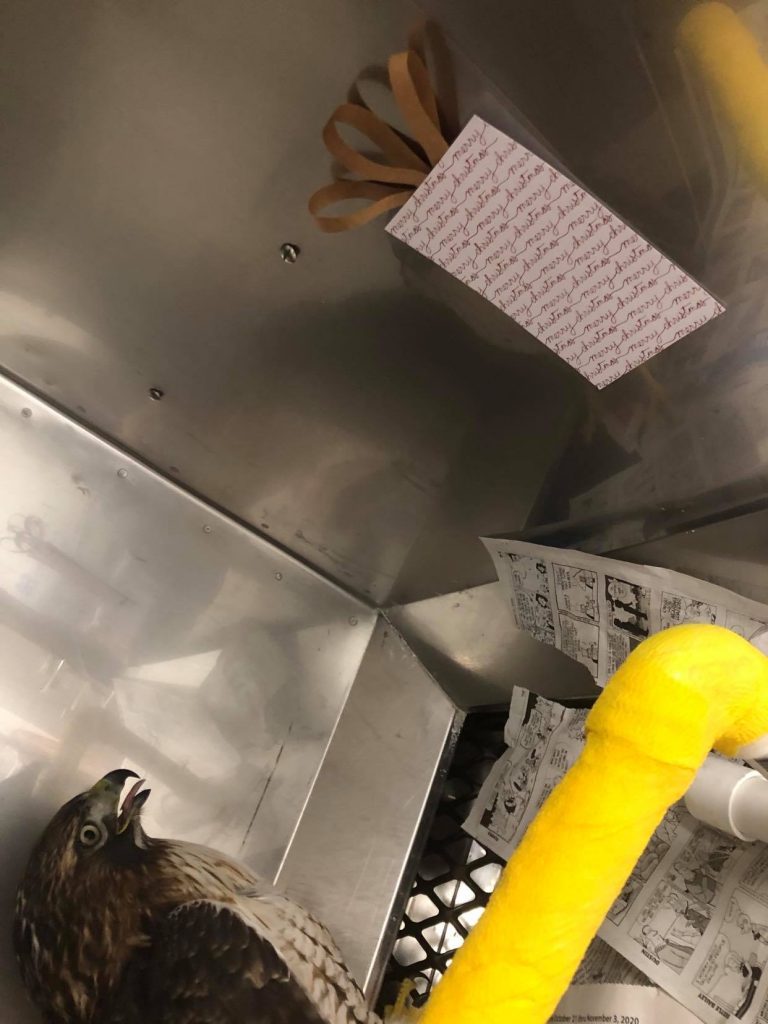 Wildlife Medical Clinic members and undergraduate students work together with our permanent ambassador animals to learn animal husbandry and behavior skills. This hands-on educational opportunity is not usually provided in the didactic curriculum. Student volunteers are the primary caretakers and trainers for our ambassador animals. They develop skills in reptile and raptor handling, and learn how to provide enrichment to captive species.
During the school year, each ambassador team member is assigned one day a week to work with and care for individual ambassador animals. Volunteers typically begin as trainees and reptile caretakers and they are gradually able to move up to working with our birds of prey if they desire. Volunteers are expected to feed, clean, and exercise or train their assigned animals, as well as assist with general maintenance tasks in the ambassador room.
All volunteers are expected to attend a monthly meeting that is generally held on Sunday evenings.
What is the time commitment to volunteer?
The program requires a weekly time commitment of approximately two hours for trainees, reptile caretakers, and single bird handlers. All volunteers are expected to attend at least one public outreach event during each semester, and mentors (more senior volunteers) are expected to attend two.  These events are the core of what we do as a program: educating the public about wildlife.
Qualifications and requirements
University of Illinois student in good standing
University regulations require that the applicant be associated with the University of Illinois by being a student, faculty, or staff member.
Current rabies vaccination
All volunteers must complete a full set of rabies vaccinations prior to beginning work in the WMC (series of 3 vaccinations).  Volunteers must maintain rabies vaccination currency during their entire tenure at the WMC.  Proof of vaccination must be provided to the clinic prior to being assigned to a team.  A rabies vaccination titer is highly recommended following completion of the rabies vaccination series.
The rabies vaccination series can be completed through the University of Illinois Mckinley Health Services.  Additional information can be found at:
https://www.mckinley.illinois.edu/medical-services/immunization-allergy-travel-clinic
We understand that some students may have financial constraints, so we will allow students to submit all other application materials first, receive conditional approval, and then begin their rabies series.  Our deadlines provide applicants enough time to complete all requirements before the beginning of each semester.
One letter of recommendation
Letters of recommendation should focus on animal experience, leadership and management skill, and maturity.  The letter should be from an individual familiar with your interest and experience with animals.
Resume and personal statement
Your resume should reflect any previous animal-related experience and interest in veterinary medicine and/or wildlife.  Note that previous experience is not required to be accepted.  A brief personal statement (less than one page) should outline your motivation and goals for volunteering at the WMC.
Method of transportation to the WMC
A personal automobile is preferred due to the immediacy associated with on-call duty.  In the absence of a personal automobile, bus access is acceptable.  Bicycles as a primary mode of transportation are not recommended due to winter weather conditions.
WMC rounds are held in the Large Animal Clinic, Room 100 (LAC 100) on most Wednesdays of the academic year, from 12:00pm to 12:50pm.  Once the rounds schedule is finalized, team members will be made aware.  Weekly rounds are no longer mandatory, but they are a fantastic learning opportunity as well as a way to earn points.
If a volunteer is accepted into the program, there is a one-time $10.00 fee to cover costs of a name tag and volunteer t-shirt. Please make checks out to: University of Illinois Foundation
Application timeline
Applications for the 2021-2022 Academic Year program are due on August 20. Please complete the online application form. This program runs the entirety of the academic school year, from August to May, with the exception of school breaks.
Interviews & orientation
Applicants will be contacted and provided a status no later than one week following the application deadline.  Applicants are required to attend an online, informal interview following their application.
Accepted volunteers will need to attend a generalized clinic orientation. After orientation, volunteers will be assigned to a WMC team. Team leaders are responsible for further orientation and team integration of the new undergraduate member.
Policy waivers
The Medical Director may waive any policy set forth in this document and may delegate waiver authority for specific items to the Student Managers.
Waiver requests for specific policies set forth in this document should be forwarded to the Medical Director, in writing, via the Student Managers.