"The summer volunteer team is a great way to see unique cases you might never encounter during the academic year, gain clinical experience, and form bonds with fantastic people."

– Mackenzie Wells, Class of 2024
The Summer volunteer application is OPEN NOW, and will close on Wednesday, April 19, 2023.
Please read through the FAQ's to learn more about the program and how to apply
About the Summer Volunteer Program
As a nonprofit, volunteer organization we look to students to help manage the clinic and fulfill our mission between school years.
Volunteers work under the supervision of the Medical Director, the Wildlife Medical Clinic veterinary interns, and two student managers. This team is responsible for the intake, care and release of all animals admitted to the clinic. Summer student volunteers also have the opportunity to help run the operations of the clinic. Groups can vary in size but will be around twelve to sixteen members.
Dates of the Program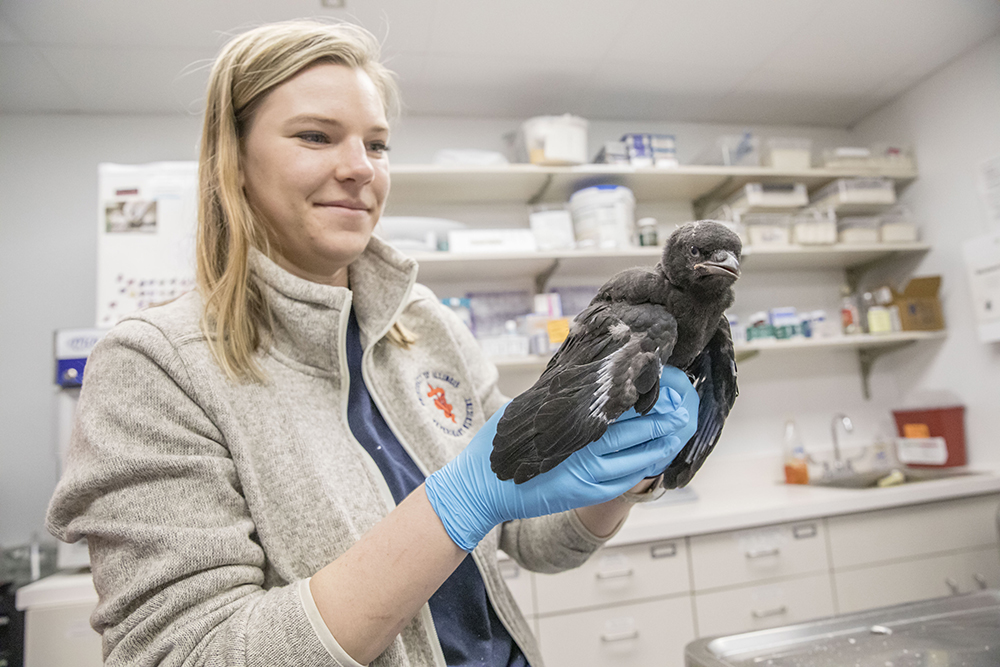 The program begins the Saturday after finals in May and goes through the Friday before school starts in August. Volunteers must sign up for a minimum of 4 shifts per week which is about 20 to 25 hours in the clinic a week, but volunteers are always encouraged to sign up for more to gain additional experience.
Responsibilities Include:
Feeding sick, injured, orphaned wildlife
Medicating patients in the nursery
Food preparation
Help in clinic maintenance
Summer Volunteer FAQ
Are the hours flexible?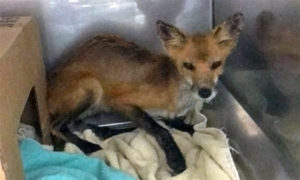 Yes, we have three shifts available per day and volunteers can sign up for shifts that work best for your schedule.
7:30 AM-11AM, 11:30AM-3:30PM, and 5PM-9PM.
I'm not a student, can I volunteer?
No, this opportunity is for students only.
Qualifications and Requirements
Please read carefully, these are required to volunteer.
Must be a University of Illinois student in good standing
University regulations require that the applicant be associated with the University of Illinois by being a student, faculty, or staff member.
Must have a current rabies vaccination
All volunteers must complete a full set of rabies vaccinations prior to beginning work in the WMC (series of 3 vaccinations). Volunteers must maintain rabies vaccination currency during their entire tenure at the WMC. Proof of vaccination must be on file in the clinic prior to being assigned to a team. A rabies vaccination titer is highly recommended following completion of the rabies vaccination series.
The rabies vaccination series can be completed through the University of Illinois Mckinley Health Services. Additional information can be found at: https://mckinley.illinois.edu/parents/health-service-fee/charges-medications-and-vaccines
We understand that some students may have financial constraints, so we will allow students to submit all other application materials first, receive conditional approval, and then begin their rabies series. Our deadlines provide applicants enough time to complete all requirements before the beginning of each semester.
Must submit one letter of recommendation
The letter of recommendation should focus on animal experience, leadership and management skill, and maturity. The letter should be from an individual familiar with your interest in and experience with animals.
Must submit an updated resume and personal statement
Your resume should reflect previous animal-related experience and interest in veterinary medicine and/or wildlife. A brief personal statement (less than one page) should outline your motivation and goals for volunteering at the WMC.
Must have a method of transportation to the WMC
A personal automobile is preferred. In the absence of a personal automobile, bus access is acceptable. Bicycles are also an acceptable mode of transportation during the summer months.
Must submit material fee once accepted
A $10.00 material fee will be required once accepted into the program. This will cover the cost of the access badge necessary for volunteers. Payment must be in the form of cash or check; credit cards or other online payments are not accepted. Please make checks out to the University of Illinois Foundation. The fee will be collected at the time of the volunteer orientation.
When to Apply
The summer volunteer application is OPEN NOW and will close on Wednesday, April 19, 2023. It is required that the cover letter and resume be emailed to wmcchair@vetmed.illinois.edu. Please have your letter of recommendation be sent directly from the recommender to wmcchair@vetmed.illinois.edu. It is also necessary to complete the online application form (Click here to apply)  to complete your application.
Application Deadline
The summer application deadline is April 19, 2023.
Interviews & Orientation
Applicants will be contacted and provided a status no later than one week following the application deadline. Generally, interviews have been held in the past, but we have decided to forgo this step in the process due to staffing shortages. Decisions will be made based on the application materials submitted.
Volunteers will need to attend a generalized clinic orientation. The date will be sent out to those accepted candidates. After orientation, volunteers will be responsible for signing up for shifts weekly. They will be supervised by the clinic managers and summer interns.
Policy waivers
The Medical Director may waive any policy set forth in this document and may delegate waiver authority for specific items to the Student Managers.
Waiver requests for specific policies set forth in this document should be forwarded to the Medical Director, in writing, via the Student Managers.
Program Start Dates:
The program will run from May 13, 2023 to August 19, 2023.
Volunteers MUST be available for this entire program time period in order to be considered for the position.
Requirements to Stay a Volunteer Once Accepted
Must complete the minimum number of required shifts per week and demonstrate reliability.
Volunteers must sign up for a minimum of 4 shifts. There will be three shifts available per day: 7:30 AM-11AM, 11:30AM-3:30PM, and 5PM-9PM. Total hours will be roughly 15-20 hours per week, but volunteers are always encouraged to sign up for more than the minimum to gain more experience. Volunteers sign up for shifts that work best with their schedules, so there is usually quite a bit of flexibility.