Editor's Note: Our student chapter of the Human-Animal Bond Association (HABA) assisted, once again, with a program at the Shawnee Correctional Center last fall. Following a pause during the pandemic, the Shawnee Wellness Assistance Therapy Training (SWATT) program, which began in 2018, resumed its mission of allowing inmates to train dogs for veterans and people with special needs. The Illinois HABA club visits the correctional facility to assist inmates with animal care and training.
Dria Talley, a third-year veterinary student, shares her impactful experience with this program in the blog below.
---
The Human-Animal Bond Association, also known as HABA, is a club at the University of Illinois. It focuses on the benefits animals have on the well-being of the humans who spend time with them. We typically put on lunch lectures and socials for our members; on special occasions, we get to go to prison. Participating in trips to Shawnee Correctional Center in Vienna, Ill., was the most impactful part of my time at vet school.  
Five years ago, we reached out to Angela, a wonderful lady and the facilities manager of the prison. She had recently started the Shawnee Wellness Assistance Therapy Training (SWATT) program.
As part of this program, inmates (or offenders) are paired with shelter dogs for 90 days of obedience training. After their doggy graduation the dogs are available for adoption by veterans free of cost.
HABA's Role
Select HABA members travel to the prison a few times a year to teach offenders about basic canine husbandry, parasite control, nutrition, and veterinary care. We are one of the only groups allowed access to the prison's facilities, which is generally off limits to the public. 
We first give presentations on a variety of topics while 20 male offenders, notepads in hand, sit in the bleachers, periodically asking questions and jotting down notes. Their attentiveness proves their dedication to providing the best possible care for their animals. After our presentation, we break into groups to demonstrate how to clean ears and trim nails. We also give the men a chance to talk to us one on one, sharing stories or asking questions.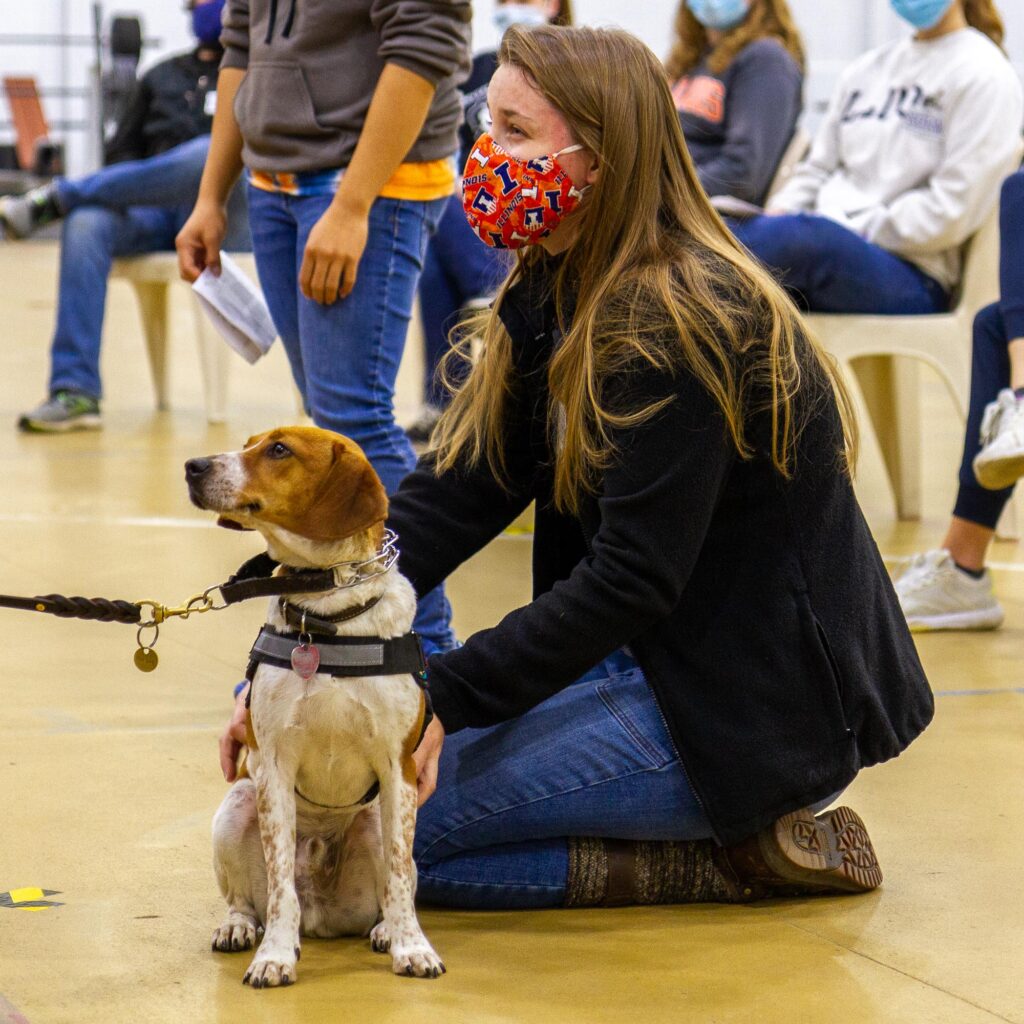 Making an Impact
"Living with dogs changes the behavior of everyone that interacts with them."

-Dria Talley, third-year veterinary student
At the end of my first seminar, after the prisoners and dogs left, Angela and a corrections officer thanked us for making the three-hour drive. They told us how much this program means to them. Living with dogs changes the behavior of everyone that interacts with them. The dogs help alleviate tensions and give the inmates an outlet to be creative and kind.
Because of their four-legged companions, the offenders are getting into fewer fights. They are doing better in their studies, and using their free time in more productive ways. The guard, an intimidating man in his 50s, even shed a few tears when he told us about the changes he has seen in the inmates. It was extremely moving, and I guarantee there was not a single dry eye in the room.  
HABA's goal is to have a positive impact on our communities by utilizing the special bond humans and animals share. This prison trip is a perfect example of such; creating lifelong effects on our members, myself included, and individuals whom society tends to write off. Leaving the doors of Shawnee Correctional felt like nothing else in the world because we had contributed to something truly beautiful.