Shelter Dogs Are Trained, Given to Veterans
Recently a group of Illinois veterinary students went on an unusual field trip. The board of the Human Animal Bond Association student chapter organized a trip to tour the new dog training program located at Shawnee Correctional Center (SCC) in the small town of Vienna, Ill.
SCC houses about 1800 inmates and is a medium to maximum security prison. The program called SWATT, or Shawnee Wellness Assistance Therapy Training, was started in March 2018 and is run by Angela Galbraith in conjunction with Project Hope Humane Society of Metropolis, Ill., which supplies the dogs and the funding for their care.
A unique feature of SWATT is that, while the program helps both the inmates and the dogs, it also helps our U.S. veterans. When the dogs graduate the training program at the correctional center, they are given, free of charge, to veterans who have applied to adopt them.
Basic Obedience, and More
The dogs receive basic obedience training from the inmates with the assistance of a professional dog trainer, who donates her services to the prison. The dogs receive their Canine Good Citizen Ready certificate and then are ready for advanced training, which involves more specialized skills and varies according to the needs of their future owners.
As they talked about the dogs and showed us what they had learned to do, [the inmates] beamed with pride in their pups. They pet them and played with them. They told us about each of the dogs' personalities and little quirks.

Therese Millet
The dogs are taught about wheelchairs and how to properly approach people in them. They are taught about navigating stairs and elevators or retrieving items. Also during their stay in the prison, the dogs are brought out to local veterans' events to help acclimate them to different social situations. They visit the VA homes and attend local parades. Angela said the veterans just love when the dogs visit; the visits really brighten their day.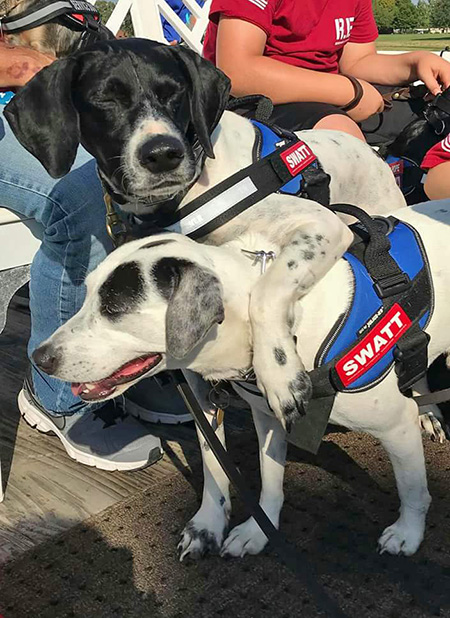 Before joining the training program, the dogs are given full medical examinations and tested for disease by Project Hope Humane Society. The dogs are on monthly heartworm and flea and tick preventatives. Their living quarters at the jail are wonderful, by doggie standards! They have a very large separate dog room where they each have their own large crate for sleeping. The inmates make a plaque for each dog's crate displaying the dog's name; these plaques are then given to the dog's new owners.
Time for 'Just Being Dogs'
The dogs have bedding and toys and treats galore. They have a huge fenced grass yard with tons of room to run. There are tunnels and a dogwalk obstacle for playing or training. The dogs are given free time for wrestling and running and just being dogs.
The inmates are with the dogs all day, in two different shifts. They sit with the dogs and socialize them, as well as work on all their training. Because too much training in a row can lead a dog to burnout, the inmates give the dogs rests in between.
The dogs have specific potty breaks and feeding times, so they can have a sense of routine in their lives. The professional trainer sets up weekly training goals for all the dogs. Everything is logged and documented. But, best of all, these dogs are loved and cared for. They get one-on-one attention, perhaps for the first time in their lives. They are rewarded for good behavior and learn that they are good dogs! Within the walls of this prison, they are set free of their old lives.
Profound Beneficial Effects
As veterinary students who are interested in the healing of animals, we also are interested in the healing effects that animals have on humans. This is the basis of the Human Animal Bond Association, the realization that the bond shared between people and animals can have profound beneficial effects on both individuals.
We were able to witness these effects on the inmates we met. The inmates in this program were carefully selected from hundreds of applicants. As they talked about the dogs and showed us what they had learned to do, they beamed with pride in their pups. They pet them and played with them. They told us about each of the dogs' personalities and little quirks. They recounted that one of the dogs liked to play fetch with everything, including the logbook or radio, if someone accidentally left it out. They told us of how shy a couple of the dogs were at first and how they came out of their shells and learned to trust. They showed us the journals they kept with all the dogs' daily activities neatly logged every day. These books would be given to the veteran owners when the dogs left so that the veteran could see how his or her new dog had progressed over the past few months.
Giving and Receiving Love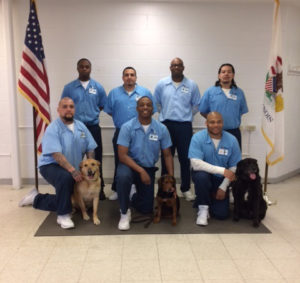 When speaking about the dogs, the inmates were not criminals: they were people feeling the unconditional love of another creature and finding themselves able to give this love in return, perhaps for the first time in their lives. One man said that when he is here with the dogs, it is the only time he can forget all the bad stuff going on in his life, for just a little while. He felt peace and happiness. Another man said that it gave him something to look forward to, and that seeing the progress they made together gave him a sense of accomplishment. He also said that the fact that these dogs were going to be adopted out to veterans made him feel like he was participating in doing something good in this world, for a change. The inmates laughed and smiled with us at the dogs' goofy behavior.
When we left, I told them they were doing a great job and they thanked me so sincerely. I just had an overwhelming feeling that this is good. Goodness for all involved. Goodness in this often-dark world. Goodness brought out of tragedy. Hope for the future.
The four dogs in the SWATT program when we visited were scheduled to graduate on Oct 30, and a new group will be starting in December. Any veterans interested in applying to adopt one of these dogs can contact Project Hope at 618-524-8939. There is also a Facebook page and a website for more information at https://www.projecthopehumanesociety.org/swatt .
By Therese Millet, third-year veterinary student