Endows Scholarship for Students Facing Discrimination
Dr. David Kieltyka (say Kell-TIC-ka) has had the kind of life and career from which "triumph over all the odds" books and movies are made.
Growing up poor on the South Side of Chicago, he realized a childhood dream through attending the University of Illinois College of Veterinary Medicine but flunked out after one year. Undaunted, he identified the cause of his poor performance, applied for reinstatement, and earned his DVM in 1978.
Dr. Erwin Small taught us to always be ethical and honest, and that rule has helped me get through some rough times, both professionally and personally.

Dr. David Kieltyka
Dr. Kieltyka went on to have his own small animal practice frequented by Hollywood stars, act as a consultant for the FBI, train with the federal government on Veterinary Homeland Security matters, and retire recently as acting County Veterinarian for Orange County, Calif., the fifth most populous county in the U.S.
Support for Marginalized Students
"I've been through a lot of things over the years," Dr. Kieltyka acknowledges. And in a desire to assist modern-day vet students who may face their own setbacks and challenges en route to their dreams, he recently established the Dr. David Kieltyka Endowed Scholarship at the college. Especially timely in this era when historically marginalized groups are being uplifted and celebrated, it is his way of paying it forward.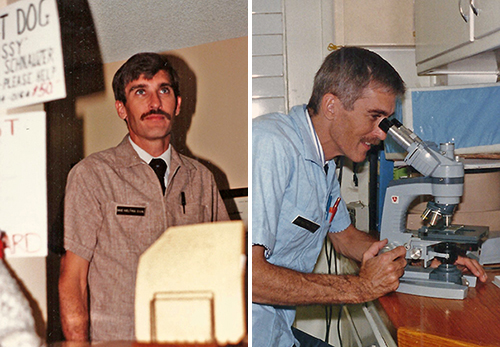 "I've been very fortunate through life," says Dr. Kieltyka, 68. "I'm not rich, but I'm comfortable. I'm gay, so I don't have children to leave my money to. And for people that have been discriminated against, it makes everything harder. I mean, they've had a tougher time to start with. Anything that can help them, I would like to do."
With a stated aim to support increased diversity among the veterinarians of tomorrow, the scholarship is designated for students with financial need who are "active with a UIUC LGBT Resource Center affiliated student organization, have made significant contributions to the LGBT community…committed to making UIUC a more open environment for LGBT students" or are African American, Filipino or Hispanic. The scholarship is funded in part from the estate of Dr. Kieltyka's late former partner, John Rowlands, which Dr. Kieltyka inherited upon his death in 2012.
"We were together 13 years and split up, but we remained friends," Dr. Kieltyka explains. "He always talked about wanting to do something for gay students, so that's part of it. I'm glad I did it."
Slight Deviation from the Plan
Dr. Kieltyka was accepted to the University of Illinois for his undergraduate studies and decided to stay there to earn his DVM degree. He distinguished himself, entering the College of Veterinary Medicine after just two years of undergraduate study. However, to the shock of his family, friends and himself, Dr. Kieltyka flunked out after just two semesters.
Too much, too soon? Hardly.
"The problem was we were working with formaldehyde every day, doing anatomy on the carcasses," Dr. Kieltyka says. "It was irritating my sinuses, and because I had a deviated septum my sinuses would fill up and wouldn't drain, so I had constant headaches. I kept going to doctors, and they didn't know what was going on. They just kept giving me pain medicine and telling me it was something in my head — which it was, but not the way they meant."
Returning home to Chicago after being expelled, Dr. Kieltyka engaged in some independent study. "I went to an ENT professional who told me I needed surgery on my septum. I had the operation, then petitioned to get back into the College of Liberal Arts and Sciences. I earned my bachelor's degree that year, then got back into vet school and finished."
Dr. Kieltyka remembers that period as "probably the worst time in my life, to know what I really wanted to do only to flunk out and not know where I was headed. By the time I wrote my letter for reinstatement, I weighed 128 pounds at 6-foot-1.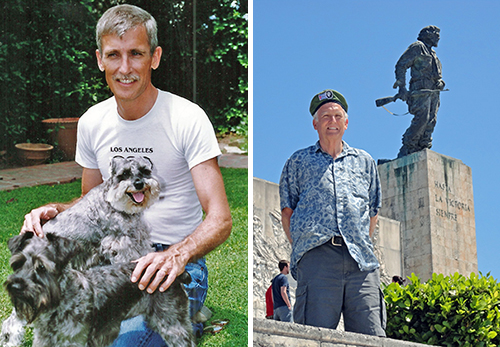 "When people at the university read it they said, 'Why didn't you tell us?' Well, it's kind of hard to tell anyone when you don't really have a reason and physicians are telling you you're crazy. But it all worked out.
"Dr. Erwin Small (the late professor emeritus and associate dean of alumni and public affairs after whom the college's Distinguished Alumni Awards are named) taught us to always be ethical and honest, and that rule has helped me get through some rough times, both professionally and personally."
Swimmin' Pools … Movie Stars
After spending a year working at an animal clinic in Des Plaines, Ill., Dr. Kieltyka was invited by friends to come to Berkeley for a mini-vacation and to take the California veterinary board exams. He never looked back.
He has a distinct memory from the time he worked at a Robertson Blvd. animal hospital in West Hollywood: he was bending down to look at the schedule at the reception desk when he heard the door open and someone come in; he looked up to find Jane Fonda standing there. At one point, he says, nearly every cast member of the classic '80s nighttime soap opera Knots Landing brought their pets to that clinic. Eventually Dr. Kieltyka operated his own small animal clinic in North Hollywood for seven years.
He also earned a certificate in Veterinary Homeland Security from Purdue University and spent about 40 weeks training with the federal government on military bases and other installations. "Homeland Security is a topic that's always been of great interest to me," he says.
County Veterinarian, Coronavirus Survivor
Dr. Kieltyka says his favorite job was serving as Orange County veterinarian. "It was fascinating, because we supposedly maintained the largest single shelter west of the Mississippi," he declares. "We took in 40,000 animals a year, we dealt with cruelty cases for the county, we had contracts with 23 individual cities to do their animal control work, and I was involved in emergency planning for the county along with other first responders and county management. I loved the job, and I'm glad I took it."
His current dog Grace, a nine-year-old miniature Schnauzer, was a rescue from the shelter.
A survivor and overcomer in his own right, Dr. Kieltyka even conquered coronavirus this year.
"I caught it back in April," he says. "I was sick with symptoms for a month, and since then I have been just very fatigued. I didn't end up being hospitalized, but I did have pneumonia and I had some delirium, too. Drinking bleach seemed like a good idea at times. Overall, it was not nice.
"My life, a lot of times, has been crazy. I ended up where I belong because I've always been a lot more Hollywood than Chicago!"
By Jim McFarlin