Due to the COVID-19 pandemic, the annual Awards and Scholarships Celebration was held via Zoom this year. Nevertheless, alumni and student speakers shared their messages with the award winners and generous donors. Here are remarks from two of the speakers, Dr. Ron Gill, owner of Gill Veterinary Clinic in West Salem, Ill., and Dr. Valerie Eisenbart, chief of staff at the Banfield Pet Hospital in Matteson, Ill.
Your Education Can Take You Anywhere You Want to Go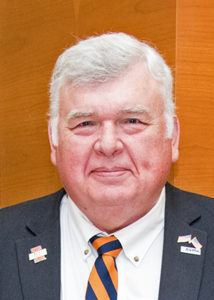 I was asked to speak about where my involvement in organized veterinary medicine has taken me. My interest and involvement began while I was an Illinois veterinary student, and I served two terms as treasurer of the Student Chapter of the American Veterinary Medical Association (AVMA).
Student Leader to National Leader
After practicing for perhaps 20 years, I was asked to take a leadership role in the Southern Illinois Veterinary Medical Association. This led to a position on the Illinois State Veterinary Medical Association (ISVMA) board, where I served as chairman of the board and later a term as president of ISVMA.
In 2001 I was elected to a council position within the AVMA, and a number of other positions followed. In all my AVMA involvement, I have tried to consistently represent the Midwest and the mixed-animal portion of our profession. Three years ago I was elected to represent District 6 (Illinois, Indiana, and Wisconsin) on the AVMA board of directors.
My involvement has given me the opportunity to work toward the betterment of this great profession. AVMA now counts over 95,000 members representing a wide range of opportunities for veterinarians in this country and around the world. More than 700 volunteers serve in leadership roles at AVMA in such areas as policy making and state and national governmental relations.
Confidence in Veterinary Colleges
I know firsthand from my time on the AVMA's Council on Education, which is the accrediting body for veterinary colleges, about the tremendous efforts put forth by administrators, professors, staff, and most of all the students at the 32 accredited veterinary colleges here in the U.S. I have visited 11 veterinary schools as a part of accreditation teams. And I can say with complete confidence that the education at the University of Illinois is second to none.
From an organizational viewpoint, I have met some truly outstanding and dedicated veterinarians who have given greatly of their time and resources to better the profession for all of us, and especially for the students.
We at AVMA continue to work diligently to solve the student debt issue, which to me is the most important issue facing our profession. Many ideas have been presented, with no ultimate answer. I believe that the entire profession must work to solve this huge issue. Scholarships and awards like those presented today are a tremendous representation of what can be done, but we must do more.
Having a legislature well informed about veterinary medicine can help solve the issue of student debt and other issues of funding for the college. I have been able to develop a relationship with my elected state and federal representatives, and arrange for two of these representatives to tour our college. These legislators were impressed with the breadth of our profession and learned about many aspects of veterinary medicine.
My participation in organized veterinary medicine has helped to improve my own practice as well as my professional life. Although I never expected this level of involvement when I graduated almost 45 years ago, it has helped me to implement successful practices and improve the quality of veterinary care at my clinic.
An Amazing Profession with Unlimited Opportunities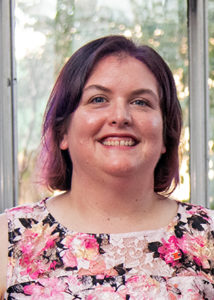 As someone who has been involved in Awards and Scholarships for several years, I am proud to share my thoughts about the opportunities we have as graduates of the College of Veterinary Medicine.
First, I want to thank our generous donors. There are so many philanthropic groups and foundations you could choose to support, and I'm so delighted that you have decided to make an impact on veterinary students.
Veterinary students are a pretty special group of people, and student debt is an enormous challenge facing the veterinarians of our generation. Student loan payments are often equivalent to and sometimes more than mortgage payments. I hear stories every day on veterinary social media groups of veterinarians struggling with their debt load, and that struggle can impact how these veterinarians feel about their whole profession.
When we consider the average length of loan repayment and the interest rates, your gift is magnified. The $500 a student can avoid borrowing today turns into a gift of $1,000 or more over the life of their loan. So I, with the student recipients, want to thank you for supporting veterinary students at the University of Illinois College of Veterinary Medicine.
I also want to thank the parents, friends, spouses, and other supporters, without whom our students truly could not complete their studies.
Finally, congratulations to the students! You are very deserving of this generosity! Vet school is challenging, and awesome, and stressful, and wonderful and sometimes heartbreaking all at the same time. So is being a veterinarian in the real world.
I know I painted a bleak picture of student debt, but I also want to assure you that you are joining an amazing profession. And despite what you may see in those veterinary social media groups, you can definitely have an uplifting, fulfilling career as a veterinarian.
I graduated with the Class of 2011, and among my classmates we have small animal practitioners, dairy vets, swine vets, specialists in internal medicine, anesthesia and critical care, faculty members at the College of Veterinary Medicine, and practice owners. One of my classmates started her career in general practice and now works for the AVMA. Another classmate did relief work and now works at the US Department of Transportation in Washington, D.C. One of my classmates started a non-profit organization that provides veterinary care for pets of the homeless. Another writes a blog about the connections between veterinary medicine and Harry Potter and fixes turtles that have been found on the roadside.
I share their stories because I want you to know that the veterinary community is a small world with unlimited opportunities. Take the time as veterinary students to explore what our profession has to offer and be open minded about where your journey might lead you. When I look at where my classmates and I are today, I see that very few of our paths were linear. Most of us said "yes" to an opportunity when the road was uncertain.
I encourage you to celebrate your achievements, explore new connections, and be excited about finding your place within the veterinary profession.
---
Dr. Gill's remarks, continued
The education I received while a student here at Illinois gave me the basis to grow as an individual and as a professional. I have learned to adjust and adapt to changes in my own practice. What once was a practice doing 80 percent large animal is now a practice doing 30 percent large animal. What was a solo practice is now a busy four-doctor practice.
Get Involved, Give Back
The question now to you students is: Where can your education take you? The answer is: Anywhere you want to go. Your training will provide you the basis to accomplish great things in veterinary medicine. But, there is no greatness without purpose, perseverance, and overcoming adversity.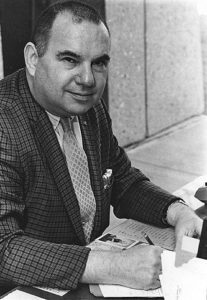 Now I want to pass along words of wisdom spoken to my veterinary class at orientation one fall day in 1971 by Dr. Erwin Small, who devoted 50 years of his life to our college and to the veterinary profession.
He told us three things that day, which I still remember.
One, we were now attending a world-class institution in the University of Illinois.
Two, from that day forward, forever and always, we would be Illini.
And last but not the least, Dr. Small said: "You have got to get involved."
So I pass on to today's students: Get involved early in your career. Join local service clubs or run for the school board. I also want to encourage you to give something back to the profession of veterinary medicine, whether in the form of service or scholarship support. Do this, and I believe you will enjoy the fruits of your efforts.
Congratulations to all the award and scholarship winners!