EVP room named for K.T. Wright
On December 5, Dr. Kenneth "K.T." Wright thought he was attending an event at which his long-time business partner and friend Dr. Joe Connor would receive an award from the University of Illinois College of Veterinary Medicine. Instead, he himself was the surprise guest of honor at a celebration attended by dozens of swine practitioners and leaders in the field.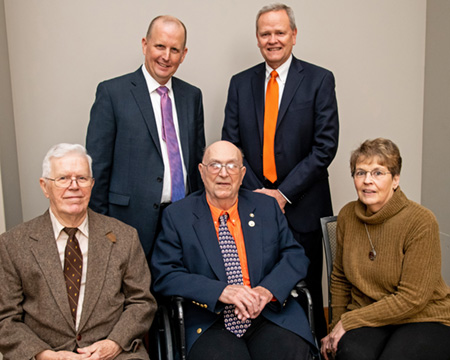 Dean Peter Constable announced that the college was honoring Dr. Wright and his wife, Betty Wright, by naming the "EVP room" after them.
For nearly 30 years the Executive Veterinary Program (EVP) has been at the forefront of post-graduate skill development for veterinarians, focusing on leadership, communications, management, and data analysis. More than 200 veterinarians from 16 states and three countries have completed the Swine EVP curriculum, learning from subject matter experts and each other in the seminar room now bearing the Wright name.
At the December 5 celebration, nearly 40 swine veterinarians currently enrolled in the seventh offering of Swine EVP were in attendance. Dr. LeRoy Biehl, the emeritus professor who conceived and launched EVP in 1991, was also on hand to acknowledge Dr. Wright's contributions.
An Influential Career
In recounting the many highlights of Dr. Wright's impact on swine medicine, Dr. Connor noted, "Over the years, he's influenced many, many veterinarians within the profession. In 1991, he received the AASV [American Association of Swine Veterinarians] Meritorious Service Award, the first to be so honored."
Dr. Connor also shared anecdotes from his partnership and friendship with Dr. Wright, including the persuasive means by which K.T. saw to it that Joe got involved in the AASV.
"The very first year, I told him, 'K.T., I've got a lot of stuff to do. I really can't go to that AASV meeting.' He said, 'I'm driving, you're coming.'
"I don't think there's a more fitting honor than to have the University of Illinois name the EVP seminar room after K.T. Wright," said Dr. Connor. "I know the younger practitioners here tonight will see over time what he's meant for us.
"K.T., I want to say again: we're standing on the shoulders of a giant, and you are that giant. Thank you."
Heartfelt Response
"I've been very fortunate to have many good and dear friends in the veterinary profession," said Dr. Wright in his response. "I've had two excellent business partners in Joe Connor and Jack Coleman, both EVP grads.
"My family connection with the University of Illinois goes back many, many years. My father was the ninth of 10 sons from a farm family near Peoria. And my grandparents sent six of those 10 sons to the University of Illinois.
"I had to do one of the toughest things I ever had to do this June 30th: I had to retire from practice. I dearly loved the clients, and dearly loved all of the pets and the animals that I dealt with.
"It's certainly an honor to be recognized by your peers," he concluded. "Thank you very much."
Lifetime of Achievements
In 1962 Dr. Wright completed his veterinary degree at the University of Illinois and began practicing veterinary medicine in Blandinsville, Ill., where he remained in practice until earlier this year. More than 30 Wright family members have attended the University of Illinois, including his parents.
K.T. and Betty have established multiple scholarships and funds at the university, including a student scholarship and swine research fund at the College of Veterinary Medicine. He also serves as the chair of the college's "With Illinois" fundraising campaign.
In 2017, Dr. Wright received the Heritage Award from the AASV Foundation, becoming only the third to be so recognized for lifelong outstanding achievements in swine veterinary medicine. By coincidence, Dr. Connor was recently asked to deliver the pig statue that accompanies the Heritage Award to Dr. Wright. Dr. Wright had inadvertently received a smaller statue in 2017, so Dr. Connor was able to present the correct version to him at the December 5 celebration. (In the photo above, Dr. Wright holds that statue while seated next to Dr. Connor and Dean Constable.)
In 2005, Dr. Wright received the Dr. Erwin Small Distinguished Alumni Award from the University of Illinois College of Veterinary Medicine and its alumni association.