Gift Aids Nursery in Wildlife Medical Clinic
Decades before they began their retirements, Patricia and Randall Rushing were already reveling in their golden years.
That is, the years spent with their golden retrievers.
During their time in Springfield, Ill., the Rushings have lived with and loved five goldens in all: Grimmy, Poppy, Granger, Isabella, and their latest companion, four-year-old Whitney. (The photo above shows Isabella, at right, with Granger.) And keeping it all in the family, "Whitney is actually Isabella's grand nephew," Patricia reports. "They're in the same bloodline."
With such devotion and compassion for dogs, and one breed in particular, you might reasonably assume any gift the Rushings make to the University of Illinois College of Veterinary Medicine would focus on the care and treatment of canines.
And you would be wrong. At least, in this instance.
A Room of Caring
The Rushings, who have made several generous contributions to the college in the past, recently confirmed their largest donation to date: buying the naming rights to the nursery at the Wildlife Medical Clinic. The nursery henceforth will be known as "A Golden Room: A Room of Caring, Hope and Love for Nature's Creatures," in tribute to the couple's four goldens that have passed away.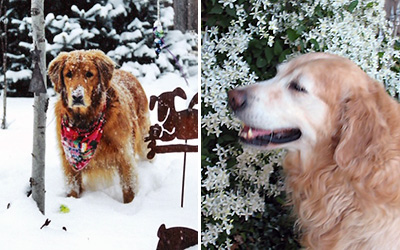 "We've contributed to other College of Veterinary Medicine initiatives, but this is the first time we've given to the Wildlife Medical Clinic," says Patricia. The Rushings also have sponsored three days at the clinic — covering the costs of a 24-hour cycle for animals and students in the facility — in honor of Isabella, Granger, and Poppy, and will sponsor a fourth day for Grimmy in the spring of 2020.
"We were meeting one day with Christine Dietrich (the college's assistant dean of advancement) talking about our estate, and I don't know, somehow the topic of squirrels came up," Patricia says. "She said she loved squirrels and asked if we had ever thought about the Wildlife Medical Clinic. The lightbulbs went on, and we didn't look back."
Goldens Coexited with Wildlife
Squirrels, and many other varieties of wild animals, have given the Rushings pleasure over the years alongside their dogs.
"We had a backyard with lots and lots of wildlife," Patricia explains. "Squirrels were our favorite, but of course we also had cardinals and robins and rabbits, all the animals you would see in a neighborhood garden. We would go out every morning and load up all our feeders and wait for them to come, then go out the next morning and load them up again. Wild Birds Unlimited took a hit when we moved out of that house."
However, the Rushings note that each of their golden retrievers coexisted in peace with their backyard visitors, as if realizing the wild birds and animals also belonged to their loving, extended family. "We built memory gardens for each of our goldens at our previous home," Patricia says.
"So many creatures are harmed, purposely or unthinkingly. This is our way of attempting to, in some small manner, compensate for those behaviors through love and the preservation of nature's wildlife."
Connected Through Veterinary Care
Patricia, who once spearheaded strategic planning for the ASPCA Animal Poison Control Center, retired as director of the Center for Public Safety and Justice on the University of Illinois at Urbana-Champaign campus. Randall, who capped a distinguished 32-year career in law enforcement with the Illinois State Police by working for the U.S. Department of Homeland Security, earned his MBA at the Urbana campus. However, both say their most endearing connection to the university is the way the college's Veterinary Teaching Hospital cared for their goldens, particularly Grimmy and Isabella.
"The vet school has always had resources that were above and beyond what the local clinics can provide," says Randall. "Our vets here in Springfield are exceptional, and work closely with the vet school when additional resources are needed for care. For example, several years ago when Isabella required hydrotherapy, there were no water treadmills in Springfield."
Grimmy spent significant time in the college's dermatology and oncology departments, but Isabella underwent an extensive range of treatments.
"Poor Izzy, she saw oncology, neurology, physical therapy, acupuncture, pain management," Patricia recalls. "She was involved in some integrated medicine after she blew out her ACL, and the vet school took care of it. The acupuncture worked really well, and was clearly worth the numerous trips between Urbana and Springfield."
Why do goldens rule in the Rushing household? "It's been so long, we don't recall how we landed on that breed, but we're so fortunate we did," says Patricia. "Grimmy, our first golden, was such a sweet boy, we merely stayed the course."
By Jim McFarlin