'I hope to return one day'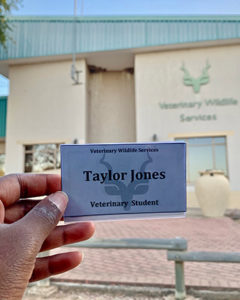 I think I truly understand now why Toto had to create a whole song about Africa. It is a continent full of mystique and wonder that leaves you mesmerized wherever you look. It is a hot bed of history, culture, food, and most importantly to me … an area with some of the most majestic animals to walk this earth.
I've felt this way about an area of Africa before, but I never thought I would get a chance to feel that way again. Before I started vet school, I traveled on my dream trip to the continent of Africa in 2016 and fell in love with the country of South Africa. Now during my final year of veterinary school, I was able to travel back to that amazing country to work alongside the Veterinary Wildlife Services team at Kruger National Park for a two-week externship. It was a trip of a lifetime for an aspiring zoo and wildlife veterinarian, such as myself: to be at the hub for wildlife game capture and management.
While in Kruger National Park, I stayed in Skukuza Veterinary Camp with researchers, game rangers, and veterinary students from all over the world. Everyone had different reasons for being there, but we all agreed that this was the place to be.
Just as diverse as the animals are in this area, so was the caseload I was able to work on. I had an opportunity to work in the abattoir (slaughterhouse) in order to conduct meat inspections on Warthog and Impala meat being given to the surrounding community. I went on multiple game drives to see our wonderful "facility" out in the bush and learn about the different species that inhabit it. I heard lectures about chemical immobilization and how to safely work around wild animals such as rhinos. (I literally cried tears of joy!) I also got a 4 a.m. wake-up call to participate in a once-in-a-lifetime experience of being a part of a mass game capture of zebras!
I worked with some amazing South African veterinarians, researchers, and game rangers and, most importantly, met some amazing South African vet students that I can now call my friends.
I have said this before in almost every blog I have written (see blogs from Brazil and Australia), but I will cherish these experiences from this two-week externship for the rest of my veterinary career! I traveled to South Africa in 2016 before I started veterinary school, in 2019 I returned to the country as a veterinary student.
After graduation I hope to return to the continent as a veterinarian one day. Stay tuned ☺.
—Taylor Willis, Class of 2020