Immersive Education in Brazil
From the moment I set foot in Brazil, I knew I was in for an adventure. Just the flight into the country proved how beautiful the locations would be. We even had our hosts waiting for us with University of Illinois signs in the airport!
My Brazilian adventure was slightly different from that of the other students for the first week. While it was Mother's Day on our first day in the country, my host's parents were out of the country, so we did not have the same celebration as the others did with their families. My host also did not have a car, or a family to drive us, so I ended up spending a decent portion of my budget on public transportation for the first week. Because of the transportation issue, I was often last to get to the school, or had to Uber by myself on days when my host was too busy to come with me. This was especially difficult, because the few Portuguese phrases I had learned before the trip did not apply to giving an Uber driver directions to a school that I had only been to by bus.
However, I truly enjoyed my time spent with the UFPR Veterinary School for my first week, and made friendships that I think will last a lifetime. The students and residents embraced us and got us involved with all of their procedures and cases from the start. We were able to help with treatments on howler monkeys, owls, local bird species, and LOTS of parrots and chinchillas! I even got to draw blood from a howler monkey, and feed him bananas afterward! Our time spent with the local zoo was also very eye-opening, and I cherished my time spent with the zoo veterinarian.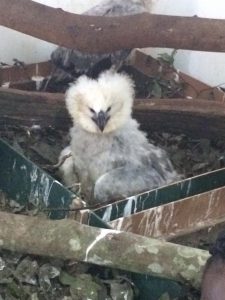 Our second week was spent in Foz du Iguazu, where we split our time between the local wildlife rehabilitation center and the Parque das Aves, or Avian Park. The veterinarians whom we met and worked with are both extremely well-known in their field, and it was an honor to get to learn from them. Not only did we again get to work with species we would never see in the US, but we also got to compare drugs, medications, and basic protocols that are completely different in other countries.
We also got the experience of renting an Air B&B in a foreign country, and being completely self-reliant for a week. We did get stuck without a car for the week (if you can't drive a manual transmission, either learn or reserve an automatic car FAR in advance!), but thankfully I had spent the previous week riding buses in Curitiba, so we figured out public transportation before long!
Honestly, this was probably the most immersive experience I could have asked for in terms of being thrown into a country where I didn't speak the language and having nothing go quite the way it was supposed to; but to me, these are the best types of trips, because you really have to figure things out yourself and learn so much more about the country and yourself as a person.
– Gina Vecere, third-year student
Learn more about international veterinary medicine programs.