In May, two classmates and I embarked on a study abroad experience in Curitiba, Brazil. (In the photo above, we are in the center: Paige Coody, second from right in the first row, petting the dog; directly behind Paige is Abbie Janisch, and I am just left of Abbie.) The experience was organized as a cooperative effort through veterinary faculty at the University of Illinois and the Federal University of Paraná, including Dr. Marlos Gonçalves Sousa (at right in the photo).
A Passionate People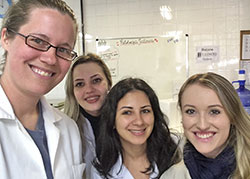 What defined the quality of the experience was most certainly the people. Everyone we met, from the moment we arrived at the airport to the first day in the hospital and throughout, was absolutely wonderful. The sheer kindness and love that we received on a daily basis made for a wonderfully memorable adventure, with new experiences and new friends.
Abbie, Paige, and I—all members of the Illinois Class of 2020—arrived in Curitiba, where our hosts were waiting for us with a warm welcome, hugs, and "Welcome Illinois Students" signs. After arriving at our hosts' homes and settling in, we explored the city and were then given a tour of the veterinary hospital. Because we arrived on a Saturday, the hospital was largely empty. After we visited the various areas, one resident went to check in on her patients while the rest of us visited the wildlife and zoological medicine patients (which included some unimaginably adorable baby bunnies).
A Critical Case
When we finished with the wildlife patients, we returned to the clinical medicine room where our host and several staff members were gathered around a rather ill dog on an exam table. The dog was small, grey-white mixed breed, perhaps partially lhasa apso. The dog was laying on her side, struggling to breathe. Abbie, Paige and I assisted our host to drain fluid from the dog's chest, when her heart suddenly stopped. We stood back and watched as everyone in the room dropped what they were doing and immediately began CPR. As we just finished our second year OSCE and learned proper CPR procedure, it was impressive to see the team work in such precision and coordination in giving excellent CPR to this patient.
Unfortunately, the dog did not respond, and after considerable time, our host decided that the dog was gone, and the team stopped. She placed her hand on the dog's head and gave her a gentle kiss, saying goodbye. It was in that moment that I saw what so many people in Brazil are like. They are loving, caring, and compassionate people. Life matters, whether it be a spouse, parent, friend, wild parrot, or dog, and we should live our lives to make the most of our experiences with those we love, and provide the best possible life for those creatures without a voice.
Clin Path in Brazil
My first week at the veterinary hospital was spent in the clinical pathology lab, and I loved every minute. The residents were so welcoming and kind. My Portuguese was poor, and the residents stated their English was poor (although in my opinion it was quite excellent), but with a little patience, and working together through a topic that we shared a common passion, we were able to communicate rather well.
We laughed together frequently, making fun of immune cell morphologies or urinalysis crystals. The residents did a phenomenal job teaching me how they process samples, which diseases they more often see in Brazil, and how they diagnose those conditions. I saw cases of severe leukemia and anemia, a basophil (!) from an otter, all urine crystals except for cystine (but I do have a personal promise to receive a picture of cystine crystals once the lab finds it), and cases of Leishmania, Babesia, Hepatozoon, and Mycoplasma from a beautiful library of blood smears collected in the lab.
I processed blood from a lion, practiced countless blood smears, hematocrit, and urinalyses, and performed various specialized stains and diagnostic tests. The residents did a phenomenal job explaining everything to me, and I will always remember their kindness and I am grateful for their friendship.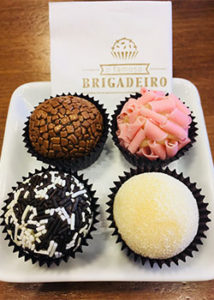 Surgery Rotation
My second week was spent with the surgery group. Although the week was cut short due to a holiday, the few days I spent observing surgeries were wonderful. I shadowed a TTA (tibial tuberosity advancement), TPLO (tibial-plateau-leveling osteotomy), correction of an inguinal hernia, and an endoscopy and retrieval of a foreign body from a tiny and adorable Yorkshire puppy.
I was very impressed by the quality of their surgical suite, equipment, and practices in performing various procedures. In our time outside of the hospital, with many different residents, students, and professors, we enjoyed trying a wide variety of foods, shopping, and visiting a zoo, animal sanctuary, and various parks and gardens around the city. Through all of those experiences, I continued to be impressed by the passion that people showed for each other.
A Tremendously Valuable Experience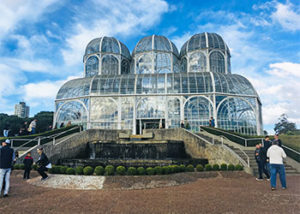 This experience was outstanding in all aspects. I was able to directly apply concepts and techniques that I learned in my coursework to a clinical setting. I learned new skills, how to diagnose a wide variety of diseases and work through clinical cases, and how to communicate through what was at times a language barrier. Being able to intensely experience a profession that one loves in another country is tremendously valuable. We are able to share commonalities and teach each other about differences in a way that ultimately improves both approaches to veterinary medicine. I am forever grateful for this opportunity, the events I experienced, and the friends I have gained.
Muita obrigada, Brazil.
—Robin Holland, PhD, DVM Class of 2020
---
Paige Coody's blog about Brazil
I have always wanted to travel and study abroad, but there was always something holding me back. When the opportunity to study in Brazil presented itself, I knew right off the bat that it was the perfect fit!
My excitement could not be contained, after all our hours of traveling and overnight flights, my excitement was matched by the bright shining faces of our host families greeting us with "Welcome Illinois Students" signs. I and my two Illinois veterinary student colleagues were greeted with open arms and warm hearts; we instantly felt welcomed to the beautiful Curitiba, Brazil!
From the very first day to the very last, my days were packed full of culture, beauty, love, and hard work. I was immediately immersed into the culture, quickly learning to love kissing each other on the cheek as well as saying hello and goodbye to every person individually. The love everyone had for each other was quickly passed on to me. My host family warmly opened their amazing heart and home to me, making me feel a part of their family. I was always included in their handmade elaborate and amazing meals. I most definitely felt very spoiled and loved!
I spent two weeks working alongside three residents in a clinical rotation setting at the UFPR Veterinary School through the wildlife and exotics department. There was a perfect balance of work and play during my two weeks there! The residents took me under their wing and gave me the opportunity to gain a large amount of hands-on experience. Even though they were 12-hour work days, there was always so much to be done that the days flew by very quickly. The evenings and weekends were spent with great company as they showed me around their beautiful city!
My experience was definitely amplified due to the amazing people I was blessed to work with and travel with. I gained so much hands-on experience, saw the beauty of another country, gained so much respect for a different culture, and definitely fell in love with Brazil. The two weeks I spent in Curitiba will be cherished for the rest of my veterinary career and my personal life.
During our two-week stay there was a university holiday as well as a day closure at the university. The residents, hosts, and Brazilian coordinator used this opportunity to show us around their stunning city and really immerse us in their culture. We were able to see spectacular nature parks, visit the Curitiba Zoo for a behind-the-scenes tour, visit a true private zoo/chimp sanctuary, and eat even more of their remarkable cuisine. These days that we were unable to work at the university were filled to the brim with astonishing activities that I would not trade for anything! They also made my dreams come true to see capybaras in the wild as well as even pet and feed a capybara! That will defiantly be a top memory for me, and for that I'm truly blessed.
We three Illinois students traveled to Rio de Janeiro the last weekend we were in Brazil, which I would strongly recommend! Even with the language barrier, together the three of us were able to get around, feel safe, and enjoy another gorgeous part of Brazil!
Tips: It was helpful to learn a little Portuguese; if you are willing to learn, the Brazilians will also be more than happy to teach you! Most people there spoke at least a little English, so, with patience, conversation was achievable. We also downloaded the Google translate app, which was very useful. Even though it does not translate perfectly, you are able to close the language barrier.
Go with an open mind and heart. You will not regret it!
—Paige Coody, Class of 2020
---
Abbie Janisch's blog about Brazil
Brush Your Pet's Teeth—and Your Lion's? 
I had no idea what to expect when I got off the plane in Curitiba. Myself and two other University of Illinois third-year veterinary students arrived at the airport on what we would learn to be a "cold" day in Brazil: It was about 70 degrees Fahrenheit, but that is winter to them!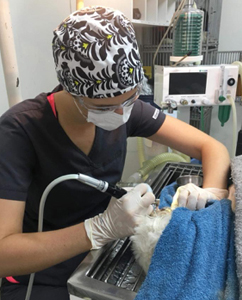 We were greeted by our host families with cute signs and welcoming smiles, and we were off and running. We spent the first two days of our trip sight-seeing and taking in the colors and beauty that is Brazil. We tried new foods, learned about organic farming, and visited the Botanical Gardens in Curitiba. I am certain that I never stopped smiling at how beautiful the country and its people were. Every person you meet greets you like an old friend with hugs and kisses on your cheeks; it was impossible to not feel welcome.
We didn't travel all the way to Brazil for vacation though; we were there to learn! I would be spending two weeks working in the Odontologia (Dentistry) Department, while my classmates would be in the Zoo and Wildlife Medicine Department and Clinical Pathology Department. To say that I was impressed with the Dentistry Department at the UFPR Veterinary Hospital is an understatement. The residents that I worked with truly cared about every patient, and every tooth! Veterinary care was personalized to every animal that we saw, no matter what the species—dog, cat, rabbit, and even a lion.
Severe dental disease affects many pets in the United States, and it was no different in Brazil. The major difference was that the UFPR Veterinary Hospital is one of the only places equipped to treat dental disease in Brazil, so people would be referred by their primary care veterinarian to bring in their pets for a dental consult. During a dentistry consult, an oral exam was performed to assess oral health and determine what kind of dental procedure was needed. A physical exam, an echocardiogram, and bloodwork were also performed to assess overall health of each pet and make sure they were a good candidate for a dental procedure under general anesthesia.
Patients would then come back for their scheduled dental procedure under general anesthesia. Unlike humans, our pets need to be under anesthesia for their dental procedure because it would be hard to train Fluffy to hold still for cleaning and polishing! Many dental procedures are also uncomfortable, and can be painful if there are any fractured or diseased teeth, so pain medications are used to keep patients comfortable for the procedure and make sure all pain was managed. Once our patients were sleeping comfortably, we would begin every procedure the same way: doing a full oral exam and dental charting. Dental charts are used to write down all information about the mouth. Every single side of every singletooth is assessed for gingivitis and tartar as well as for fractures, masses, or any other abnormalities.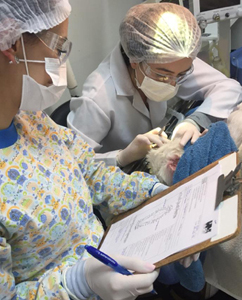 Once charting was complete, full-mouth dental x-rays were taken to look at the teeth below the gumline. In dogs and cats, only a third of a tooth can be seen without x-rays, so this is a very important part of any dental procedure. X-rays and the dental chart are used in combination to determine which teeth are healthy and stable and which teeth are diseased and need treatment. Most of the pets that we treated suffered from severe periodontal disease and needed extraction of the diseased teeth.
The teeth that were healthy were cleaned using an ultrasonic scaler that uses bubbles and vibrations to clean the tartar off the teeth above and below the gumline. Once this wascomplete, the teeth were polished with toothpaste and the mouth was rinsed with a sealant to protect the teeth from tartar accumulation. The patient was then brushed and warmed with blankets until they wokeup. If they had had extractions or root canals, they were sent home with pain medications and soft food to keep them comfortable during the healing process.
A recheck exam was scheduled in two weeks to see how the mouth was healing and to discuss at-home dental care to prevent dental disease and the need for extractions from periodontal disease in the future. The best way to prevent periodontal disease or slow its progression is to brush your pet's teeth daily!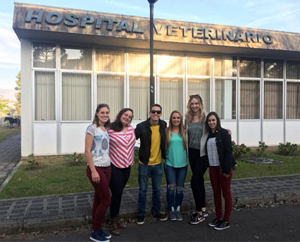 Lions need dental care too! I was lucky enough to be present at the university when a lion was brought in for a root canal repair due to a previously fractured canine tooth. Fractures are painful and can result in extraction, but with our big cat patient, the veterinarians did everything they could to prevent extraction of this big tooth. The root canal was performed by a professor at the university, and I had the pleasure of polishing some of the lion's teeth! It was an unforgettable moment in my life.
I am so thankful for the University of Illinois College of Veterinary Medicine and to UFPR Veterinary Hospital for this opportunity. I made amazing friends, learned so much, and am forever changed because of my time spent in Brazil. I hope someday, sooner rather than later, I can go back!
—Abbie Janisch