'Don't Ever Try to Do Anything Small'
When he was a veterinary student at the University of Illinois, Dr. David Reed watched as the bank foreclosed on his family home: the 120-acre farm in Cerro Gordo, Ill., that his father, Paul, had worked since he returned from World War II.
[row][column size="6″]
"It was terrifically unsettling, a sorrowful thing," remembers Dr. Reed, today a veterinary legend in the San Jose, Calif., area and valued member of the college's campaign cabinet. "You've seen those old movies where the snow and wind are blowing, and the family is selling everything? But I did take away something positive from that experience. And that was that things change.
"My dad wanted to farm the same way he farmed when he came back from the war. He should have tried to lease more land. He should have tried to change with the times, because nothing ever stays the same."
Owner of More Than 25 Hospitals
That's the philosophy Dr. Reed adhered to when, in 2004, he and a partner began acquiring veterinary hospitals across California, eventually owning more than 25.
"We were actually a publicly traded company," he says. "I tried to adapt to the changes in veterinary medicine. Our business plan was, we would buy a specialty practice, then buy the practices around it. We called it the 'hub and spoke:' the specialty hospital was the hub, and the spokes would send it the cases they couldn't handle. It developed a very good relationship between specialty medicine and general practice. It was and still is a good business model."
[/column][column size="6″]
[callout title="Support for Communications Training"]
"Dr. Reed is an amazing man, and naturally an outstanding communicator," says Dr. Laura Garrett, a clinical professor of oncology who started the communications program in the Illinois veterinary curriculum after she received training at the Institute for Healthcare Communication in 2007.
"There are discrete communication skills that can be learned. If someone's angry at you, what do you do? How do you communicate with clients who are struggling to make a decision?"
Through training and practice, these sorts of communication challenges can be handled more effectively, especially when the veterinarian also has to be thinking about diagnoses, treatment, and the next patient, according to Dr. Garrett.
With guidance from faculty and coaches, Illinois veterinary students have the opportunity to hone their communication skills in the college's Clinical Skills Learning Center. This facility is one of the most comprehensive veterinary skills centers in the world, and it features four mock exam rooms where simulated client-doctor interactions can be recorded for later review with trained instructors.
Dr. Garrett credits Dr. Reed's generosity for enabling instructors to receive training at the Institute for Healthcare Communication.
"Dr. Reed recognizes that you can have a building, but if you don't have the people who are trained to help educate the students, then the building doesn't do any good." —Steph Maurer
[/callout]
[/column][/row]
The venture taught Dr. Reed another reality, about himself. "I said, 'Dave, don't ever try to do anything small, because that's just not your personality,'" he relates. "I said, 'You're going to think back to the farm sale and say, 'I can adapt to change. I can grow from that.'"
On that occasion, however, growth was short lived. The economic collapse of 2008 caused investors to pull out of the company, eventually leading to the chain being sold to its primary competitor, veterinary hospital conglomerate VCA. The terms of the buyout prompted Dr. Reed, who was in management, to enter what he calls "my first retirement" in 2010.
Becoming 'the Country Doctor'
"But they never said I couldn't become a veterinarian again," he says. "So after about six weeks of being extremely bored I spotted an empty building zoned for a veterinary hospital. I opened it with the idea it would be just a small hospital, a nice way to retire. I wouldn't get too worked up about it."
That's not his personality. Today Reed Animal Hospital has two locations, in Campbell and Saratoga, Calif. They offer house calls, online pharmacy, pet wellness plans, emergency care, dentistry and dermatology treatments. Day care, boarding and grooming services are provided through a spinoff business. Thanks to the marketing skills of his daughter, Katie—he and his wife, Christine, have three children, and two work in the practice—Dr. Reed is known throughout the region, in print and on radio, as "the Country Doctor."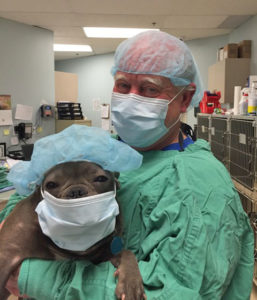 That branding is a salute to his farm upbringing in Cerro Gordo, gaining the experience that allowed him to enter the College of Veterinary Medicine on his first attempt.
"Vet school was difficult because I put myself through," Dr. Reed recalls. "I had no money, so I relied on grants and working darn near full time. I would work in the dairy barns at 6, finish at 7:30, change, then go to class. I lived in a trailer—you might call it a mobile home, but it was a trailer—and took care of a dog kennel, so my rent was free. Yet my memories are fond ones, because of all those who did an excellent job of educating us."
Offered a job in California upon graduation in 1972, he leaped at the opportunity. "I never, ever wanted to be that cold again," he says, laughing. "And I never wanted to be that poor again." Now, as he approaches what may be his final retirement, Dr. Reed is passionate about sharing his love of veterinary medicine with younger generations.
Of the dozen interns who have worked for Dr. Reed over nearly five decades, all have gone to vet school—several to the University of Illinois. "The thing that makes me most proud is, we've given them an honest look at the profession," he reflects. "They've been on the inside, they know the dirt, yet we haven't discouraged them. They still want to be veterinarians."
Investing in Communications Curricula
Dr. Reed, who has co-sponsored educational scholarships for Illinois high school students for more than 25 years, is also passionate about the curriculum at his alma mater: specifically, in his financial support of programs to help improve the communications skills of veterinary students.
"One of the things I'd seen that I felt was missing in our graduates, and making their practice lives difficult, was the ability to communicate," he says. "I thought that instead of being like other veterinarians that sit around at their county association meetings and complain about it, maybe if we actively did something to increase their communication skills, that would be good."
To that end, on the career days he frequents whenever time permits, Dr. Reed has a ready response for youngsters who say they want to be vets because "they love animals."
"I say, 'That's great. But you'd better love people, too, because it's rare that a patient comes in by itself.'"
By Jim McFarlin