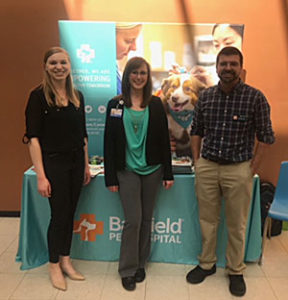 This past weekend was the inaugural University of Illinois College of Veterinary Medicine Career Fair. Rachel Berger (second-year veterinary student), Dr. Jeffrey Mills (Central Illinois Medical Director for Banfield Pet Hospital), and I recognized a need for an event to give students face-time to connect with hiring practices. Therefore, in September 2017, Rachel and I began planning the inaugural Career Fair for Vet Med at Illinois.
Dr. Mills connected us with students from The Ohio State College of Veterinary Medicine who had put on career fairs in the past and we were able to use their advice and examples to organize our own. The Career Fair took place in the atrium of the Basic Sciences Building on Saturday, March 10, and featured 55 practices. From mixed animal to small animal and from private to corporate, all different types of practices were represented. The practices also came from all over the United States, with the farthest practice being from Florida.
Nearly 100 students comprised of representatives from all classes attended the Career Fair throughout the day, and a few lucky fourth-years were able to interview on Sunday for full-time positions. We would like to thank all of the practices and students for attending and for making the Career Fair the success that it was. We would also like to thank Banfield Pet Hospital for sponsoring the Career Fair. Overall, we were very pleased with how the event turned out this year and we look forward to expanding this event next year to connect more students to externship, internship, and associate opportunities.