Last weekend, the University of Illinois College of Veterinary Medicine's Aquatics Club visited the John G. Shedd Aquarium in Chicago. The "Shedd Trip," as it's commonly known, is the coveted reward for the Aquatics Club members who help with the husbandry of the freshwater and saltwater tanks at the college.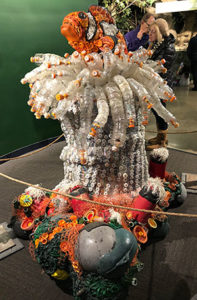 We arrived early on Sunday morning to greet Dr. Matt O'Connor (DVM '07), one of the Shedd's staff veterinarians and a University of Illinois alumnus. Dr. O'Connor first highlighted the Shedd's limited-time special exhibition titled Washed Ashore: Art to Save the Sea, which features large sculptures of aquatic animals created from plastic beach trash. The sculptures were located throughout the aquarium, and they opened our eyes to the impact our actions have on the environment, and the importance of living simply and reducing our waste.
Next, Dr. O'Connor showed us one of the Shedd's newest habitats, the Kelp Forest. Dr. O'Connor explained the dynamics of the habitat to us, as well as the challenges that came with an old exhibit and introducing new species to the habitat. This experience also showed us that the job of an aquarium veterinarian goes beyond the knowledge of veterinary medicine. Aquarium veterinarians must also be familiar with water quality, the natural history of the animals, and much more.
Dr. O'Connor then led us on a behind-the-scenes tour. He discussed the Shedd's Microbiome Project and we saw the outside of the lab and toured the inside of the veterinary hospital. Dr. O'Connor explained to us that the reason the hospital was smaller than most would think is because the veterinarians at Shedd usually make "house calls" to their patients on and off exhibit. Dr. O'Connor then wrapped up the tour by discussing a few interesting cases that he's had during his career as an aquarium veterinarian. After thanking Dr. O'Connor for the tour, we had the rest of the afternoon to explore the aquarium.
For me, the trip was especially meaningful because I was able to re-connect with my colleagues and mentors from my time in the Shedd's Teen Work-Study program and tell them about my veterinary school journey.
The University of Illinois Aquatics Club would like to thank the John G. Shedd Aquarium and Dr. O'Connor for our visit, and we look forward to being back next year!
—Sarah Wright, second-year veterinary student