Doing All We Can for Working Dogs
[row][column size="6″]
A new fund established at the College of Veterinary Medicine furthers the care and training available to address medical emergencies in dogs used by law enforcement or other government agencies. The K9 Officer Down fund will support long-standing efforts to care for these dogs that frequently receive treatment at the University of Illinois Veterinary Teaching Hospital. It will also advance newer initiatives that have arisen with increased threats to and recognition of these dogs' service.
The fund's creation was a collaborative effort between veterinarians Drs. Maureen McMichael and Ashley Mitek at the College of Veterinary Medicine, emergency medicine physicians Drs. Michael Smith and Brad Weir at Carle Foundation Hospital, and several area law enforcement canine handlers including Deputy Chad Beasley (Champaign County Sheriff's Office), Officer Doug Beckman (University of Illinois Campus Police), Dr. David "Lou" Ferland (United States Police Canine Association), and Sergeant Patrick Van Hoveln (Illinois State Police).
[/column][column size="6″]
[callout title="Make a gift to the K9 Officer Down fund"]
The K9 Officer Down fund provides financial support for the medical treatment of law enforcement canines at the University of Illinois Veterinary Teaching Hospital. Preference will be given to active duty dogs needing emergency care for injuries sustained in the line of duty, as well as dogs suffering from serious illnesses or conditions. Funds may also be used to help teach and equip first responders with needed canine medical supplies to treat injured working dogs in the field.
[give-now link="/giving/give-now" fund="11341299″ fundname="K9 Officer Down Fund"]Give Now[/give-now]
[/callout]
[/column][/row]
Dr. Maureen McMichael, who heads the small animal emergency and critical care service at the college, has played an integral role in recent activities. "I have a very special interest in working dogs," she says.
'These Dogs Deserve the Absolute Best Care'
Between 2012 and early 2017, about 60 K9 officers, originating from 16 Illinois counties and Indiana, have been treated at the Veterinary Teaching Hospital for conditions ranging from tooth fractures, broken bones, bloat and other gastrointestinal issues, disc problems, and dermatological issues.
Recent cases involving police dogs treated at the Veterinary Teaching Hospital
In January 2017, Marshall County (Ill.) Sheriff's Deputy Bob Vester and his 10-year-old German Shepherd partner, Flits, were hailed as the 2016 K-9 Team of the Year by the Central Illinois Police and Working Dog Association. Less than two months later, the livelihood, life, and limb of the police dog were severely threatened after…
For about a week in early September, Rex, a canine officer with the Decatur Police Department, had been lethargic and not himself. His handler took Rex several times to see the local veterinarian, who, after obtaining abdominal radiographs that were concerning …
Dr. Ashley Mitek, another faculty member at the College of Veterinary Medicine, notes that despite millions of dollars spent to create technology that would replicate the services delivered by working dogs, the Department of Defense has been unable to find a suitable replacement.
"That tells me that working dogs are going to be part of our community for a very long time. If anything, we're going to start to see them even more frequently in our hospital. They're being exposed more and more to hazards on the job," she says. "It's our job as a veterinary profession, as a college that has a mission to educate, and as human physicians, handlers, and legislators to really come together, because these dogs deserve the absolute best care that we can provide for them."
Dr. McMichael agrees, and gives a personal motivation for her passion for these dogs.
"I just feel that these dogs might be out there searching for my children or grandchildren someday," she says. "Recently a local police dog was on the job searching for a little six-month-old girl, who was eventually found. That's what these dogs are out there doing. They're saving our lives and helping the community."
Training Video for Treating Overdosing Dogs
Drs. McMichael and Mitek first started formally addressing the emergency needs of working dogs in the fall of 2016, after learning of the growing threat to scent detection dogs posed by ultra-potent opioids recently entering the illegal drug trade. Working dogs were exposed to these drugs in the line of duty and were overdosing and dying on the job.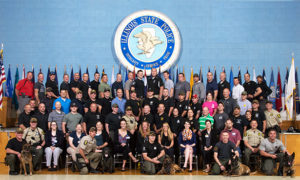 Noting that "you can't hear about that and just do nothing," Drs. Mitek and McMichael responded by creating a training video for canine handlers showing how to administer the antidote, naloxone, to an exposed dog. Most officers carry naloxone and could potentially stabilize the dog for transport to a veterinary care facility. The video was released in March and has had thousands of online views, as well as distribution directly to working dog units upon request.
In the course of preparing the video, the doctors found many partners across the Illinois campus as well as in the community, including emergency medicine physicians Drs. Brad Weir and Michael Smith at Carle Hospital. These human doctors had recently created the national Joint Taskforce on Working Dog Care & Transport, and invited Drs. Mitek and McMichael to serve on it. The joint task force established a "treat and transport" protocol for ambulance personnel to use for working dogs.
Getting the Word Out
Over the past months, Drs. Mitek and McMichael and other veterinarians from the University of Illinois College of Veterinary Medicine have led many training sessions for K9 handlers and EMS personnel on emergency care for working dogs. See below for a sampling of recent coverage of their activities in support of medical care for K9 officers.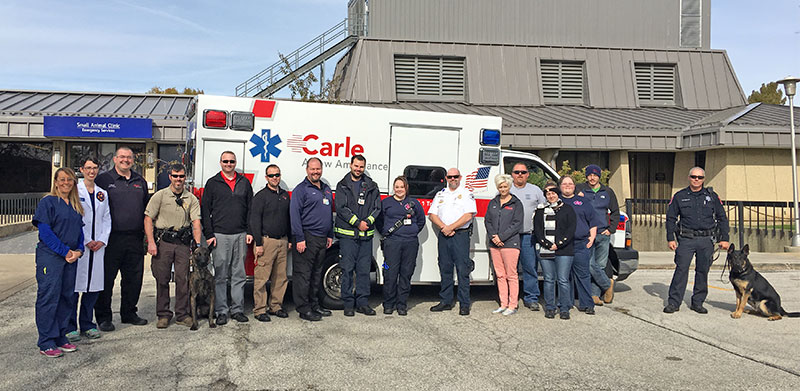 [row][column size="4″]
Peoria Journal-Star (March 9) – Deputy Bob Vester went to the University of Illinois School of Veterinary Medicine Teaching Hospital on Thursday to learn the procedures he'll need to follow during a recovery and rehabilitation period expected to last six to 12 months.
WAND-TV (March 14)  – University of Illinois researchers released a training video on Tuesday explaining how handlers can give their K9 a shot or nasal spray of Narcan in case of an accidental exposure to opioids.
News-Gazette (March 23) – Injured police dogs usually ride to veterinary clinics in police vehicles, but starting soon, the emergency response for those dogs in this area is about to step up. Courtesy of Arrow Ambulance and the University of Illinois, police dogs hurt on the job will get an ambulance ride to the UI Veterinary Teaching Hospital and emergency care on the way there.
[/column][column size="4″]
WCIA-TV News (April 10) – EMS staff and police were trained on how to treat working dogs in cases of emergency. Veterinarians say that could mean the difference between life and death in some situations.
The 21st (WILL-AM; May 19) – The Drug Enforcement Agency announced last year that K-9 officers – the dogs that accompany police on drug raids – are facing an "unprecedented threat": death from exposure to drugs that are 100 to 10,000 times more powerful than heroin. Dr. Maureen McMichael, associate professor in veterinary clinical medicine at the University of Illinois, is working with local, state and national agencies to develop protocols that could help save working dogs that are exposed.
ciLiving (WCIA-TV; Aug. 4) – Veterinarian Dr. Ashley Mitek joined U of I Officer Doug Beckman, his canine partner Chewy, and Dr. Brad Weir, an emergency medicine physician at Carle Hospital, to talk about ongoing efforts to support the emergency medical needs of working dogs.
[/column][column size="4″]
News-Gazette (Aug. 15) – Gov. Bruce Rauner signed legislation Monday that makes it clear that ambulance services can transport police dogs that get hurt in the line of duty to veterinary clinics, as long as there aren't people in need of care or transport at the time. A University of Illinois veterinarian trained Arrow Ambulance personnel in basic veterinary emergency care this spring.
Chicago Tribune (Aug. 28) – The University of Illinois College of Veterinary Medicine recently released a video advising veterinarians on how to treat dogs that accidentally overdose (naloxone, the overdose-reversing medication, works on canines, too).
WAND-TV (Nov. 3) – Dr. Maureen McMichael, along with Dr. Ashley Mitek, have begun an educational campaign to teach handlers and first responders how to reverse to an overdose in a K-9.
[/column][/row]