Reaching Out Across the Aisle, Across the Internet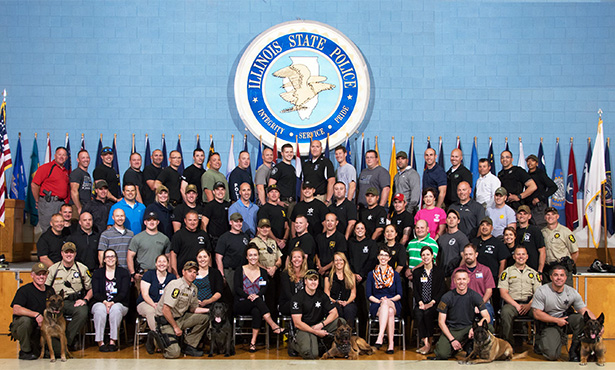 This message will appear in the June 2017 issue of the Chicago Veterinary Medical Association Bulletin.
Fast action to meet pressing societal needs
A speedy response can mean the difference between life and death. As medical professionals, you all know this. The legislative and academic realms, however, are not widely known for their speed.
Reaching Out to Respond to Working Dog Health Threat
An emerging threat to working dogs, particularly K9 officers, spurred unusually fast action in the Illinois state legislature and in our own college this year.
In February, at the urging of the Mundelein police department which had recently added a canine officer, State Rep. Carol Sente, D-Vernon Hills, introduced a bill permitting ambulances to transport injured police dogs to a medical facility, if the ambulance is not needed for a person. (The current law governing ambulances lacks clarity about use for a nonhuman patient.)
The bill gained bipartisan support—a rarity in Illinois government—and by mid May had passed the House and entered the Senate with a likelihood of passing.
Meanwhile, faculty in our Office of Public Engagement and small animal emergency service had heard of another threat to police dogs. After bringing his K9 partner to our hospital with a critical case of bloat last fall, an Illinois State Police officer mentioned a recent Drug Enforcement Agency warning about new ultra-potent opioids in circulation. The officer told Drs. Maureen McMichael and Ashley Mitek that scent detection dogs are overdosing and dying from illegal street drugs laced with compounds that are hundreds of times more potent than heroin.
"You can't hear about that and just do nothing," was the doctors' response.
Reaching Out to Meet Educational Needs Near and Far
By early March they had navigated the many campus legal requirements to create and release an open-access educational video to teach officers or emergency responders how to give naloxone, an opioid reversal agent carried by police and ambulances, to dogs in case of exposure. The video stipulates that the administration of the drug should be done in consultation with a veterinarian, and that the dog should be taken for treatment by a veterinarian as soon as possible after it is stabilized.
In the process of making the video, Drs. McMichael and Mitek also forged a partnership with physicians at the local Carle Hospital emergency medicine service. Our faculty were invited to join the hospital's Joint Taskforce on Working Dog Care & Transport. They have also delivered in-person training on emergency care of dogs to EMS personnel and more than 100 K9 handlers in the Illinois State Police (see photo above, with dentistry technician Misty Croy and Drs. McMichael, Mitek, and Katherine Kling seated in the front row center) in the past few months. Our faculty and the Carle doctors are conducting research on how best to educate EMS personnel on the treatment of injured working dogs in the field.
Our college plans to develop more open-access educational videos that meet pressing societal needs on matters of animal and public health. The Office of Public Engagement is embracing a strategy of offering a diversity of platforms for veterinary and lay education that span a continuum from online, on-demand learning to intensive, onsite programs, like the new EVP Beef that launched in Olathe, Kan., in April.
Mark Your Calendar for Fall Conference
And speaking of onsite programs, I'd like to remind you to mark your calendars for our annual Fall Conference, which will be held during Homecoming Week, on October 26 and 27.
We are proud to announce that Rep. Kurt Schrader (D-OR5), a 1977 graduate of our college and a U.S. Congressman since 2009, will be delivering one of the keynote addresses. Rep. Schrader is hailed for his bipartisan approach.
His keynote topic? Reaching out across the aisle.
—Dean Peter Constable