'Teaching Moment' Has Happy Ending
Most experts agree that implanting a microchip in your dog is one of the safest and most responsible decisions a pet owner can make, ensuring you can be found if your best friend is lost. However, when a one-in-a-million mishap caused David and Sharon Shafer's puppy, Mayzie, to nearly become paralyzed by the procedure, they rushed their pet to the University of Illinois Veterinary Teaching Hospital for an emergency operation.
The Shafers, a retired couple in Jacksonville, Ill., opted to have a chip inserted while Mayzie—a "Maltichon," Maltese-Bichon Frise mix—was being spayed at her local veterinarian's office in 2016. This is not an uncommon request, since the patient is already under anesthesia.
In this case, though, "just as the technician was placing it, Mayzie jerked and the chip went in too far," Sharon relates. "Before I was to go pick her up, the vet called and said, 'Something's not right.' That's when we decided she needed to go to the U of I."
According to veterinary neurologist Dr. Devon Hague, the College of Veterinary Medicine faculty member who cared for Mayzie, the microchip had penetrated her cervical spinal canal. "When she first came in, she wasn't able to walk on her own on all four legs," Dr. Hague says. "She definitely had neurological impairment."
'Really Rare' Occurrence
Dr. Hague is quick to point out that placing a microchip under a pet's loose skin is normally a simple and extremely harmless maneuver. "No, this was one of those really rare, I would say even freak, occurrences," she says. "The dog was waking up from her anesthesia and when they placed the needle she kind of threw her head back. That movement is what caused it.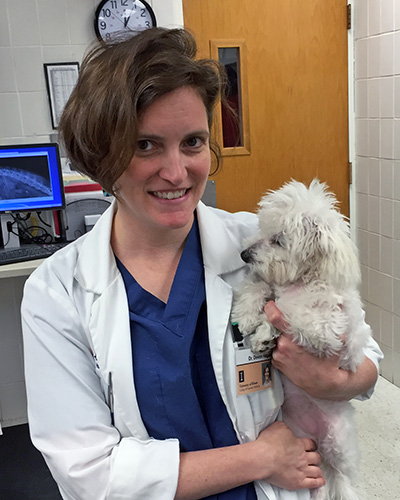 "Certainly nothing was intentional, and her veterinarian was wonderful to work with," Dr. Hague adds. "They called right away and said, 'Look, this accident happened, we want to make it right, what can we do?' They paid for everything. Actually, I think it was a great teaching moment for our students to see that hey, these things can happen in practice, and this is an appropriate way to address a mistake like that."
Dr. Hague performed the delicate surgery to remove the chip from Mayzie's spine. "The biggest risk, of course, is the microchip itself," she says. "If it had broken as I was removing it, that certainly could have caused complications. But luckily, it came out in one piece."
'Today She's Doing Great'
So did Mayzie, who celebrated her first birthday in March 2017 and is almost completely back to normal. "She runs a little bit sideways, just a little," says Sharon, "but she runs and jumps and everything. She's just a wonderful little dog."
And, Sharon believes, their little miracle. "We did not think she would ever walk again at all," she says. "We were very upset, as was the vet. She never had anything like this happen before. But we rushed her to the U of I and everyone up there was wonderful. They just took really good care of her and they talked us through everything.
"When we brought her home she had to exercise and take it slow, but since we're retired we have a lot of time to spend with her. We just prayed a lot, and today she's doing great. She's our baby."
By Jim McFarlin