Update January 20, 2017: Sadly, Miss Millie passed away on January 10. Her owner, Karen Lee Keefe, shared this poem with us:
It is with the Heaviest of Hearts
that I share with you…
After a Courageous Battle with Cancer,
Miss Millie is doing "Her Strut" across
The Rainbow Bridge Runway.
Having been Blessed with finding her being auctioned
on eBay to becoming America's Top Dog Model,
Miss August 2015…
She became my Muse.
She took me places I would have never gone,
where we met the most Amazing people along our way.
Miss Millie you were a True Blessing &
touched many lives in Your short 6 years.
Till we meet again my Sweet, Sweet Girl,
          "Strike A Pose."
Miss Millie
8/18/2010 ~ 1/10/2017
---
No one could deny that, for a six-year-old Boston terrier in tiny Mendota, Ill., Miss Millie Keefe is living a remarkable life.
A professional model, this doggie diva has strutted down runways from South Florida to LA, transforming the catwalk into her personal dog run as she captures such titles as national finalist in America's Top Dog Model competition (yes, that's a thing; she was Miss August in the 2015 calendar) and "Most Photogenic" at the Fabulous Fur-Baby Cotillion near West Palm Beach, Fla.
"Modeling Millie" has demonstrated canine footwear on Chicago's WGN-TV and even served as spokesdog for the pet carrier she prefers while jetting to her various locations. In the process, she achieved the ultimate accolade for any performer: a front-page article in her hometown newspaper, The Mendota Reporter.
While some of her gowns and high-fashion outfits are off the rack, many are original designs from as far away as Guatemala. "She wears couture, I wear Kohl's," says her devoted owner, Karen Lee Keefe.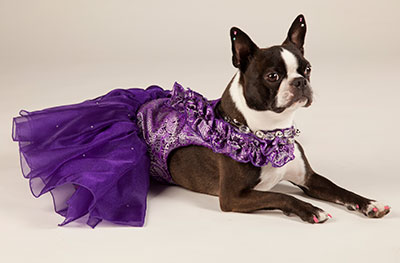 Sadly, however, it is not all bright lights, biscuits, and beauty pageants for Miss Millie.
She has cancer. And it is spreading.
Keefe and her husband, Dennis, brought their celebrity canine to the University of Illinois Veterinary Teaching Hospital for treatment after a low-grade mast cell tumor was discovered on her ventral thorax (chest region) in 2015.
"These [types of tumors] are unlikely to spread," notes Millie's primary U of I veterinarian, medical oncology resident Corrine Camero. "However, mast cell tumors can be fairly unpredictable."
In Millie's case, "They thought they got it all, but it metastasized and came back" in a lymph node, Keefe explains. Upon examining Millie's spleen, Camero found the cancer had spread there as well. "With disease in multiple locations it is expected to progress quickly, so further surgery was not recommended," Camero says.
Instead, Miss Millie was placed on a regimen of Palladia—the only FDA-approved cancer drug for dogs—and Camero says she seems to be tolerating the medication well. The affected lymph node actually has decreased in size.
"We will see her every four weeks to monitor blood work and the lymph node," Camero says. "Unfortunately, we expect the medication will stop working eventually, at which point there are two other drugs we can try.
"It is likely Millie will die from this cancer, although it is hard to say how long she has," reports Camero. "Three to six months is typical with metastatic cancer. However, some dogs surprise us and go on living for more than a year. The most important thing is to ensure that Millie has an excellent quality of life. We try not to focus on the quantity."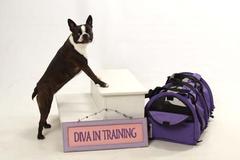 She's probably doing better at the moment than Keefe. "Miss Millie doesn't know she's sick," she says. "I'm a mess. Just a mess.
"She has to take Benadryl for her chemo reaction so she gets a little groggy, but she still likes to play, still goes out and chases the horses up and down the fence. She's doing well, not only with Dr. Camero's help but she's also going to a holistic doctor. I'm pretty homeopathic myself."
Miss Millie's self-described "owner, manager, agent, stylist, and chauffeur," Keefe readily admits to being one of "those crazy dog people," but that may explain the intensity of her unique bond with this beneficent Boston. Millie participates in the PAWS for Reading program with area schoolchildren and visits senior citizen facilities when she's home in Mendota.
"She gives back," says Keefe. "She brings joy to everyone, especially us.
"She's my everything, my muse. I wouldn't be traveling to all these places and meeting so many great people if it wasn't for her. The Palladia seems to be working. I know it's not a cure, but miracles happen every day.
"She's done a lot in her little life," Keefe reflects. "And she's going to do more."
—Jim McFarlin