What's in a name? Angel, an eight-year-old hound mix from Georgetown, Ill., recovering from a severe leg fracture thanks to the surgical team at the University of Illinois Veterinary Teaching Hospital, is more than the family pet to the three Nichols siblings, Brhyleigh, Kenneth III, and Branden.
Infinitely more.
Angel was the last gift their father, U.S. Army Sgt. Kenneth R. Nichols, Jr., gave his children before he was deployed to Afghanistan in June 2009. "He got her for the kids," explains their grandmother, Rhonda Cagle. "They really wanted a dog. That's one reason why she's so special."
It was a pet name long before she came along. "Angel" was originally the term of endearment Sgt. Nichols bestowed on his first child, 13-year-old Brhyleigh. However, when Nichols was killed in action in December 2009 during Operation Enduring Freedom, the name took on a far deeper meaning. Guardian Angel. Angel of comfort. The living spirit of their dad.
"She is the only thing the kids have left from their daddy," Cagle says. "He picked the name out for her, and she's been a gift from God, I'm telling you. He definitely lives through her."
So on June 7, 2016, when the noise and bustle of construction workers putting an addition on their home spooked Angel into the street where she was struck by a car, the kids feared the worst. Miraculously—or maybe not, considering the circumstances—the dog escaped with only a fractured right hind leg and no other major injuries.
The seriousness of the break, however, necessitated a referral to the U of I. "It was an open fracture of her tibia, and the fracture was a very complex one," says surgical resident Dr. Bridget Morton, who performed the second of two operations on Angel. "The bone was exposed. It was in many little pieces."
Surgeons attached an external fixator on her leg to stabilize the bone, then left the wound open for a week until Dr. Morton closed it in a follow-up procedure. Angel and her family returned to the hospital every week for months to have her bandages changed.
During that time, in order to protect the wound, Angel was forced to wear a plastic cone around her neck. "She hates the cone," Cagle says with a smile. "And she had to be kenneled, and she hates that. She is not a kennel dog. She's used to always being with the kids."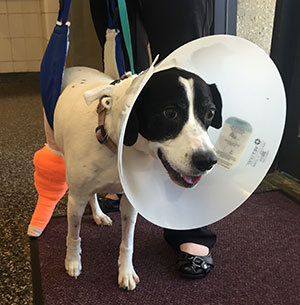 In fact, as Angel regained her friskiness, "she literally bent the kennel with her teeth to get out the door," marvels the Nichols' grandfather, Mohawk. "She is so much better. She is just doing very well.
"Because this isn't just a dog," he notes. "This is a link between the past, present, and the future. Their dad really wanted them to have her."
Brhyleigh, Kenneth III, 11, and Branden, 10, now have another way to remember their father—a stretch of Illinois Highway 1 between Westville and Georgetown was dedicated as Sgt. Kenneth R. Nichols, Jr. Memorial Highway in May—but Angel remains their emotional touchstone.
"A little bit," Kenneth III responds when asked if he remembers his dad. "It's kind of hard to, but I have an image of him."
"She's a symbol of our dad," Brhyleigh says of Angel. "That's why we came here, to get her fixed up and get back on track with our lives."
Dr. Morton says the healing process for a compound fracture can vary depending upon the age and health of the animal. Angel's healing progressed slower than hoped, "but she's doing very well overall," she says.
"She's very lucky to still be with us," Cagle acknowledges. "Thank God there were no other injuries, but they weren't sure at first if they could even save the leg. It was bad, really bad. But the U of I, they've done a marvelous job with her. Just marvelous."
—Jim McFarlin