Dr. Burton Holds the Reins of Her Veterinary Career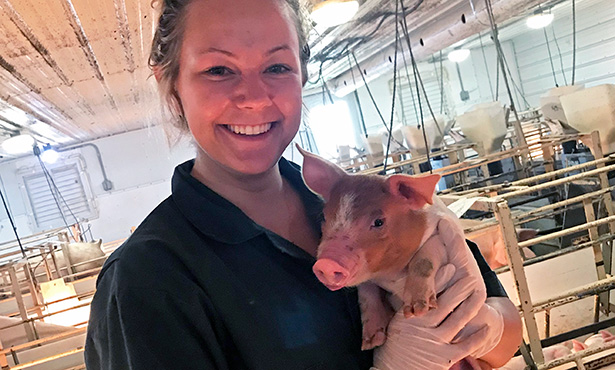 Focus Changes from Horses to Pigs
Note: This profile of 2019 veterinary graduate Dr. Brandi Burton is one in a series. For others, visit Alumni News.
Growing up in the Chicago suburb of Mount Prospect, I was the only one of my six siblings who enjoyed riding horses. I always thought I wanted to be an equine vet.
But when I came to the University of Illinois for undergrad, I heard you could get extra credit for going to a club you weren't involved in. Somehow, I ended up joining the meats judging team, and that's how this freshman from the Chicago suburbs was introduced to animal agriculture.
By the time I got to vet school, I had changed my mind about equine practice. I spent two summers in the swine veterinary internship program at Iowa State. That really solidified my interest in swine medicine, so that's what I will be practicing after graduation. "The pigs will pay for my ponies," is what I say.
I don't think my family was all that surprised when I gave up my dream of becoming an equine vet. They always knew I was more of a "country girl" than the rest of my siblings.
Swine Consultant, Homeowner
I'm going to be a swine consultant for Suidae Health & Production in Algona, Iowa. I just bought a house there! If all goes well, I'm hoping to become a partner there in the next three to five years.
The courses I took at vet school were obviously key for getting my degree, but what really prepared me for going into swine medicine—and consulting specifically—has been what I've done outside of the classroom.
I was president of the Production Medicine Club and our AAEP (American Association of Equine Practitioners) group. It was really beneficial to sit on an executive board and engage in problem solving, accomplishing goals, and working with other students in a group setting.
I also worked with Dr. James Lowe, the swine specialist at the U of I, on the Illinois Swine Health Network. Through that I've been able to master this online program called BioPortal and use it to connect Illinois swine producers and veterinarians on disease statuses. It really helped me get to know some of the veterinarians and farms and systems, and be a little bit more on top of what's going on in the real world.
PD: Pigs, Data, Ponies
Since I'm going into swine consulting, my professional development period wasn't like that of my classmates. Instead of rotations at the Veterinary Teaching Hospital, I tailored the time to my own specific needs.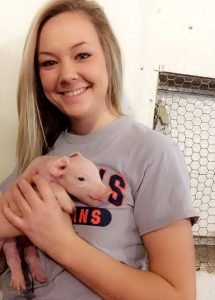 I took an online class through the University of Minnesota focused on PRRS (Porcine Reproductive and Respiratory Syndrome) and genetic selection for disease resistance. Learning key concepts in the future of porcine medicine puts me a little step ahead going into the industry. I also took an online class to master spreadsheets and build confidence in parsing data sets and delivering data visually for clients.
In-person courses included the business class with Dr. Larry Firkins. Although it was very small animal clinic-oriented, it was as helpful a course as any I've had, just the financing aspect. An economics course with Dr. Lowe gave me a better understanding of stocks, economics and the market because that's such a big component of my business as a swine vet.
Lastly, two of my classmates and I created a self-directed week because we are all going into swine medicine. We invited industry leaders to talk with us, and we brushed up on protocols. It was everything we needed to feel confident going into our first day of work.
Oh, and I also spent a week doing equine sports medicine, because I'll never give up my equine side!
As told to Jim McFarlin