Alumna Receives 2020 Bustad Companion Animal Veterinarian of the Year Award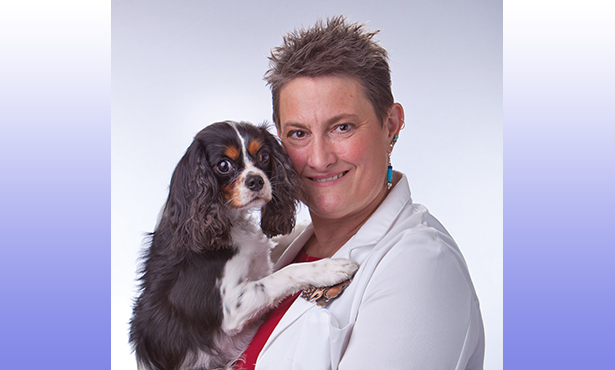 Dr. Downing with Tommy
The American Veterinary Medical Association recently honored Dr. Robin Downing, Class of 1986, as the winner of the 2020 Bustad Companion Animal Veterinarian of the Year Award.
The award is one of veterinary medicine's highest honors, recognizing the outstanding work of veterinarians in protecting and promoting the human-animal bond. Its namesake, the late Dr. Leo K. Bustad, was president of the Delta Society and dean of the Washington State University College of Veterinary Medicine.
"This is certainly the highest honor in the companion animal world," said Dr. Downing. "I have always done my best to live my commitment to facilitating, enhancing, lengthening and strengthening the human-animal bond, as affirmed by Dr. Leo K. Bustad, during my entire career as a clinician, an innovative pain specialist, a rehabilitation specialist, a pain researcher and as a clinical bioethicist. This recognition is humbling and amazing all at once."
Dr. Downing is the founder, owner and medical director of the Downing Center for Animal Pain Management, and the owner and medical director of the Windsor Veterinary Clinic, both in Windsor, Colo.
In addition to completing her veterinary degree at the University of Illinois, Dr. Downing has earned a master's degree in bioethics from Union College/Mt. Sinai (now Clarkson University) and is currently studying for a doctorate in bioethics from Loyola University of Chicago. She has served as affiliate faculty at the Colorado State University College of Veterinary Medicine and Biomedical Sciences since 2001.
In 2005, Dr. Downing became only the third veterinarian in the world to become credentialed as a diplomate in the American Academy of Pain Management. She went on to create the International Veterinary Academy of Pain Management, the first interdisciplinary pain management organization in veterinary medicine, and to help develop the credential of Certified Veterinary Pain Practitioner. She is also a diplomate of the American College of Veterinary Sports Medicine and Rehabilitation.
"Dr. Downing has devoted her career to improving the health of animals and strengthening and prolonging the bond between people and animals," said Dr. John Howe, president of the American Veterinary Medical Association, whose membership includes more than 95,000 veterinarians worldwide. "Bestowing her with this award is a fitting tribute to Dr. Bustad, an outstanding educator, scientist, humanitarian and pioneer in the field of human-animal interactions."
In 2016, Dr. Downing received the Dr. Erwin Small Distinguished Alumni Award from the Illinois College of Veterinary Medicine.
See the news release from the AVMA.